October/November 2021 Vacation Day 9 · · PAGE 31.
November 3, 2021: We are at the point where I-95 South turns toward New York City at 12:38 PM.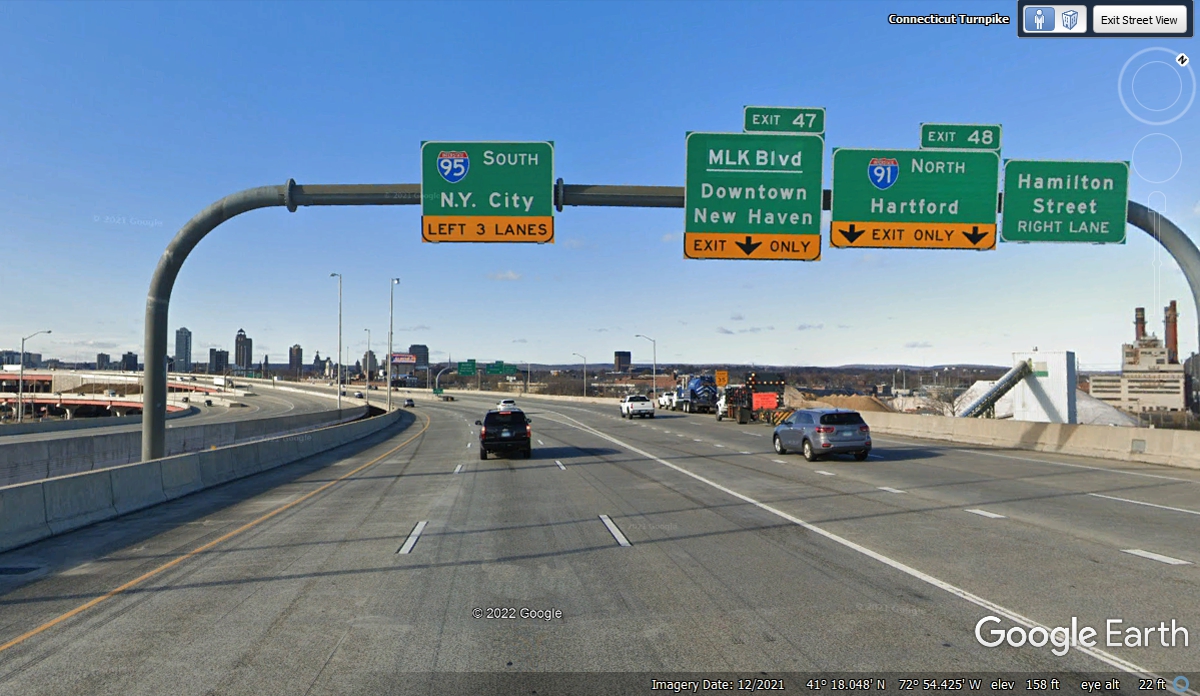 Connecticut and New York both use a body of water to define some of their borders. We saw where Rhode Island and Connecticut have a sign in the middle of a bridge to mark the official state line. Here is the same thing where New York and Connecticut meet on Interstate 95.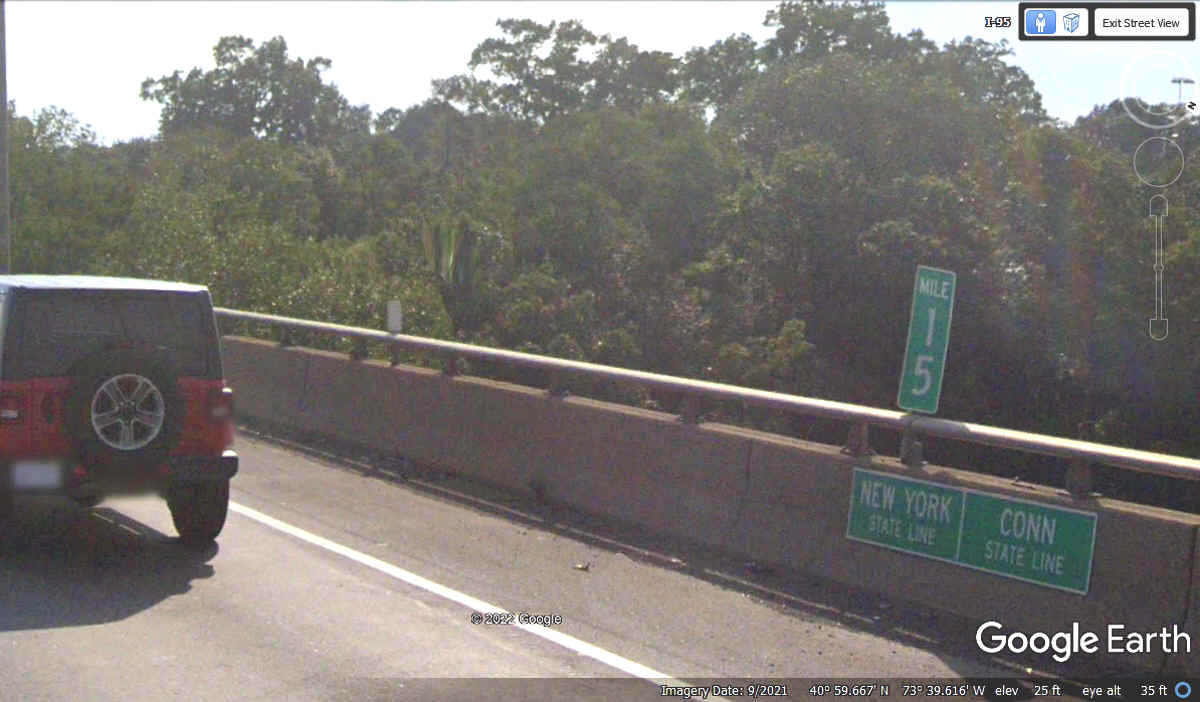 I-95 leaves the open road and is getting into New York City heading toward the George Washington Bridge that crosses the Hudson River, entering New Jersey before turning south again. The exit number says the bridge is about seven miles ahead on I-95.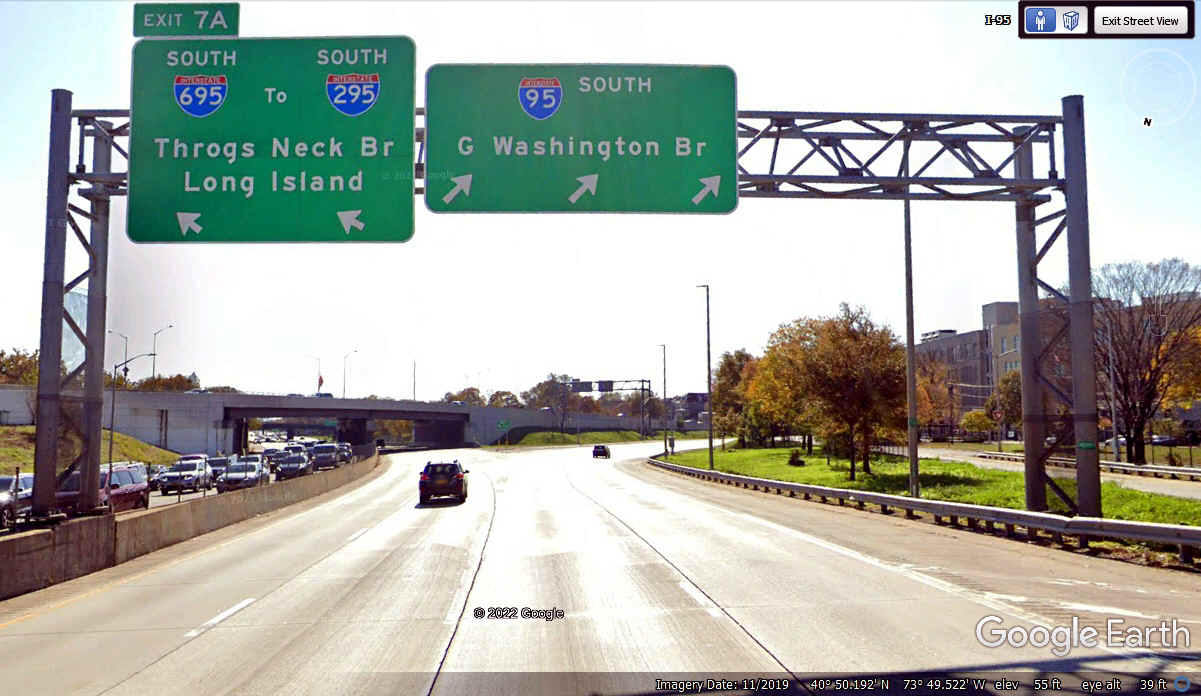 I-278 runs down the East side of the city from here.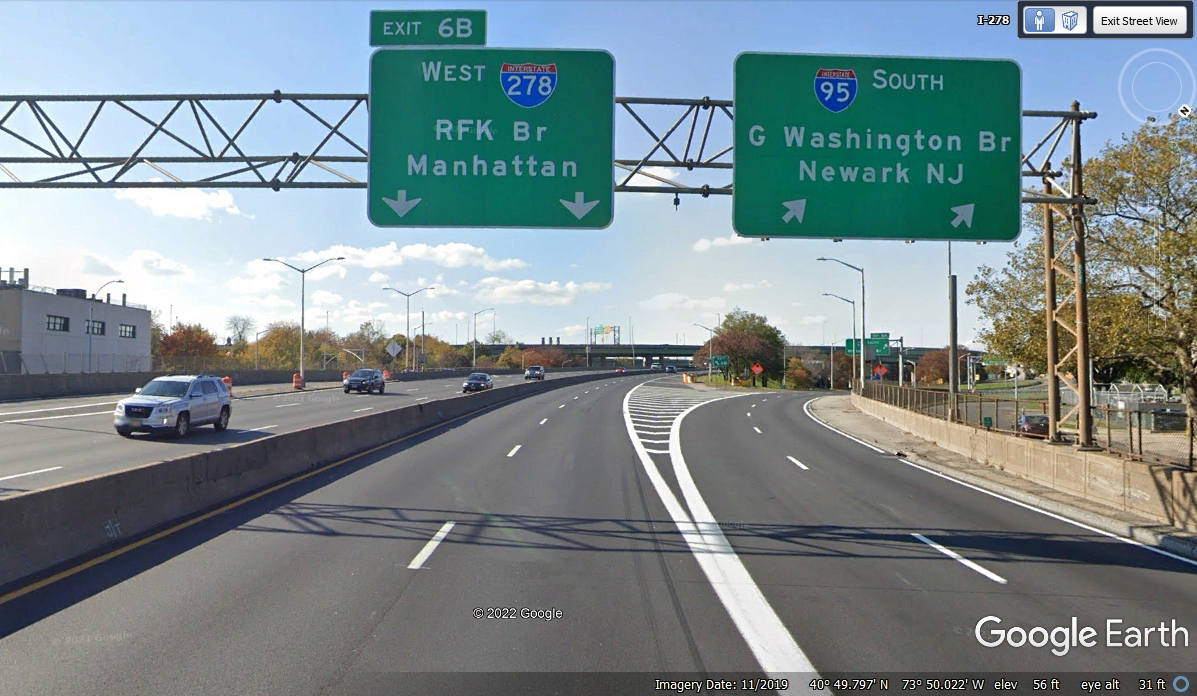 We missed the exit for FDR Drive to get over to Manhattan when we first came this way at 4:05 PM. It cost me two large toll bridge payments to get back to FDR Drive returning on I-278 to get us to this exit the second time at 4:38 PM.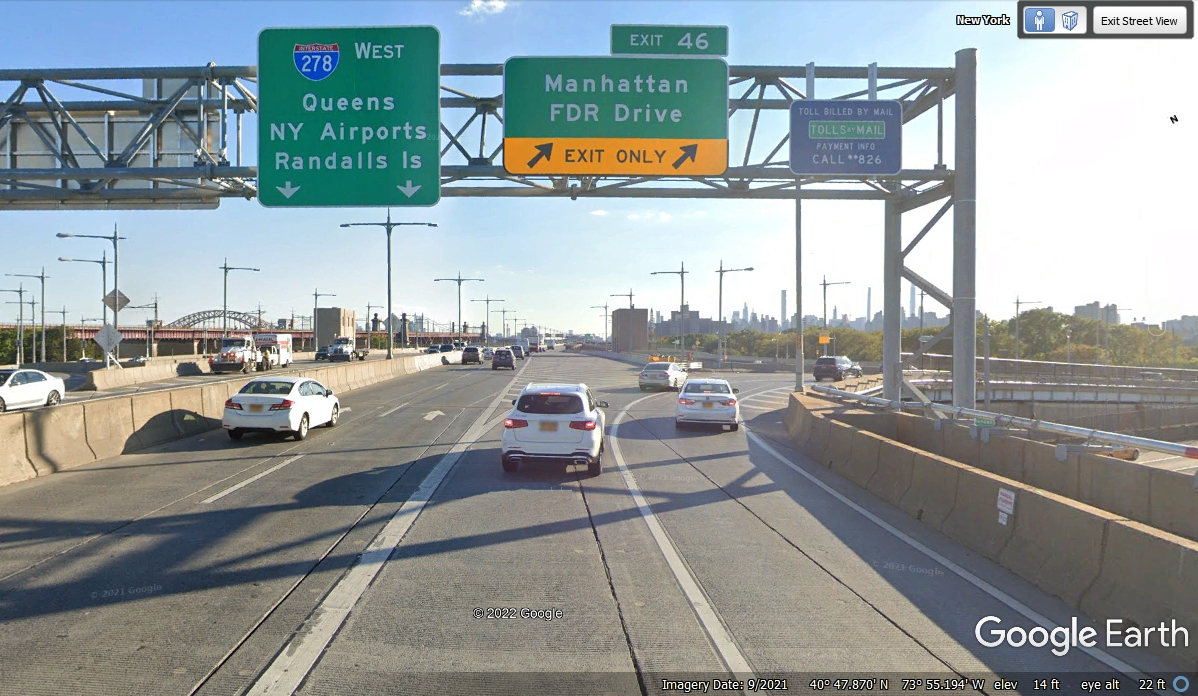 FDR Drive is ahead with the RFK bridge ahead and outbound toll sensors in the other lanes in this image.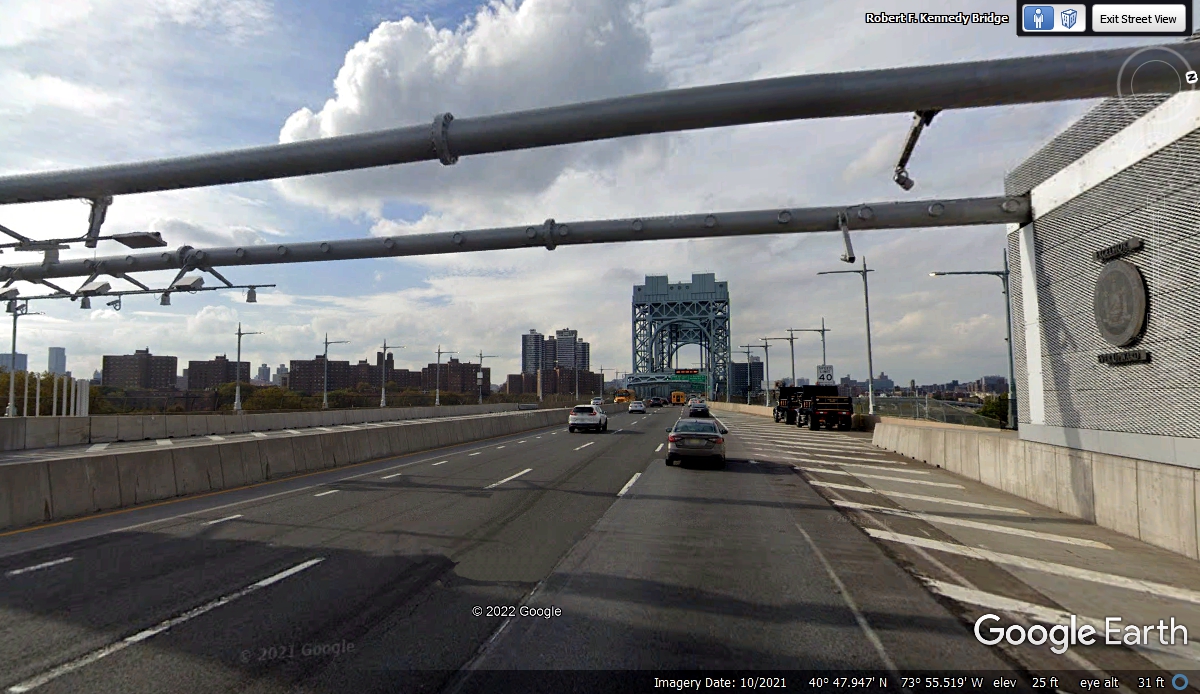 I did not see this seal of the State of New York that was mounted inside the toll sensor area on Manhattan Drive when we passed this location. Google Earth captured it for me.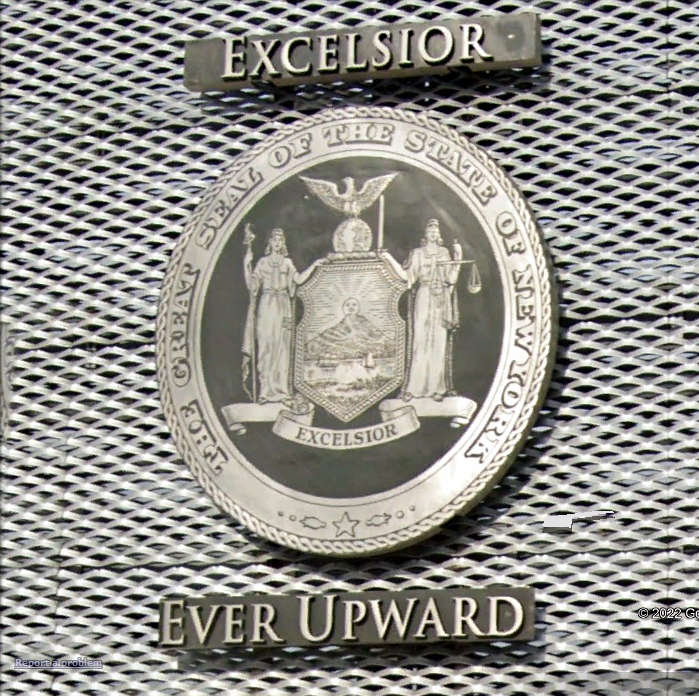 Manhattan is on the other end of the Robert F. Kennedy bridge seen here..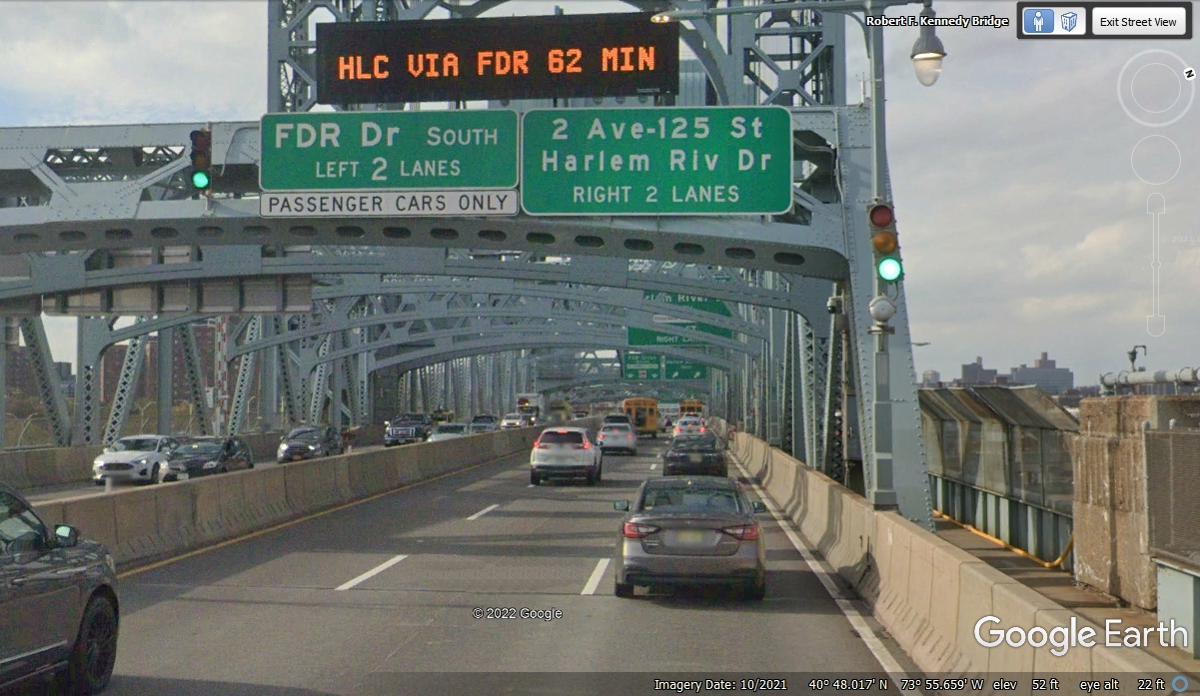 Here is the FDR Drive hugging the East side of Manhattan next to the East River. We got on this road at 4:45 PM, the worst time to get caught in the evening traffic jams.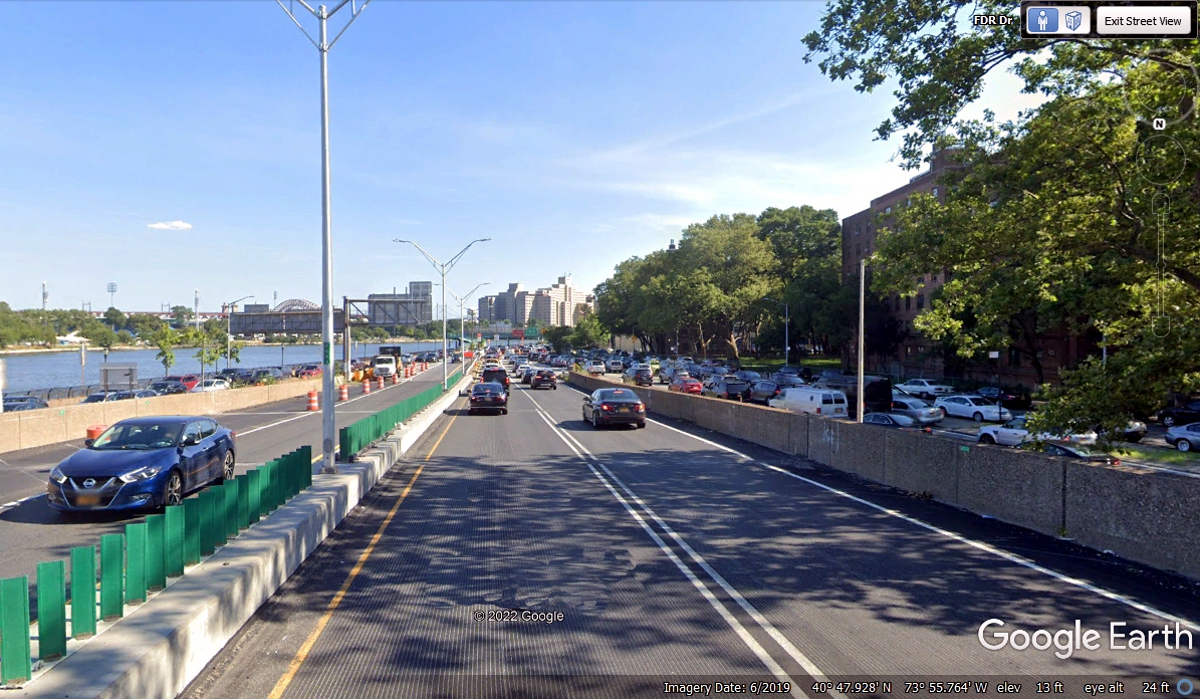 East 96th Street is where we are getting off the FDR Drive heading west to Central Park.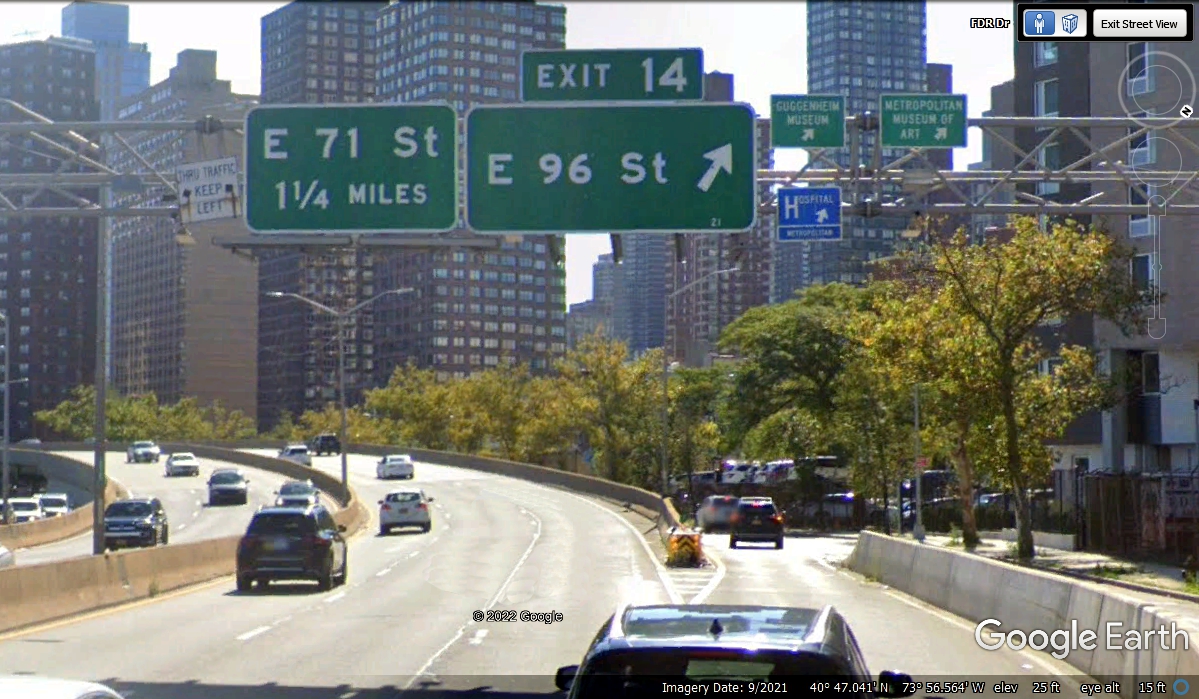 We took the frontage road down to E. 96th Street and turned right going toward Central Park.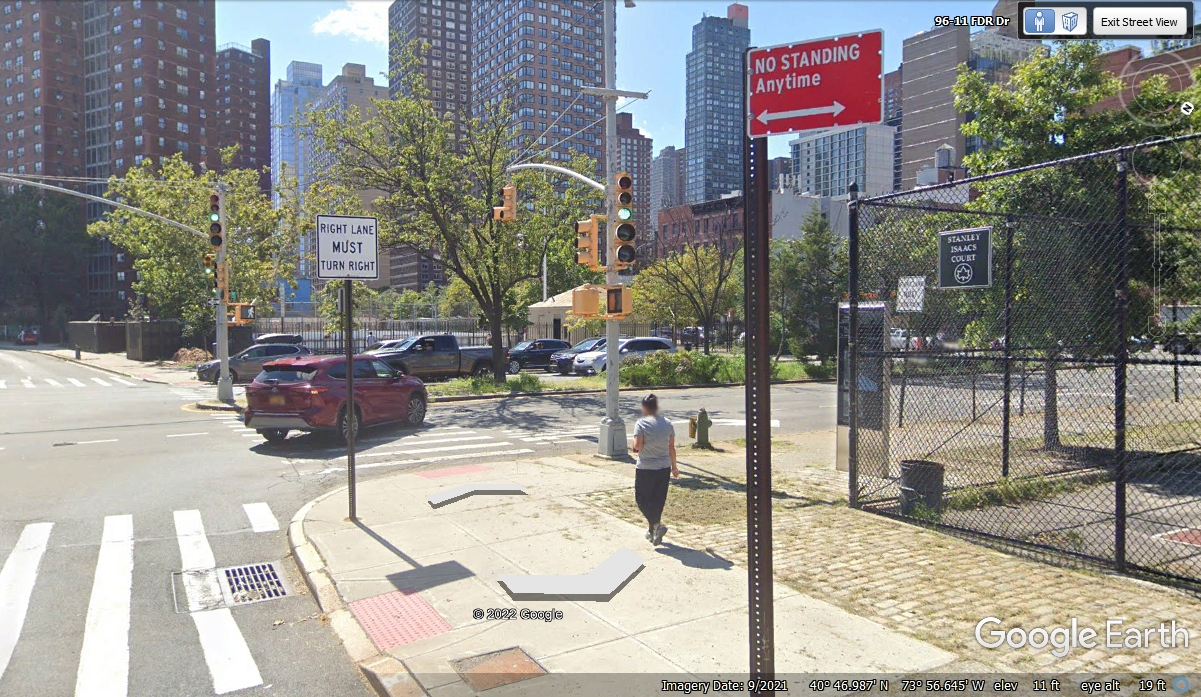 We got to E. 96th Street and Madison Avenue at 4:58 PM and turned right on Madison to go north one block.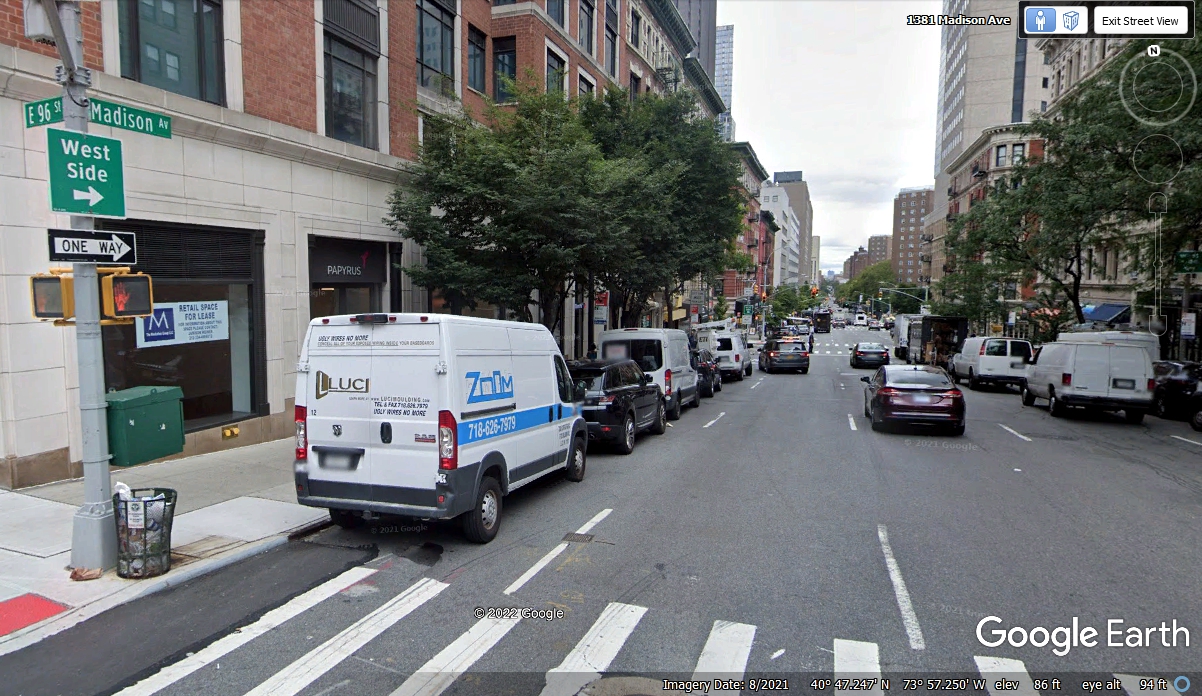 97th Street has an entrance to Central Park where we can get across to Central Park West.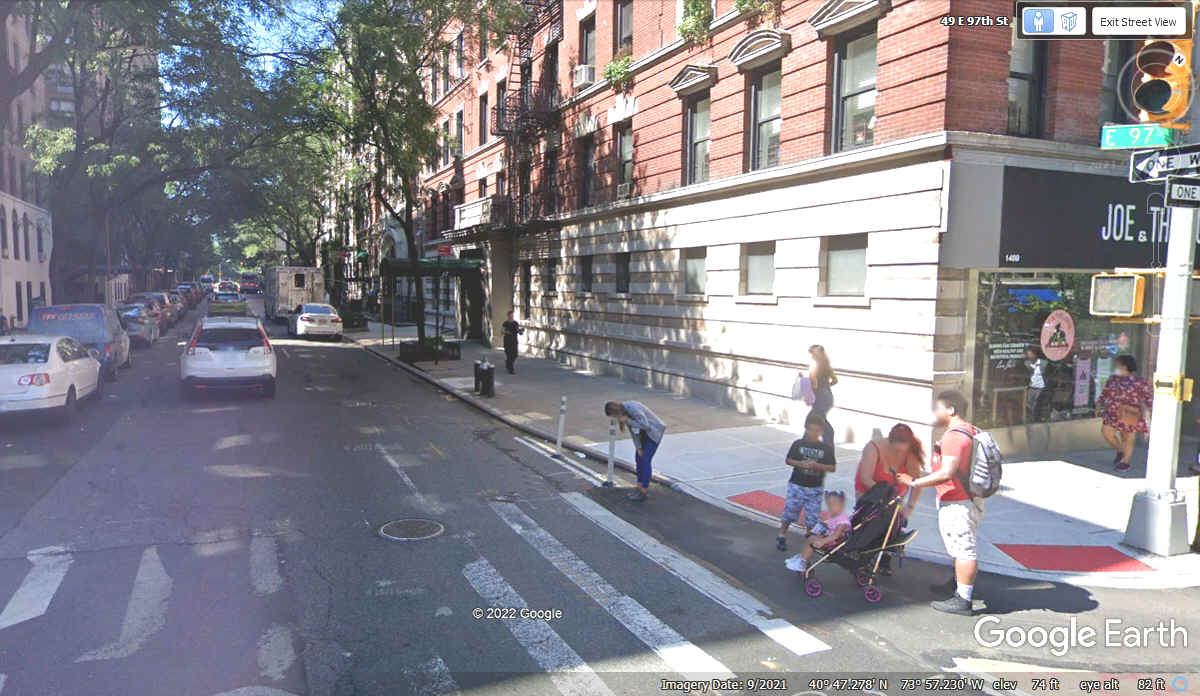 Here we are at 97th Street and 5th Avenue as the Eastern Border of Central Park. We went in to the park to see what we could from one of three streets that cut through the park.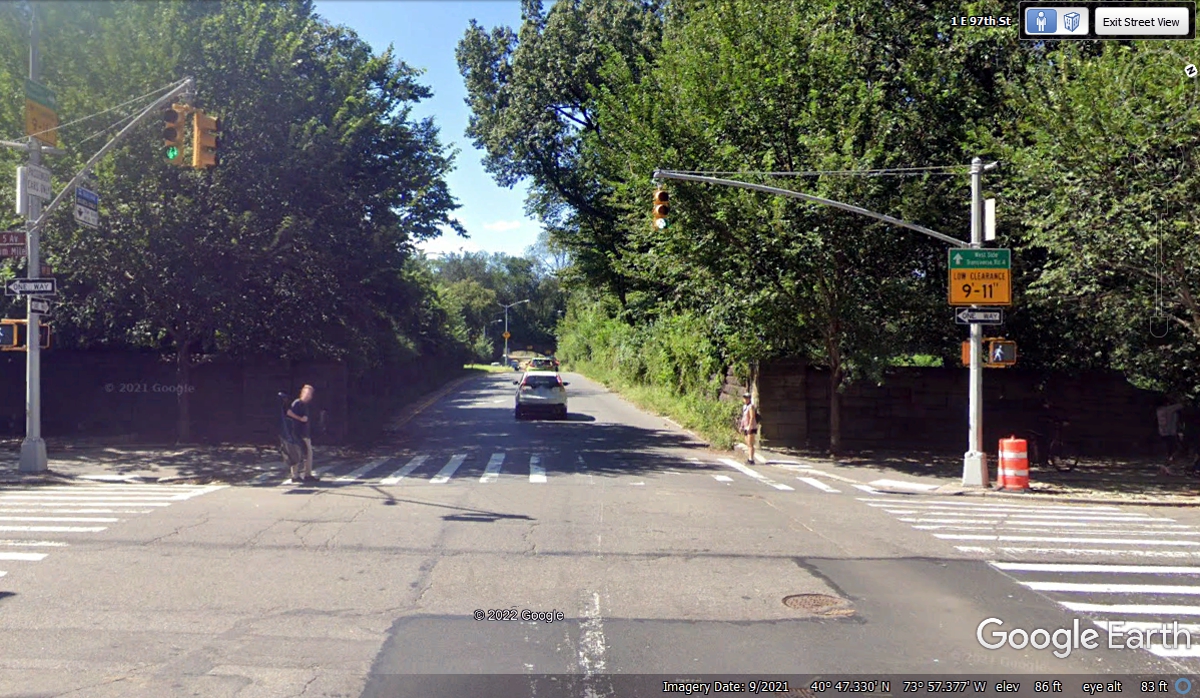 This is the first of two underpass locations on 97th Street. There is one place to pull off this street into an area where some parking is available. Most folks coming here use public transportation, bus or subway, or they ride their bicycles.

This is the corner of 97th street and Columbus Avenue, which is a one-way through street going south and we are going that way..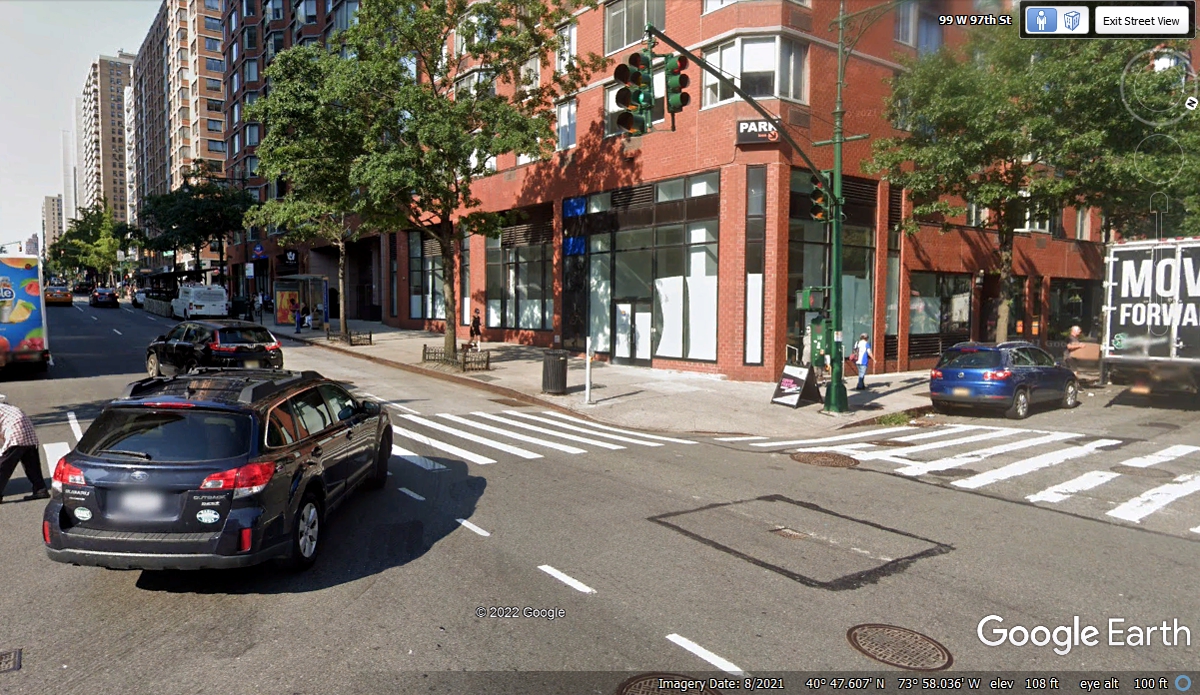 Just two blocks south of the photo above on the corner of 95th Street and Columbus Avenue is this small restaurant called the Big Apple with Asian cuisine. This restaurant and one next door to the north survive in a neighborhood of high-rise apartment buildings with small shops on their ground floors. Amidst these concrete canyons of New York City, vertical space is a valuable commodity. The bike lane seen here is how couriers can do their jobs safely in all the traffic that results since millions of people live here in the city.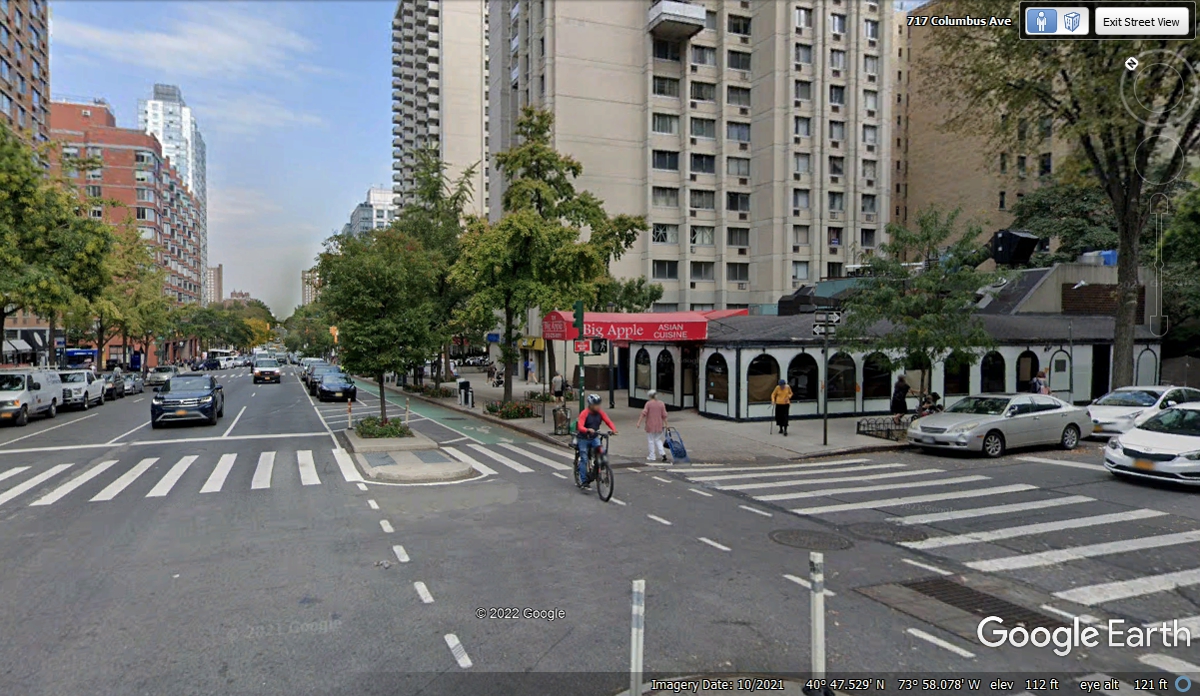 My wife of 32 years told me about growing up in New York City, becoming a teenager, and how she stayed in her neighborhood. The 1950's were a peaceful era, even here. Her stories of growing up here live on for me after her passing in December 2018. The US Post Office on the right side of this image is near this street corner. A Walgreen's Drug store is on the corner at the next intersection south of this location. It is on the ground floor of that apartment building. The image below was captured in October 2021 by Google Earth. The street was filled with traffic as we passed this area on Wednesday, November 3, 2021 at 5:03 PM.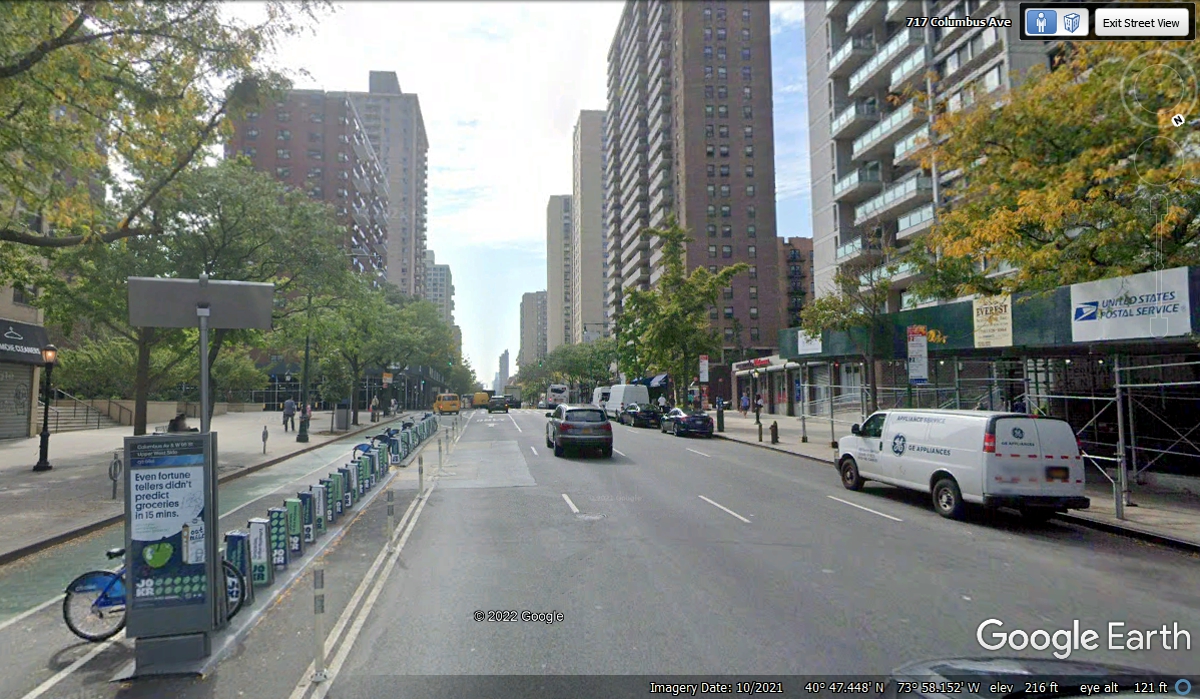 The ABC television station for New York City has its studios in this building at Columbus Avenue and 66th Street. I pointed out this facility to Linda as we passed by here at 5:11 PM. The Google Earth camera vehicle crossed this intersection using 66th Street. I chose the image looking northeast to show some of both streets.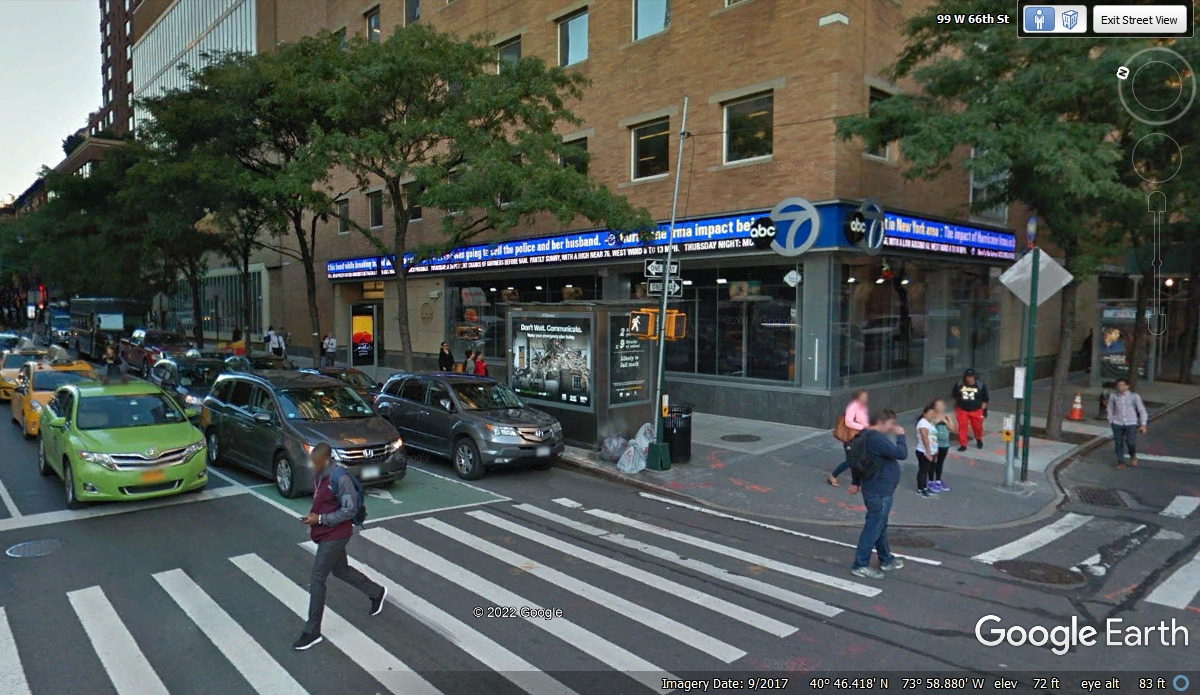 I wanted to be sure I have the street signs visible at the far right edge of this image. This is where Columbus Avenue ends and 9th Avenue continues to the south from the intersection with West 59th Street.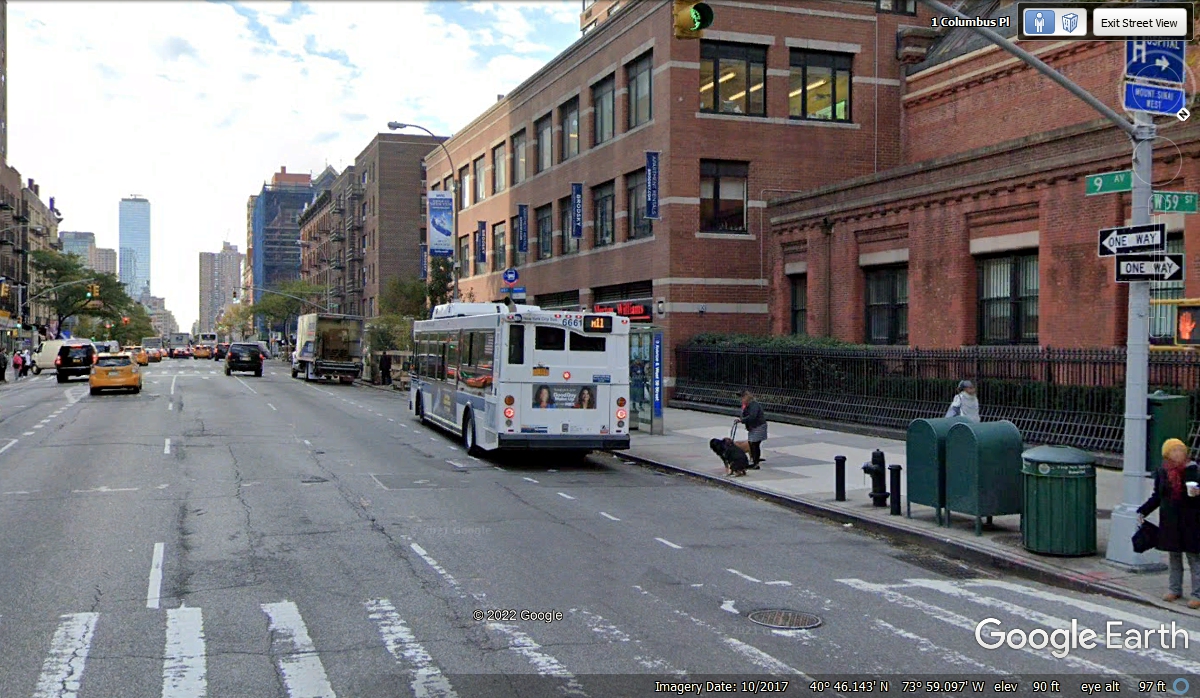 The two buildings featured in this Google Earth image are located where Columbus Avenue meets 9th Avenue. I had to pick a camera car location south of 57th street to show these buildings down to ground level looking north. The image below is from June 2021. We passed this location at 5:16 PM.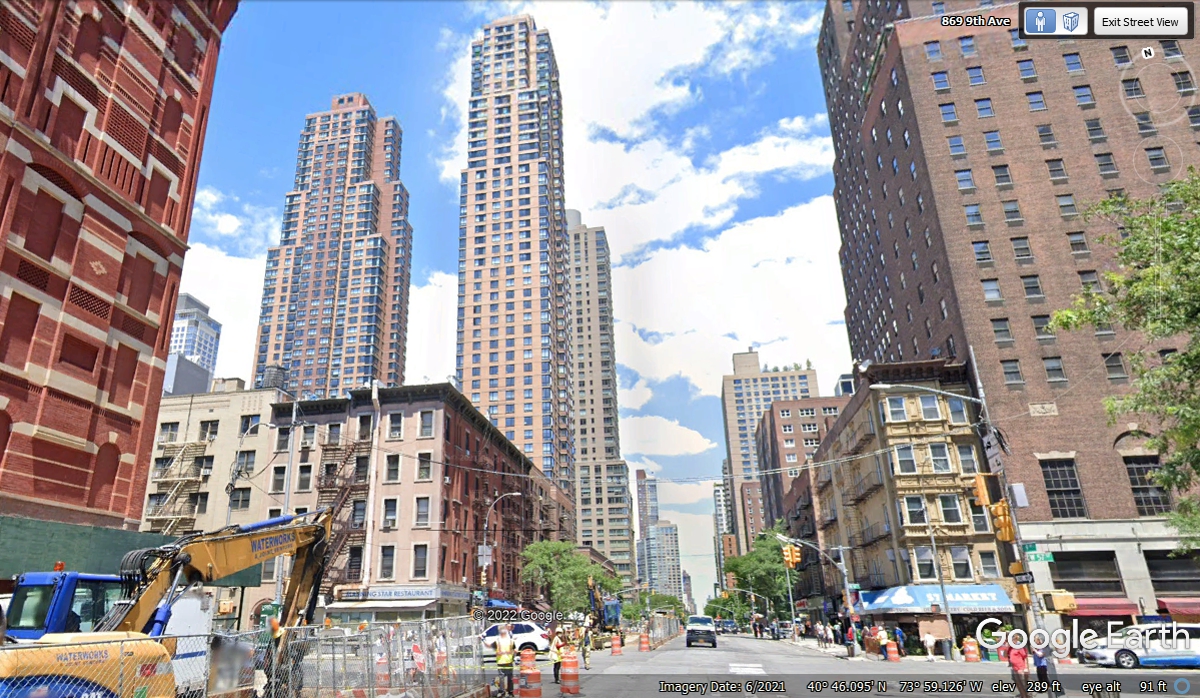 We traveled down 9th avenue to where it ended at 14th street and continued on Hudson Street until it met Bleecker Street, then on 7th Avenue until it met Varick Street at 5:40 PM. This view of the World Trade Center is from 7th Avenue after leaving Bleecker Street.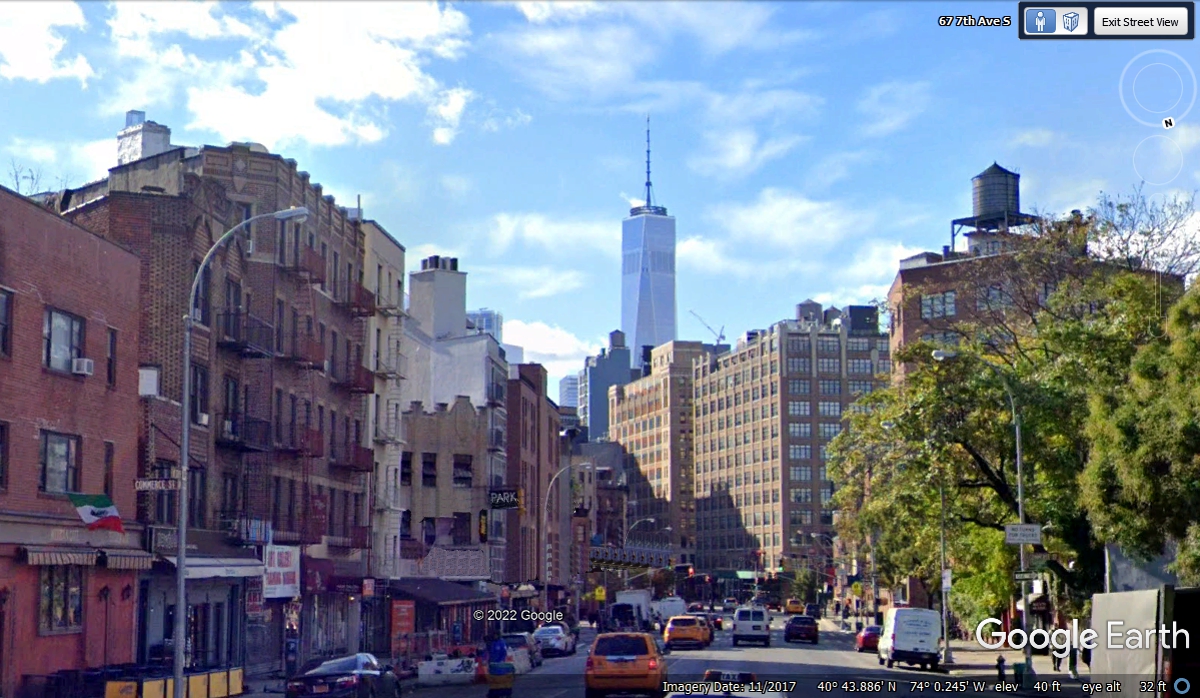 When we reached this point on Varick Street, the traffic was jammed up as the cars merged from three lanes down to two lanes to enter the Holland tunnel ahead.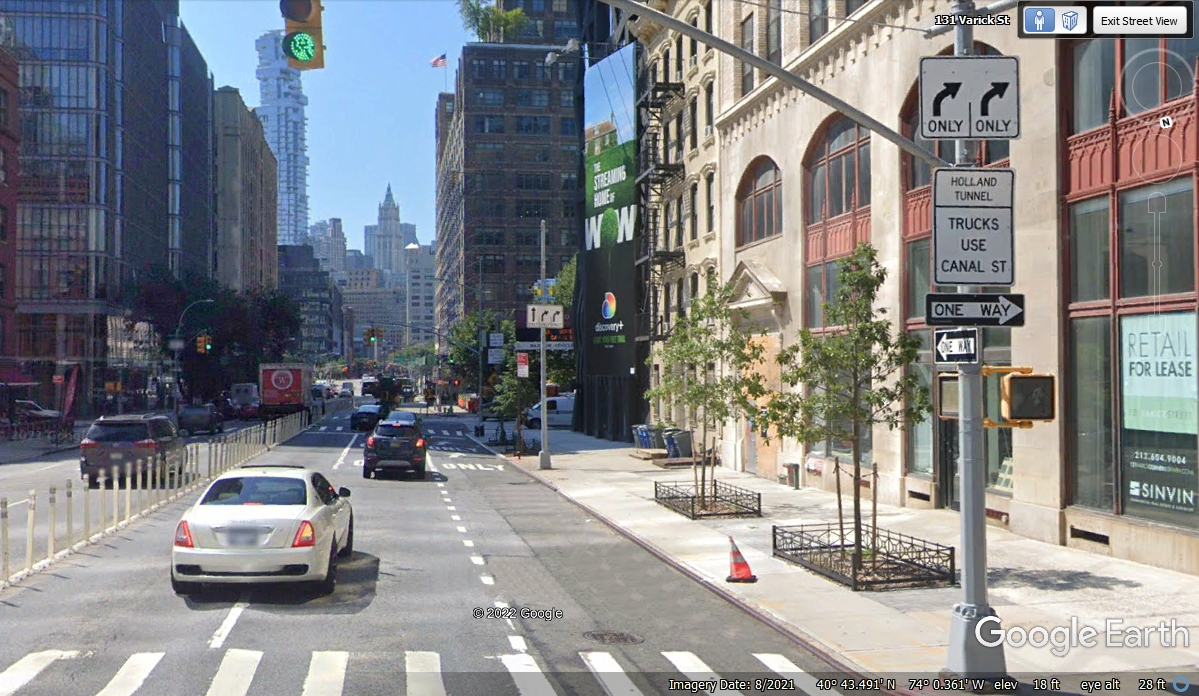 The signs show only two lanes are allowed to turn right at the next street.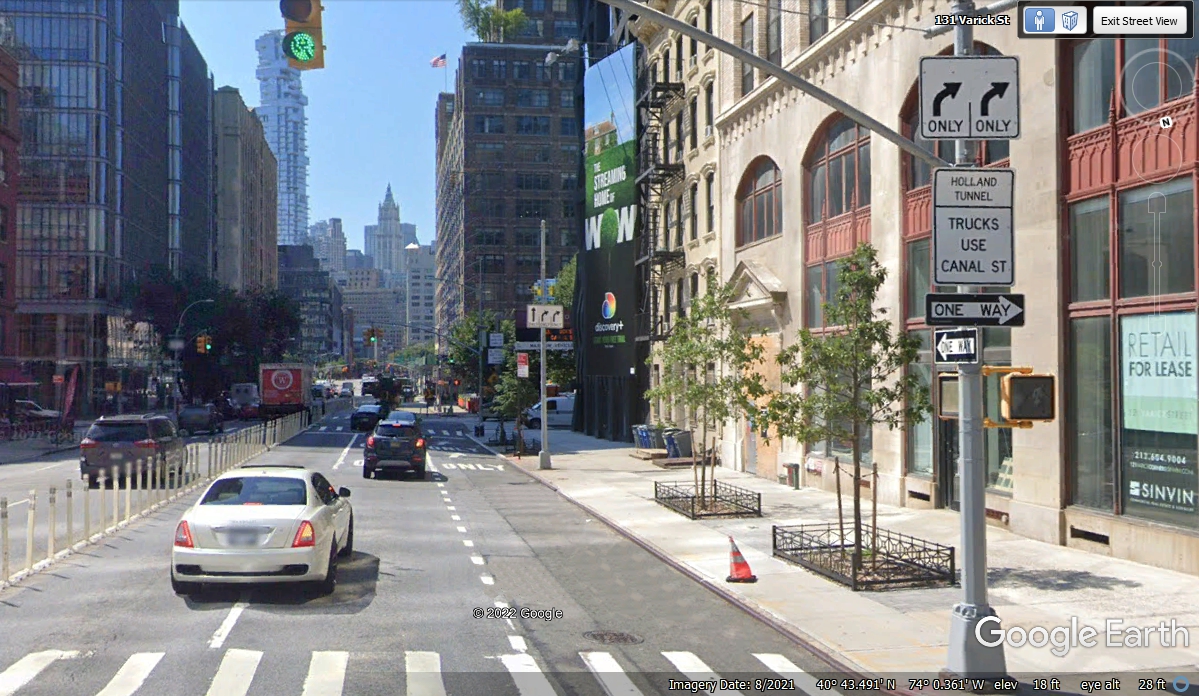 Traffic has been very slow getting to this point on Varick Street.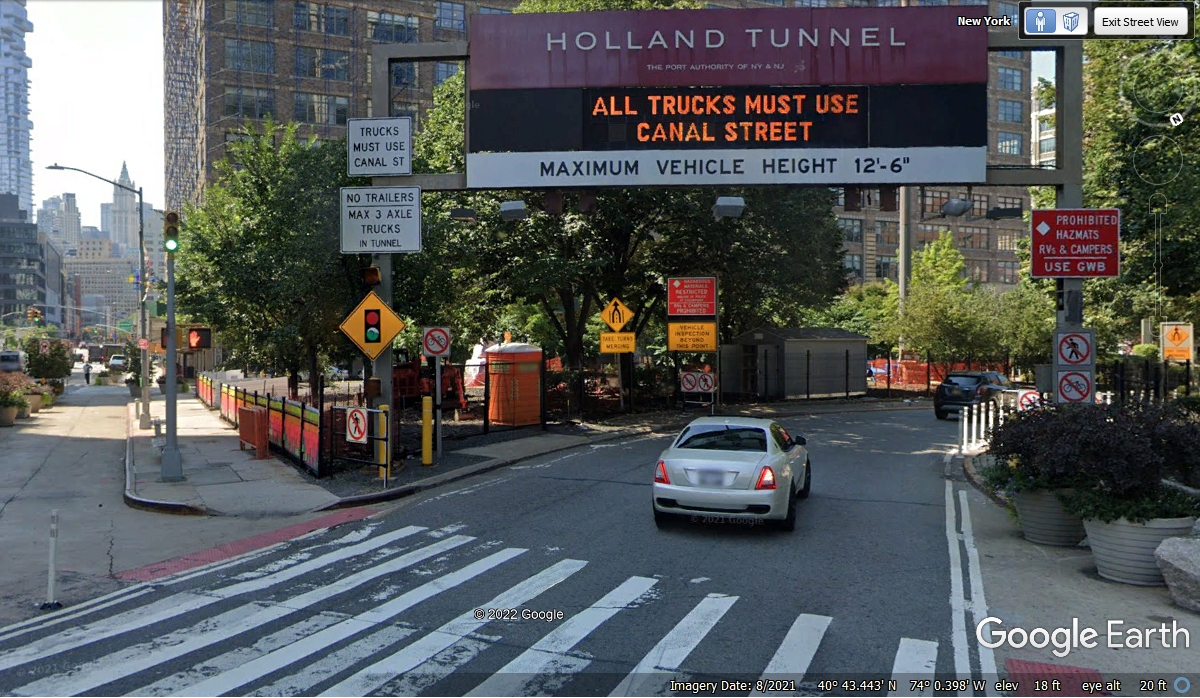 There were vehicles still squeezed in two lanes when we reached this point on the tunnel access road.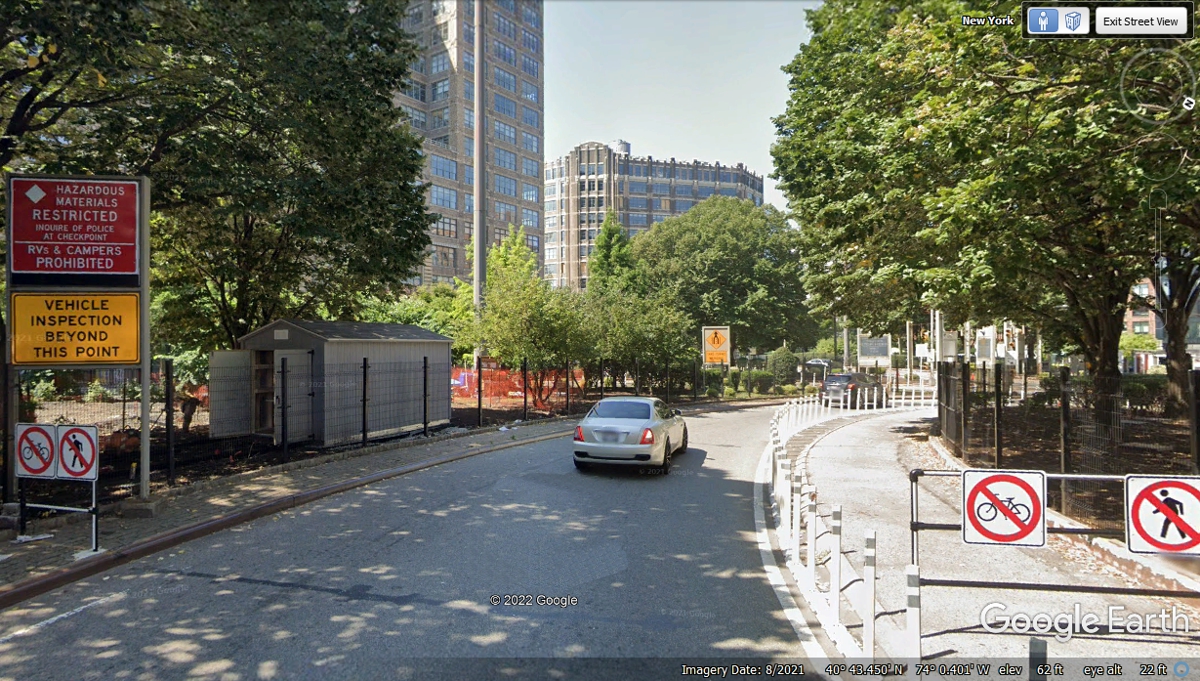 This is the final choke point for traffic coming from Varick Street before entering the tunnel.

This image shows there is no wasted space in New York City. We entered the tunnel at 6:16 PM. It was getting dark out here on the last street in New York City. It has taken 36 minutes to travel 0.64 mile down 7th Avenue and Varick Street to the entrance to the tunnel. We arrived at the north end of Manhattan at 4:45 PM seen near the top of this web page where we got on the FDR DRIVE. We drove about 8.5 miles through the heart of Manhattan in 1 hour 31 minutes during rush hour. The average speed was about 5.6 MPH. We got a chance to much of New York City.