October/November 2021 Vacation Day 3 · · PAGE 6
October 28, 2021: Thursday, continues as we are on the last leg going toward my cousin's house near Cleveland, Ohio. This image from October 2020 displays some of the fall colors we came up north to see.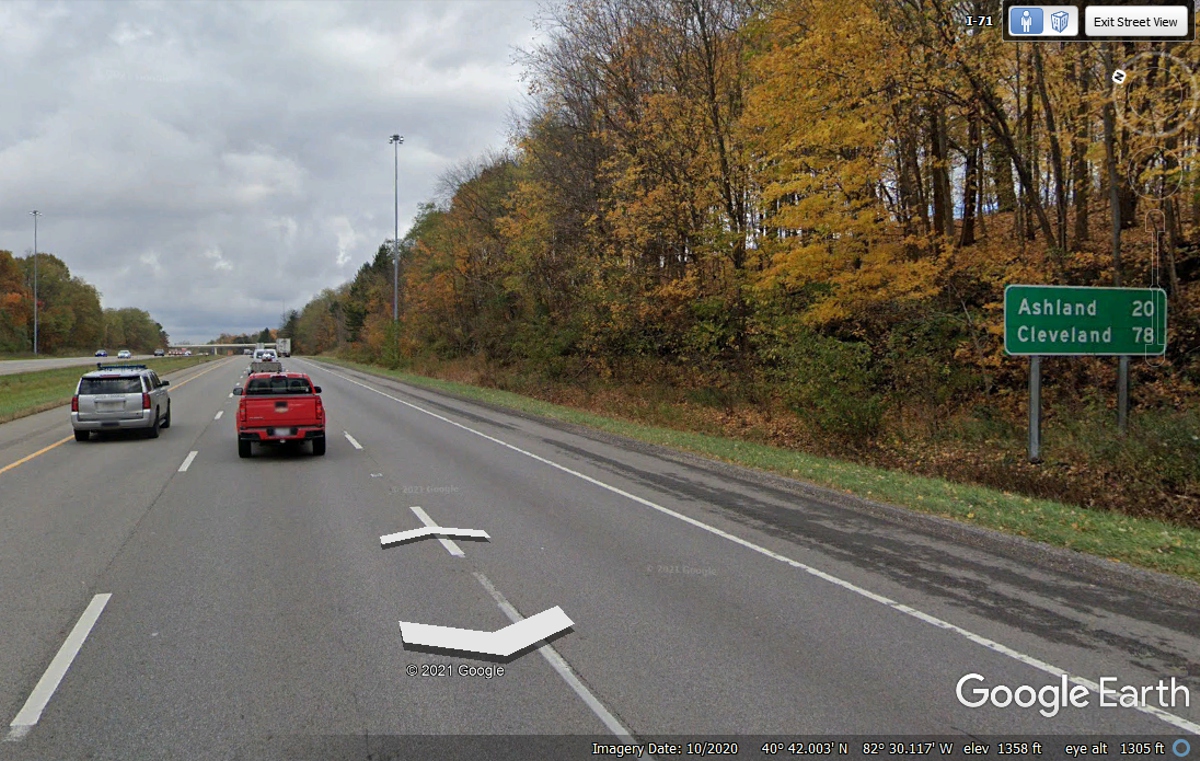 We pulled off Interstate 71 at exit 231 after driving about 2 hours 30 minutes from the Museum in Newark to give all three of us a comfort stop. I parked the car in front of the tall Shell sign to access the grass for Chase over there. Linda and I agreed on a couple of foot-long hot dogs from Sonic Drive-in for our lunch. My GPS had a location for a Sonic Drive-in that was not too far away on Snow Road. I was looking at the location and discovered it was a few miles East from my cousin's house.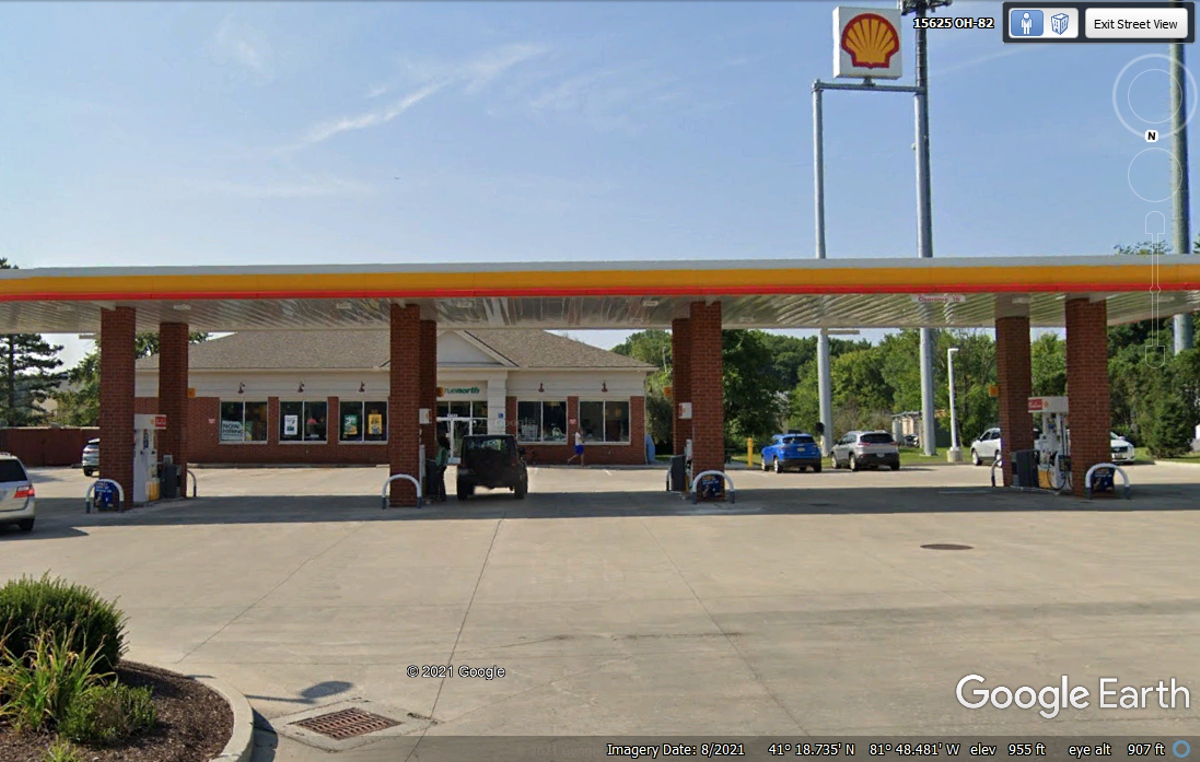 This map segment below shows where we stopped at the Shell station seen above, and the route we took to the Sonic Drive-in. We had our lunch in the car at Sonic, then went to my cousin's home. We stayed two nights with my cousin and continued our vacation travels on Saturday morning, November 30. We got on I-480 heading east to connect to I-271 north to I-90 that would take us East away from Cleveland.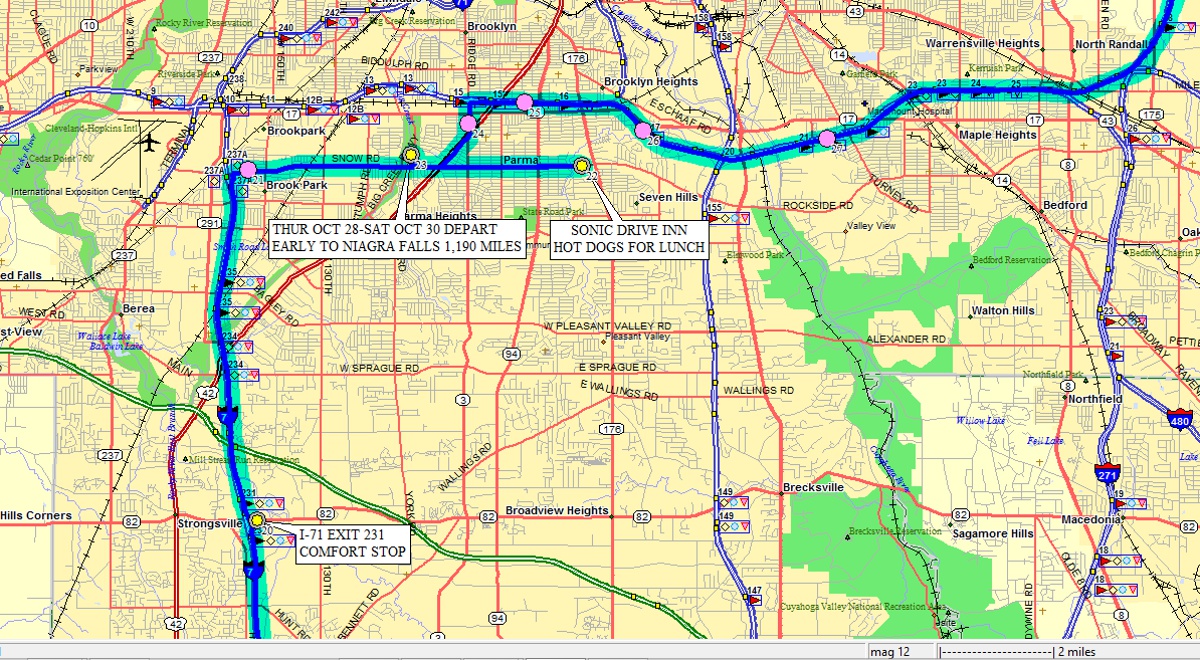 October/November 2021 Vacation · · Days 3 & 4
October 28 & 29, 2021: My cousin has this nice house where we stayed before continuing our vacation. We arrived here at 3:23 PM on Thursday of DAY THREE of our journey. This neighborhood has a stream behind her house with deer that wander through the area. She mentioned seeing a BUCK chasing three females across several lots across the street from her house. Mary mentioned she has dog and cat dander allergy issues. She took to walking chase in what little back yard she has. Anywhere he would urinate would keep the deer from eating her flowers. We helped her put up some chicken wire fencing on Friday, October 29 (DAY 4) to protect a few small trees in front of her house from being eaten by the deer.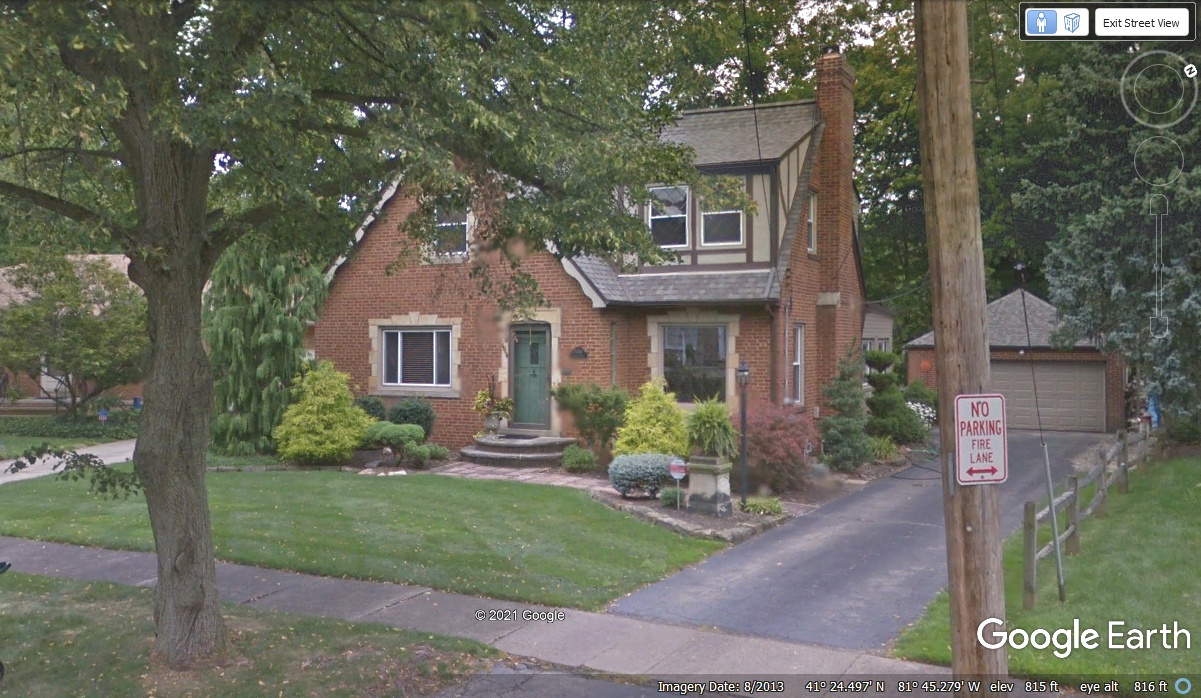 Chase slept in his doggy bed while we were there. My cousin did not want him sleeping on the bed due to her allergy issues. When Linda sat down on the couch in the living room, Chase jumped up there like he does at home. My cousin brought out a washable fabric cover to place on her couch cushions where the dog would be happy sitting next to "mom". There were no problems during our stay. There was a stray cat that would come to her back door for hand-out treats. The cat brought half of a dead mouse to the back door on Friday. We had some time to play cards on Friday and watched some TV as we talked about our family tree.
We sat around the dining room table playing cards for a while. My cousin agreed to getting take out meals from Applebee's, my treat of course. She drove her Toyota Prius hybrid down to the location seen below on DAY 4.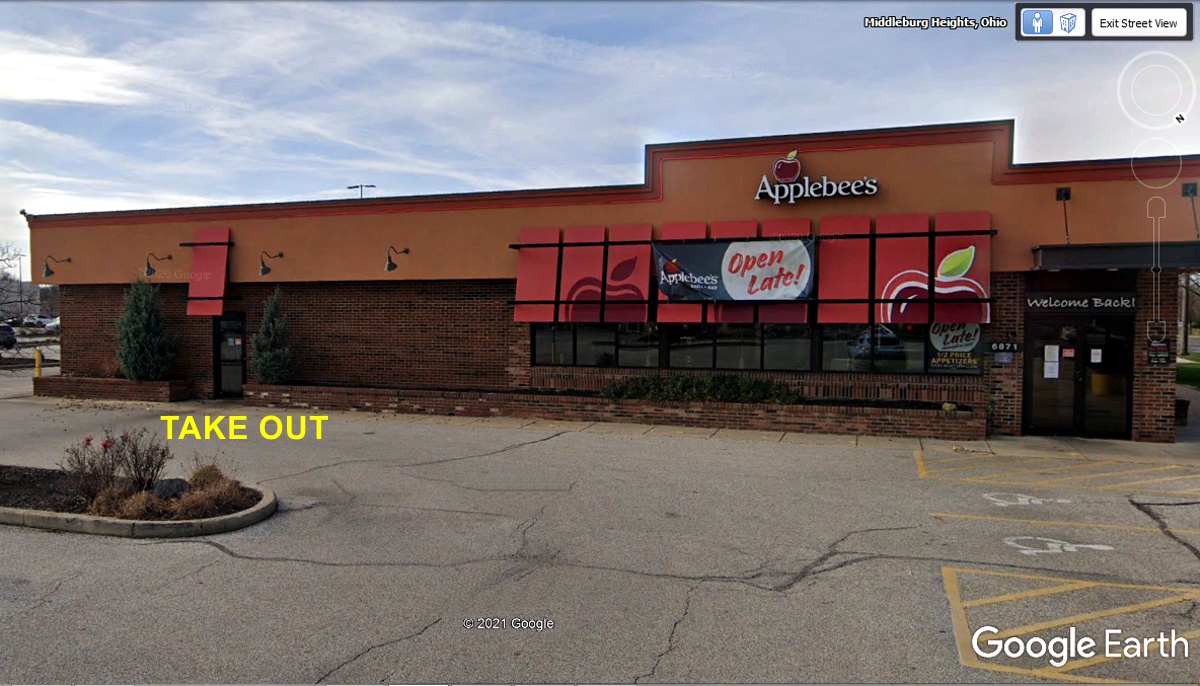 October/November 2021 Vacation Day 5 -- PAGE 6
October 30 2021: We departed early at 7:57 AM on Saturday, heading East as shown on the map image above. The GPS 50 went off line at 8:12 AM. Using Interstate 480, it was about 13 miles over to Interstate 271 that bypassed the Cleveland area on the East side of all the towns in the metro Cleveland area. We got in the express lanes since there were two of us in the car.

When we got on I-90 we made a pet stop a few miles up the road at exit 193 for Chase to relieve himself. It also allowed me to set the volume control and brightness on my Garmin GPS 50 unit and get it working again as we departed a 8:40 AM. This GPS displays the speed limits as they change anywhere we drive. My GPS 296 I use in my airplane has all our waypoints programmed into its internal memory. It can save up to 3000 waypoints and currently has 1272 stored in it as I publish this web page on November 27, 2021.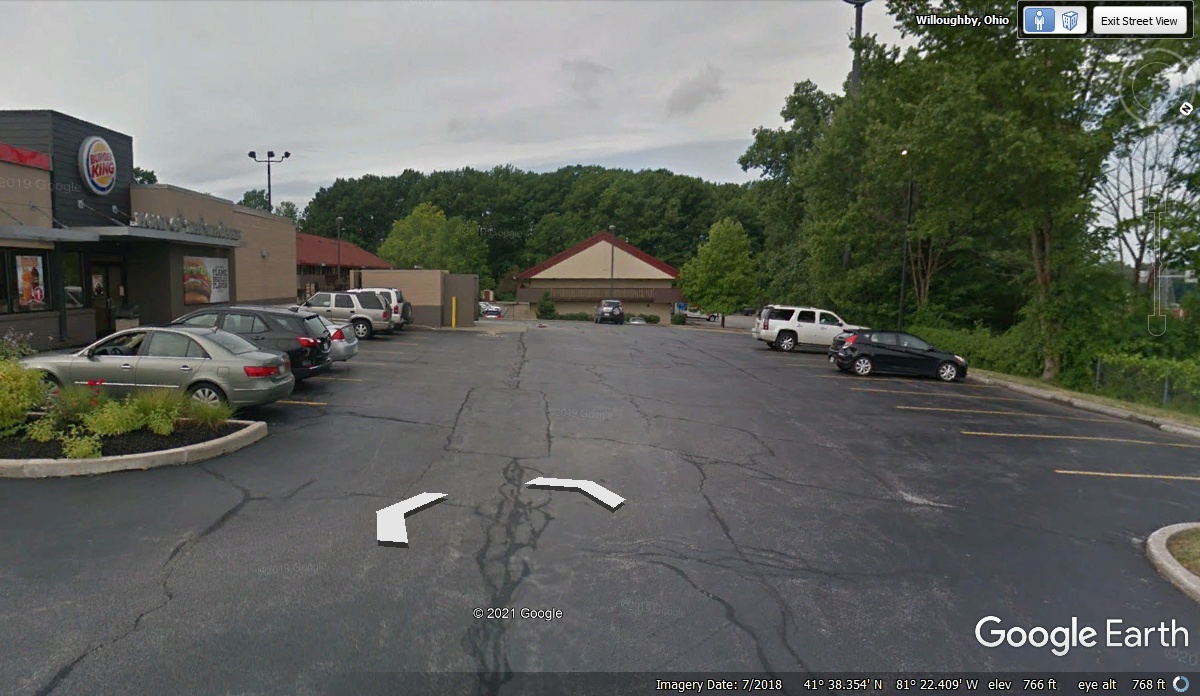 Our next stop that was pre-planned for a fuel stop was at I-90 Exit 241. It is the last exit in Ohio. The Gas Buddy web site confirmed this was the lowest price to buy fuel before heading into Pennsylvania and New York State.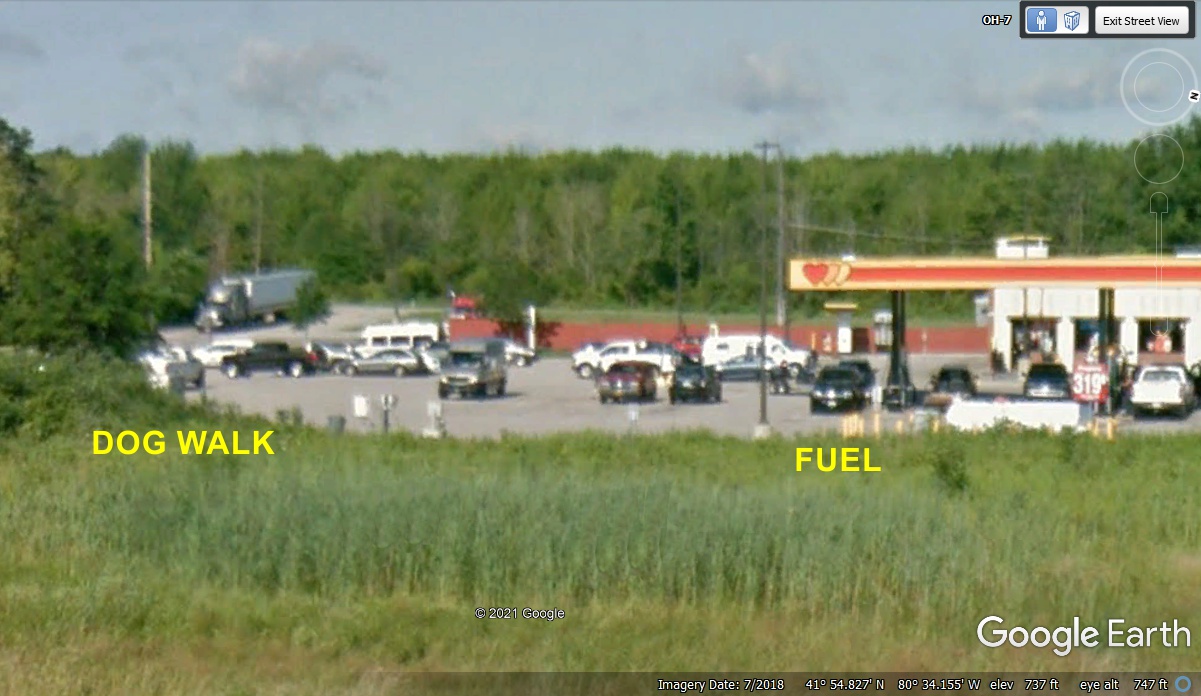 This first exit in Pennsylvania is near the end of US 6N and very close to Lake Erie. That is why we got off here, to see Lake Erie. Getting off here and turning left on US 6N goes over to US 20 less than half a mile from I-90. A short back track West on US 20 less than half a mile brings us to Pennsylvania state route 5 which runs East, parallel to the shoreline of Lake Erie.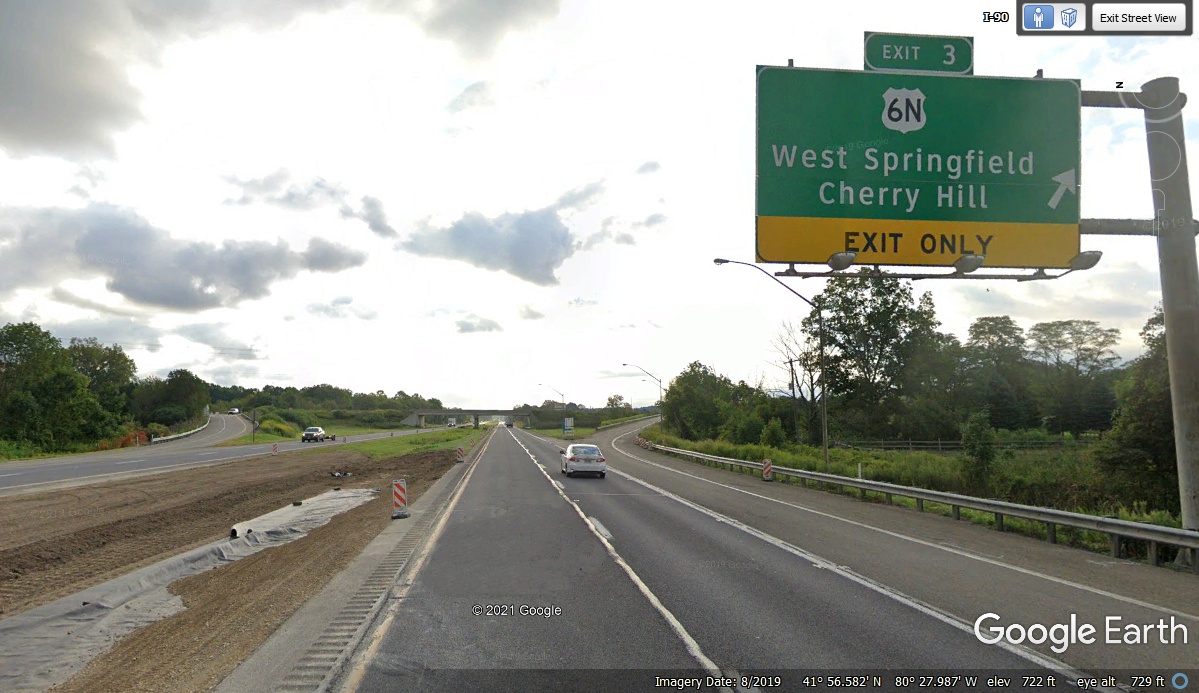 Here is the first road sign seen after turning left from US 6N on US 20 going West for a short distance through the village of West Springfield, PA.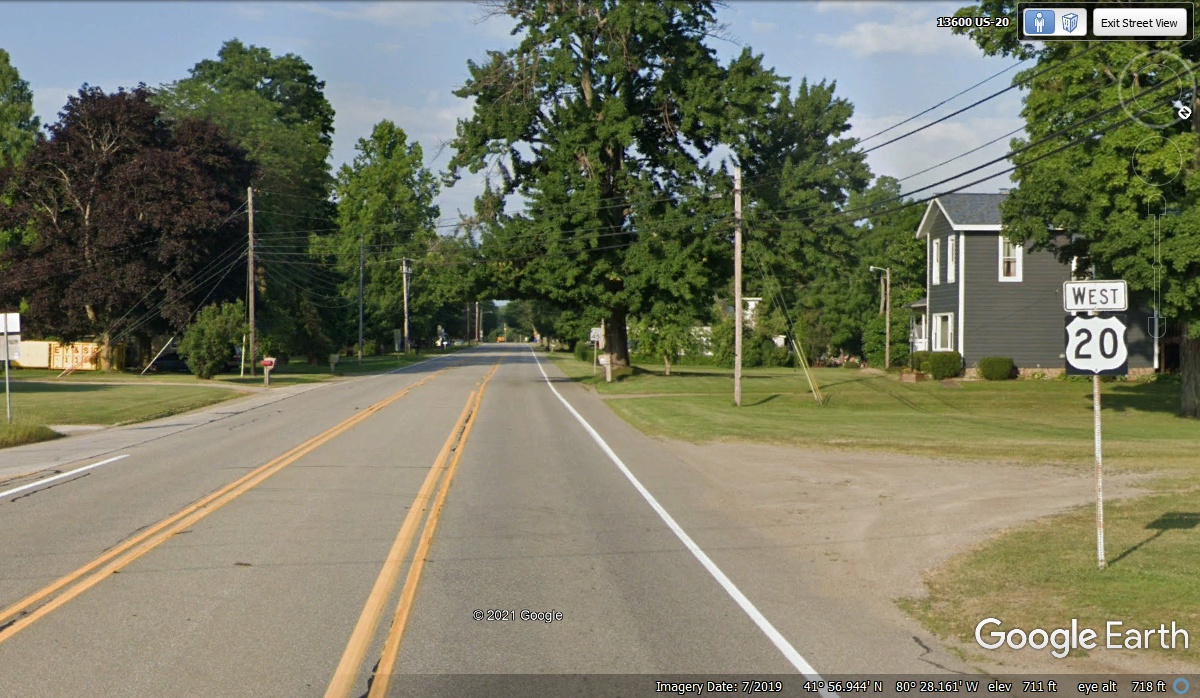 This is the first sign you see when you turn East on Pennsylvania state route 5. Drivers coming East on US 20 will see a LEFT TURN sign for PA route 5 before getting off US 20.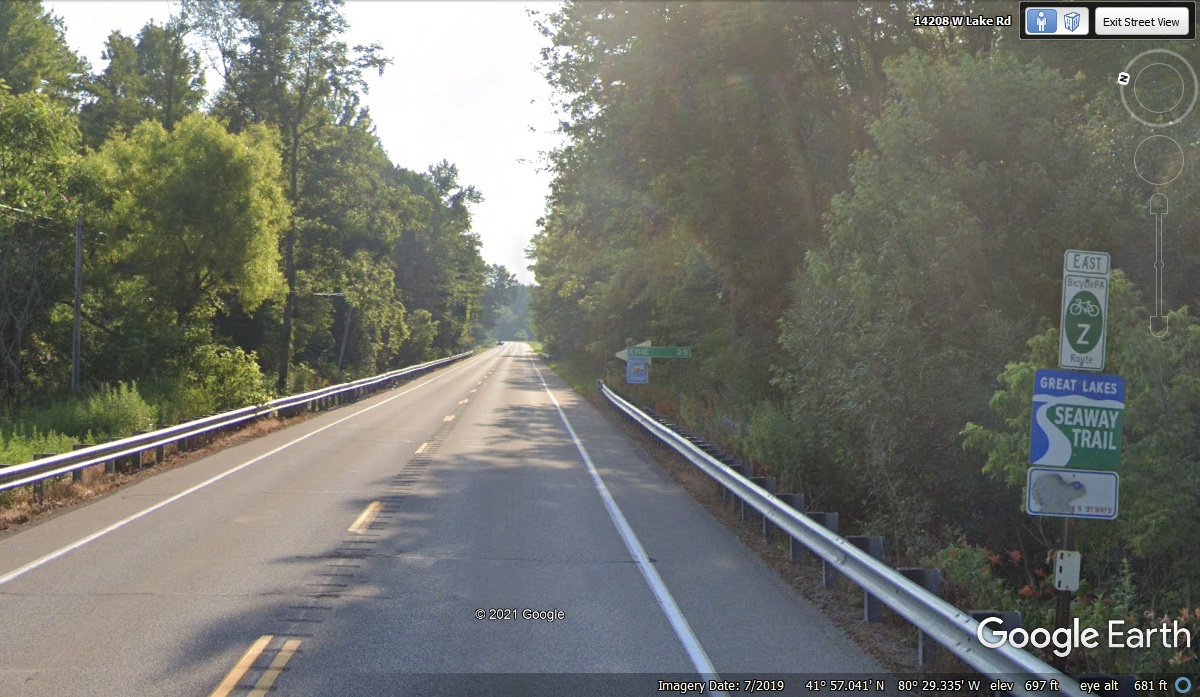 The first PA 5 route sign we noticed is just over one mile from where the route begins back at the US 20 intersection.