October/November 2021 Vacation Day 15 · · PAGE 50.
November 9, 2021: Tuesday continues on US 17 in South Carolina with Charleston as our last night away from home. When we reached the town of Mount Pleasant on the East side of town, we looked for a place for a pit stop. This Wal-Mart was next to US 17 but well hidden by trees lining the highway. There was a white sign for the shopping center that got us on a side street to the entrance to Wal-Mart and many other store fronts. I found a parking place where there was nearby grass for Chase and Linda and I had our chance for a break in the store rest rooms. We parked at 1:10 PM and departed at 1:17 PM.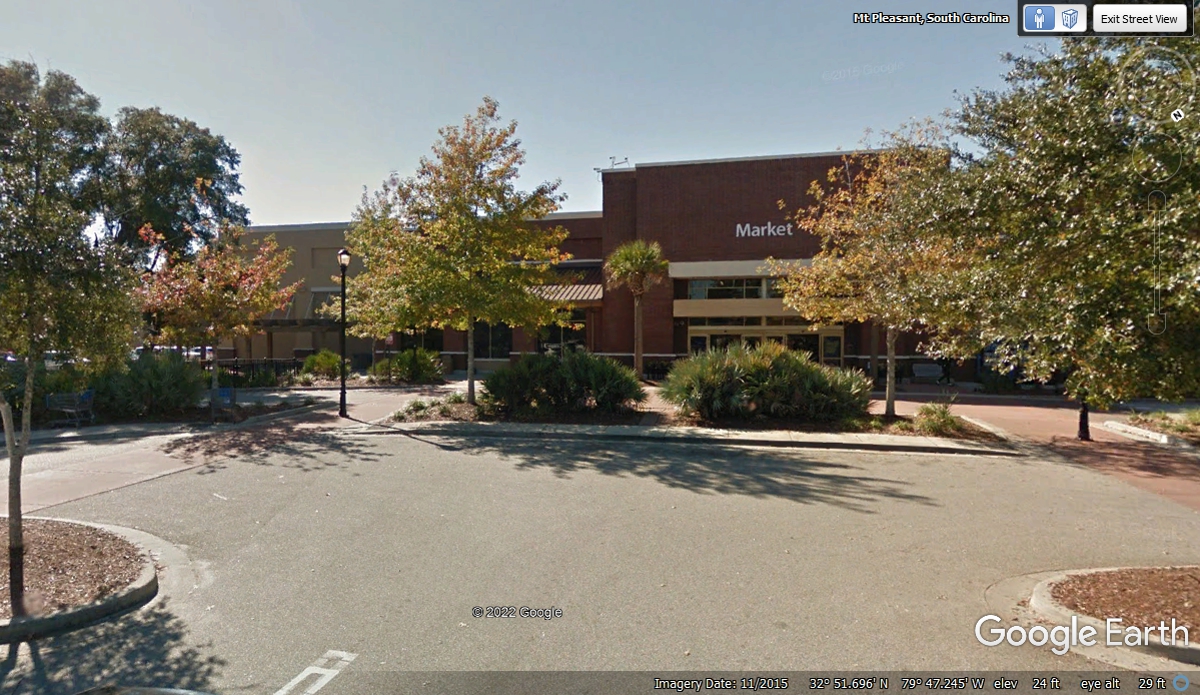 Before leaving the Wal-Mart parking lot, I entered a search for a Wendy's restaurant and it pointed me to a place not too far from where we are. I followed the trail into a large housing development up on a hill and decided someone had used the home address for a Wendy's franchise holder in the Garmin GPS data base. Here is a typical home we found on the street where the GPS led us. It is a two-story house on top of a triple garage and basement. They really like those columns by the front door.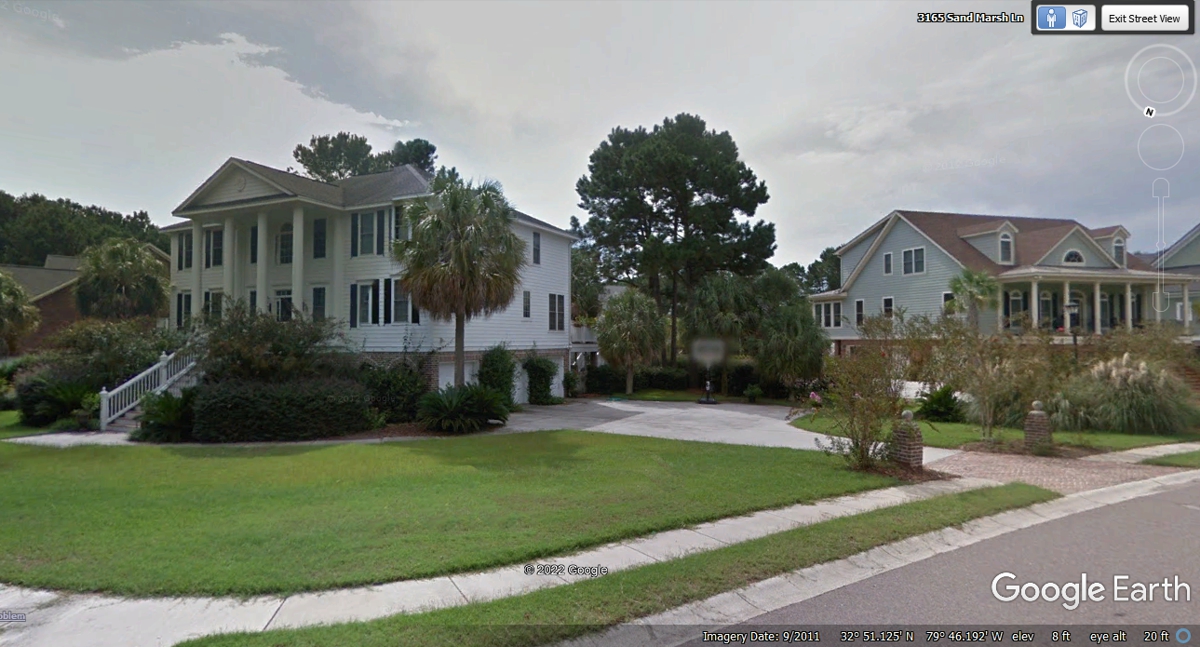 We left the high rent district and pulled out on US 17 at 1:35 PM. When we got to this intersection, my GPS 296 wanted me to turn right. When I did, it was a residential neighborhood of the most elite homes in Mount Pleasant. It was a two-lane tree-covered road.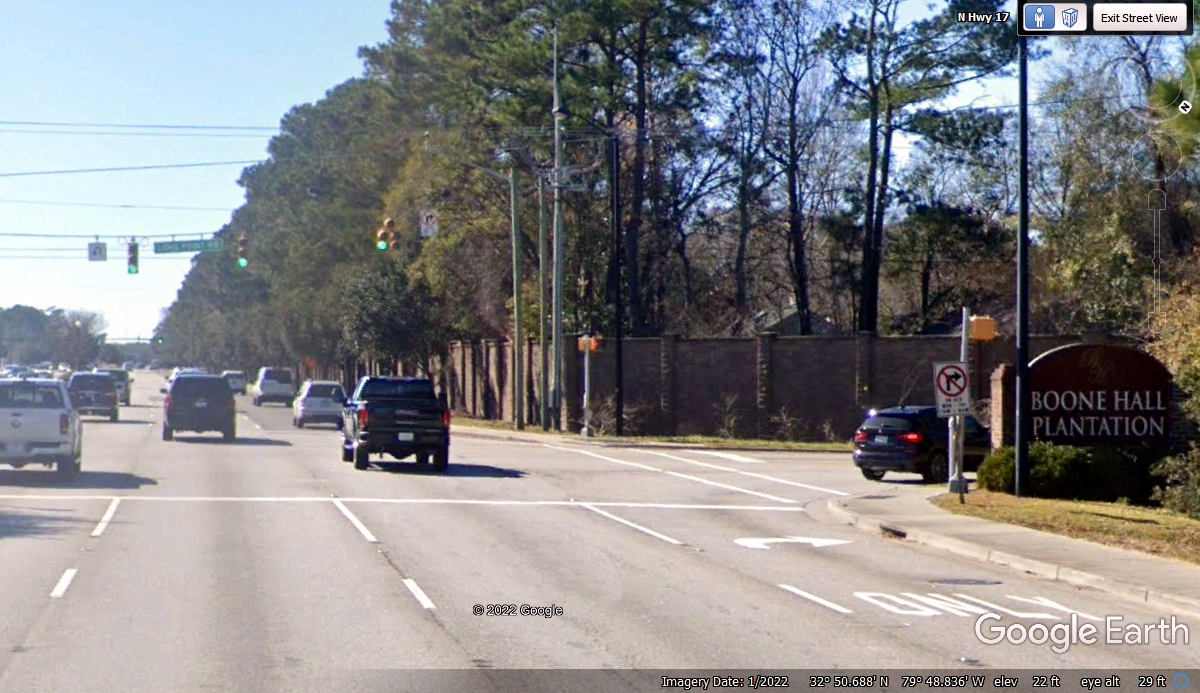 This is Long Point Road around the north side of the Pinckney estate. The National Park Service has a web page about the famous South Carolina family, father and son, at this web site online: https://www.nps.gov/chpi/learn/historyculture/charles-pinckney.htm When we reached this point in our drive we discovered high water over the right lane of the road at 1:39 PM. We kept going to Interstate 526 which is the east side bypass around Charleston. The GPS seeks out the biggest highways and sometimes gives bad advice on where to go.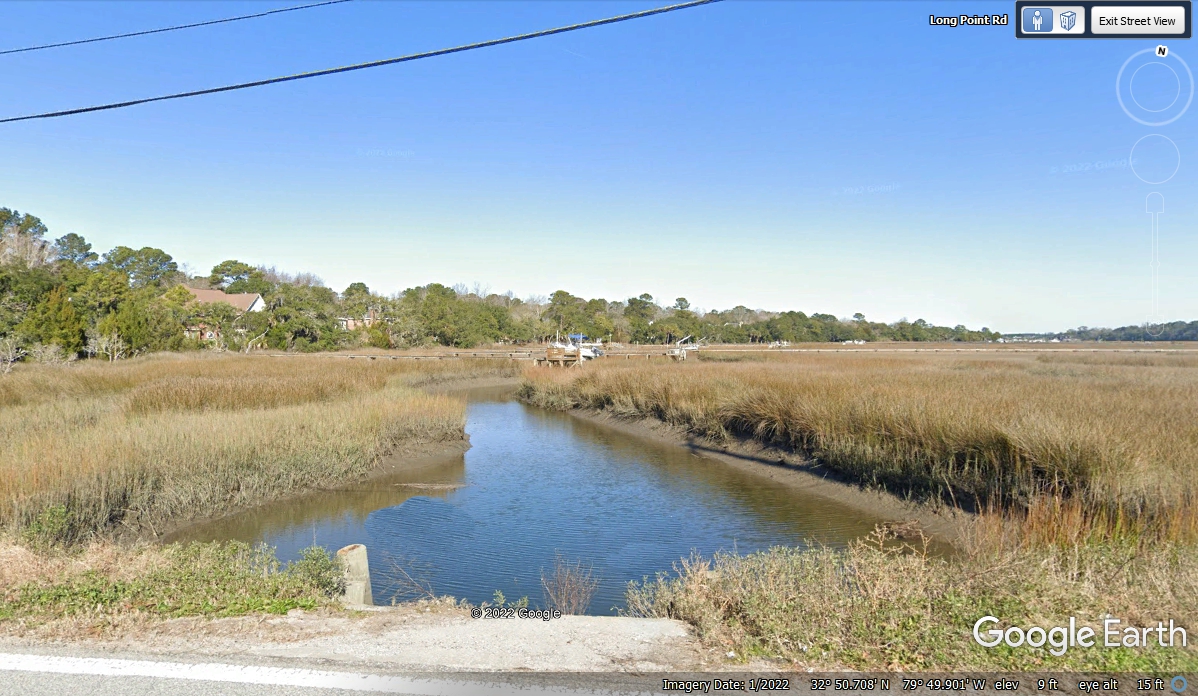 It was 1:45 PM when we got to this on-ramp to Interstate 526, it was a short ride down to US 17 to continue our ride into Charleston via US 17.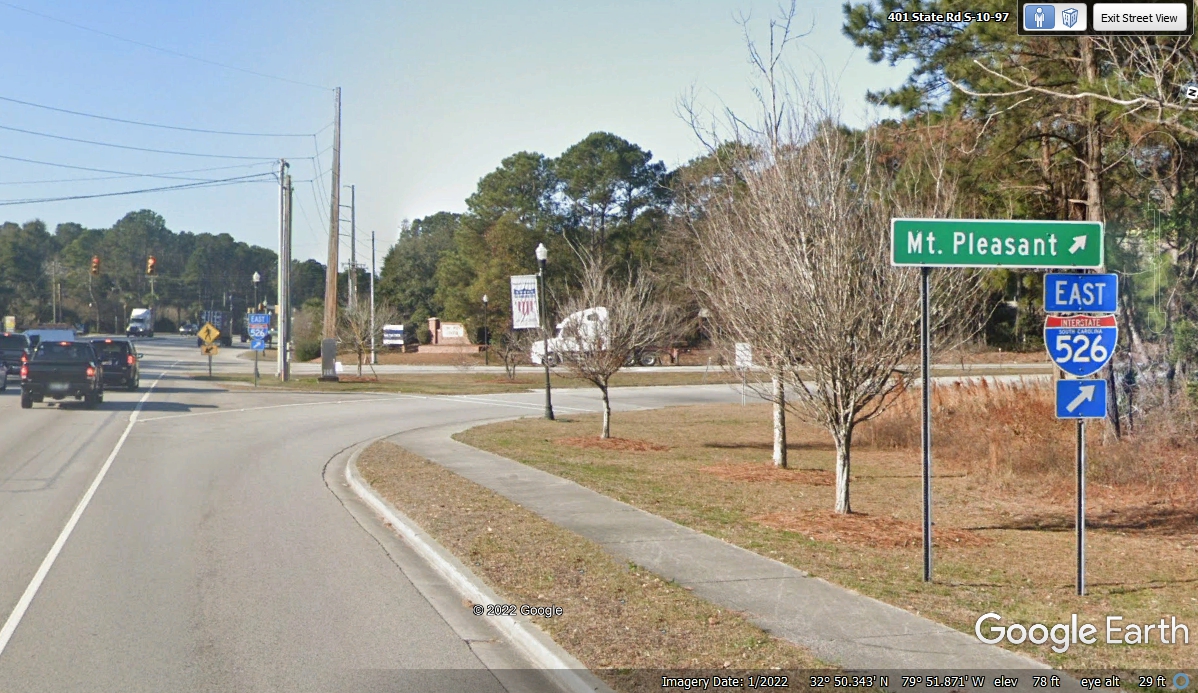 This is the first exit from US 17 after the exit ramp from I-526. When I went over the overpass, I glanced to the left side of the highway to see a Wendy's. The Bowman Road exit would have taken me there, oh well. We keep going toward our motel for tonight. It was 1:48 PM when we passed this exit to Bowman Road.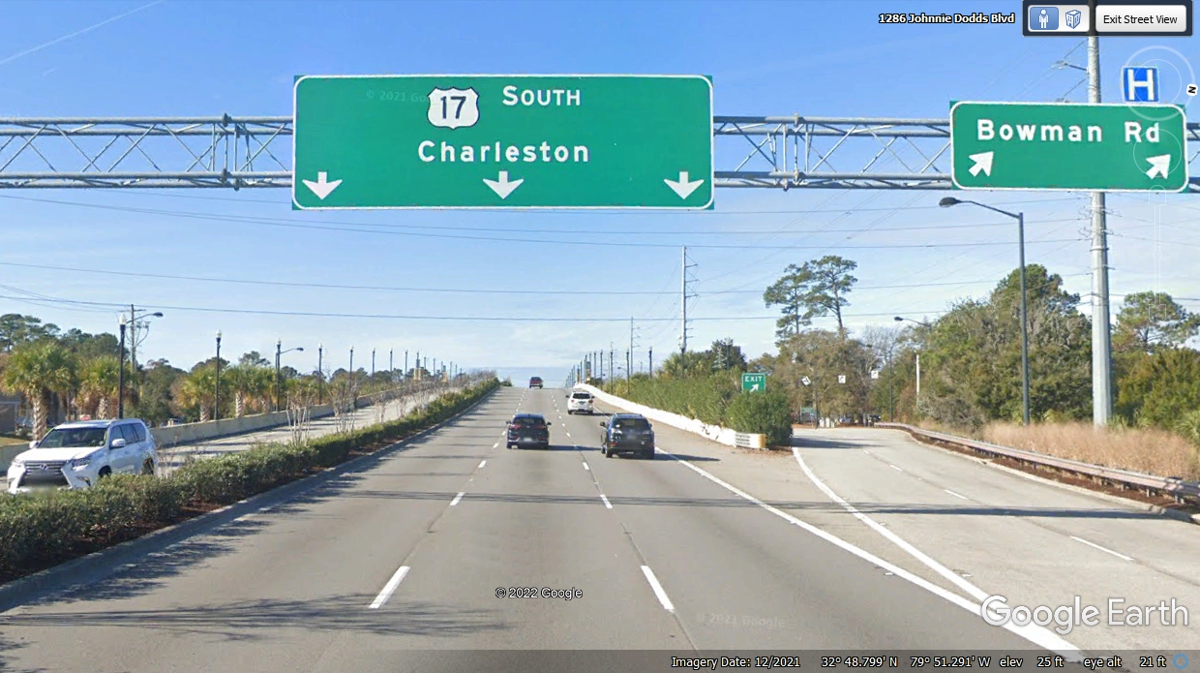 Climbing the bridge from Mount Pleasant going into Charleston gives this view of the USS Yorktown permanently docked at Patriots Point as a World War II memorial with tours of the ship and all her exhibits on deck and down below. I have done this in the past, but there was not enough time to do it today. NO PETS were allowed. We passed this image location at about 1:54 PM.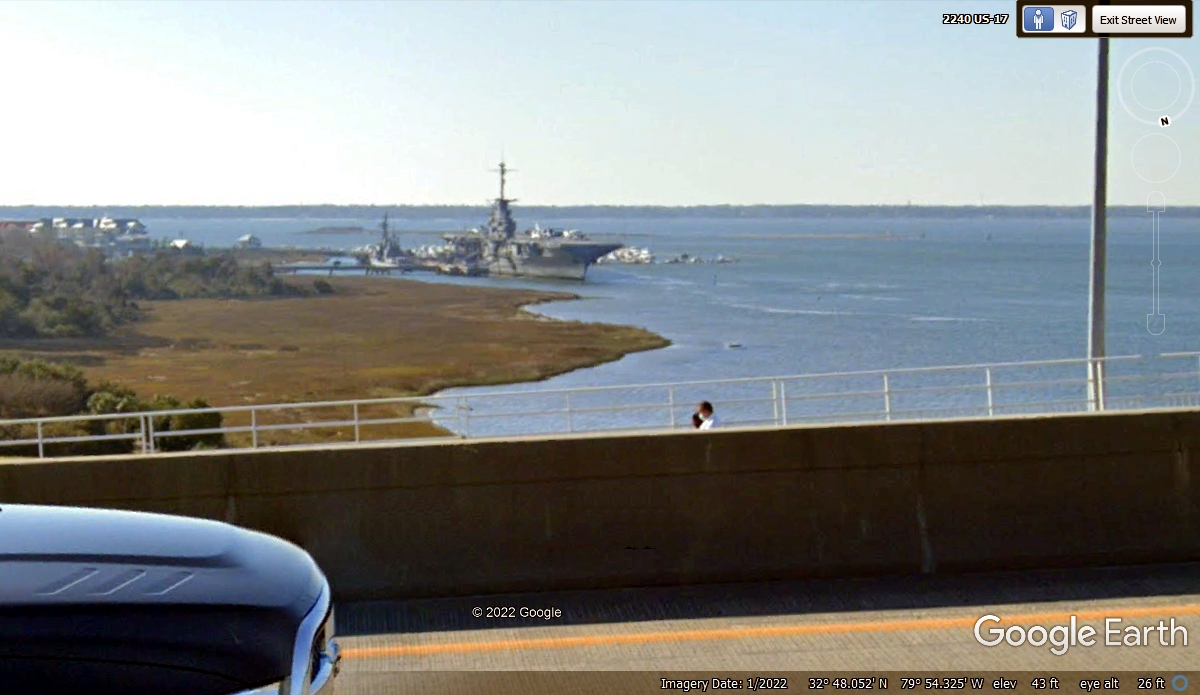 You can tour the USS Yorktown using Google Earth. Look at the ship from above, then drag the little man over the deck of the ship or any of the BLUE LINES showing where the camera crew has been walking or driving. Have FUN!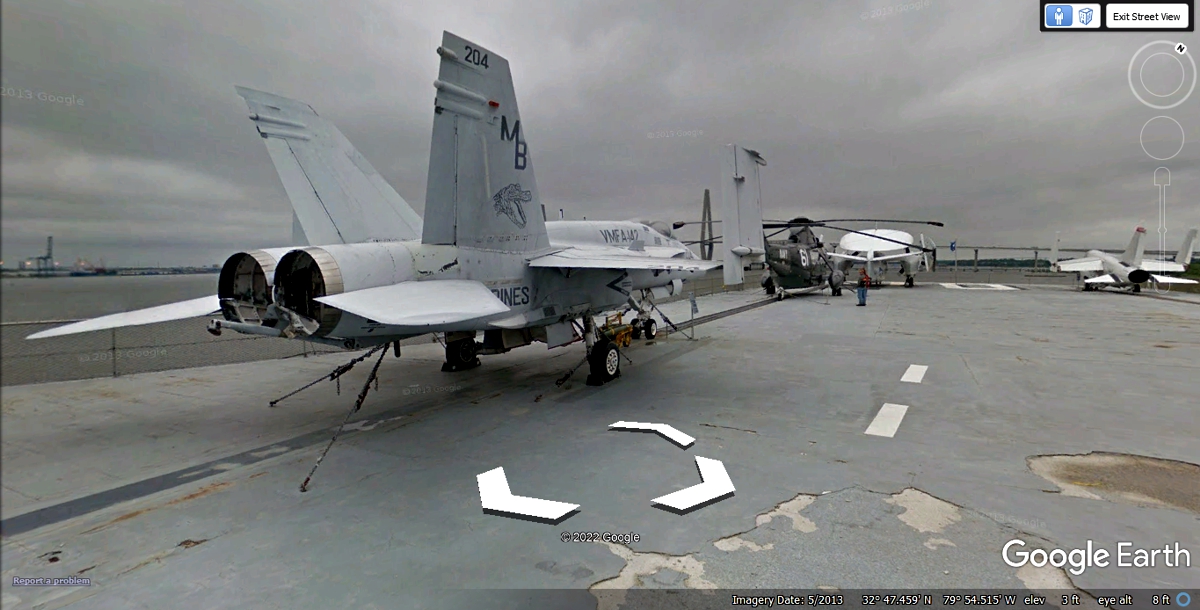 The last time I visited Charleston, South Carolina, the two older truss bridges stood alone connecting Mount Pleasant to Charleston. This NEW suspension bridge handles more traffic than two of the older type bridges combined. This type of new suspension bridge is used as a back drop for network nightly news anchors in cities where these NEW bridges exist. The old truss bridges here in Charleston have been removed.

This Google Earth image from January 2022 shows a view looking northwest from the new suspension bridge.

Linda snapped this photo of the new bridge when we were driving in the far right lane going west. Both sides of the bridge have FOUR lanes providing TWO times the traffic handling ability of the old TRUSS bridges seen in an image above. We were under a light pole when she took this picture.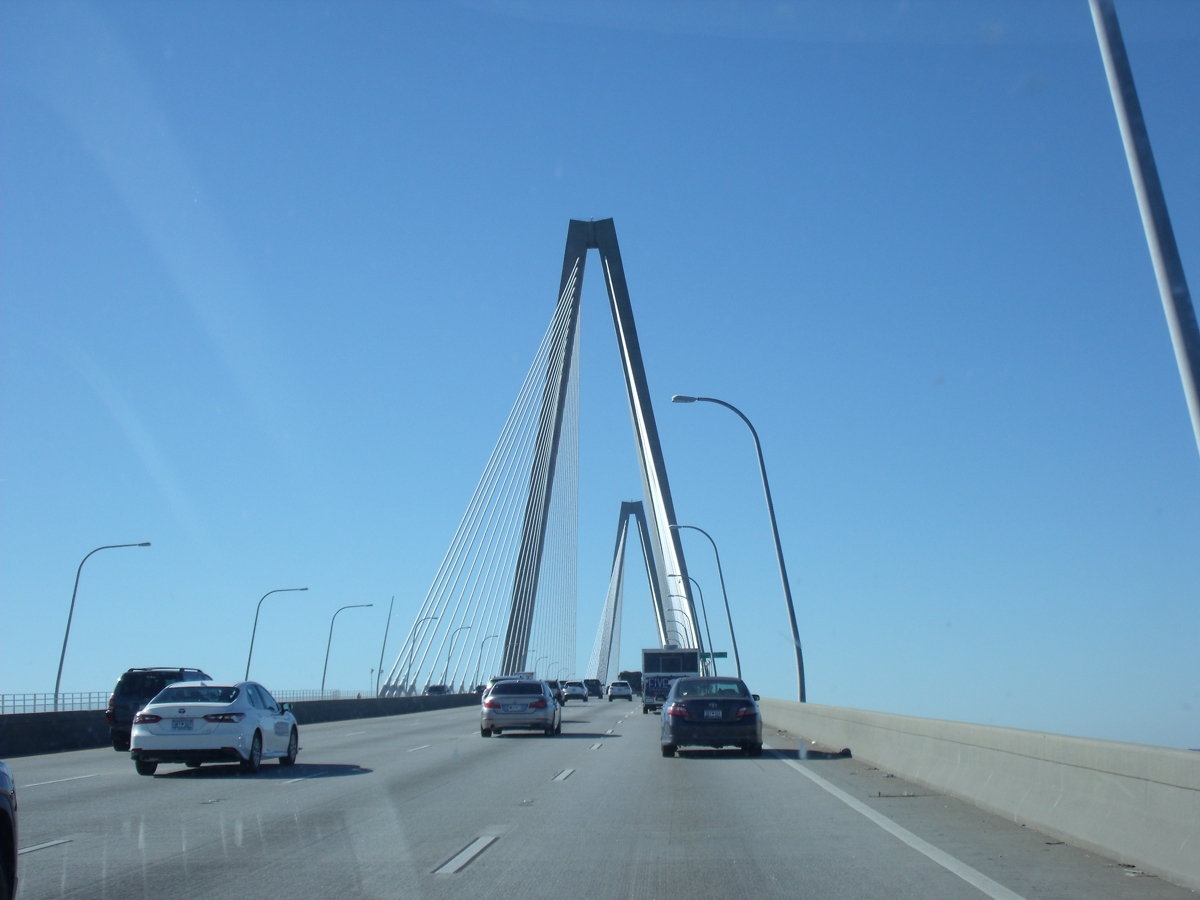 We got off the bridge in Charleston at 1:56 PM following US 17 into an old part of the city.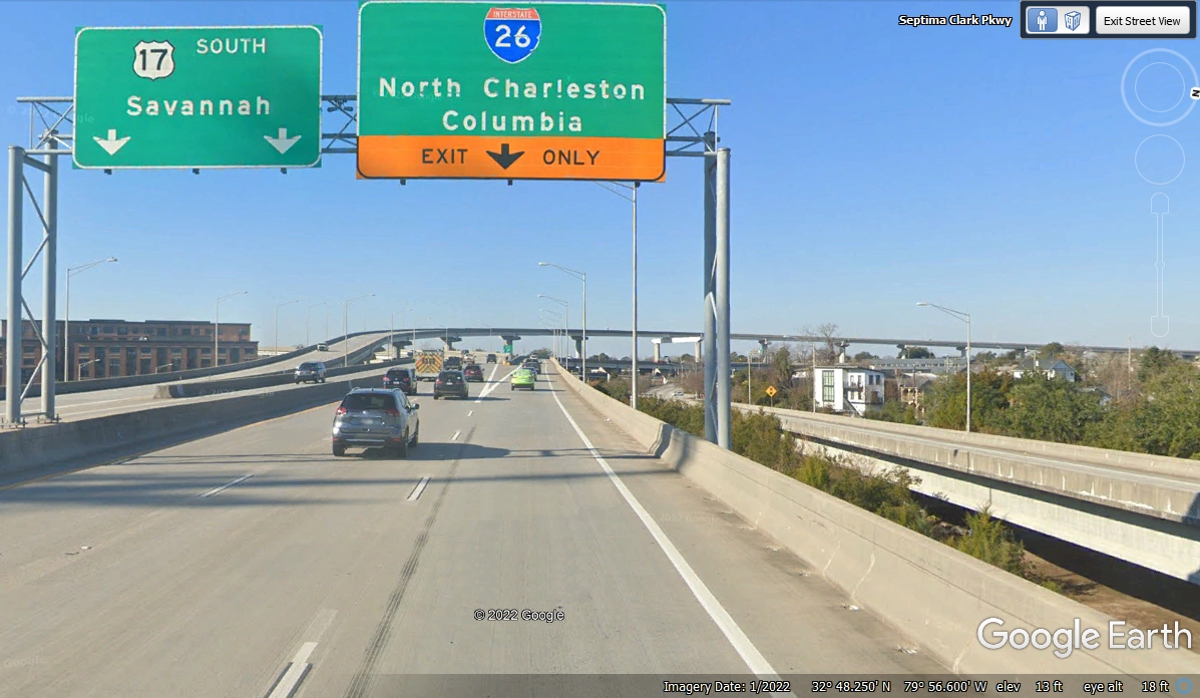 We have been getting our rooms at Pet Friendly Motels all along our routes. We drove down to our hotel as soon as we got off the freeway to town at 2:06 PM. It was too early to check in at this time. When we later checked in at this La Quinta Inn, there were a couple of guests with their pets in the lobby. We checked in here around 2:58 PM.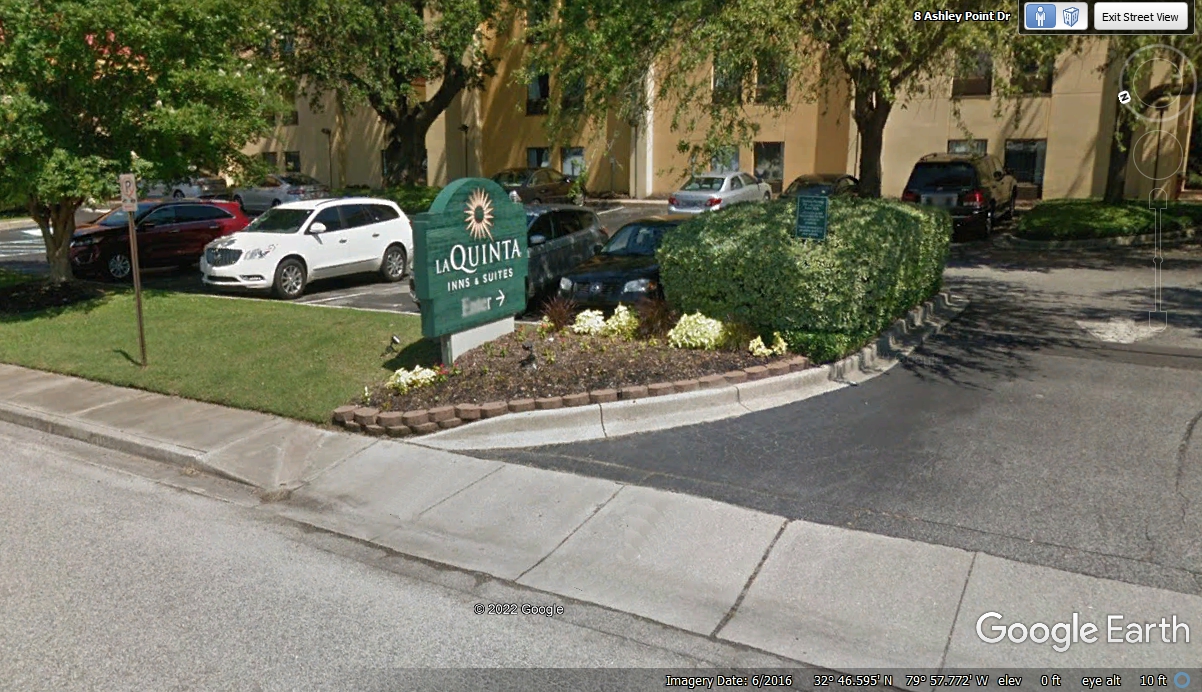 I looked up a Burger King for lunch as we have been eating there a few days ago on this trip. The GPS took me to the location of the Burger King in 2017 as that was the last image of the place in Google Earth. We went up there and found a different restaurant in the old Burger King location at 2:39 PM. We took a route that was the long way around to get to a Wendy's that is still there. We stopped at this Wendy's at about 3:03 PM to get lunch. We left here at 3:35 PM and returned to the motel at 4:05 PM. We got the baggage out of the Equinox we needed for tonight and did all the doggy stuff before bedtime.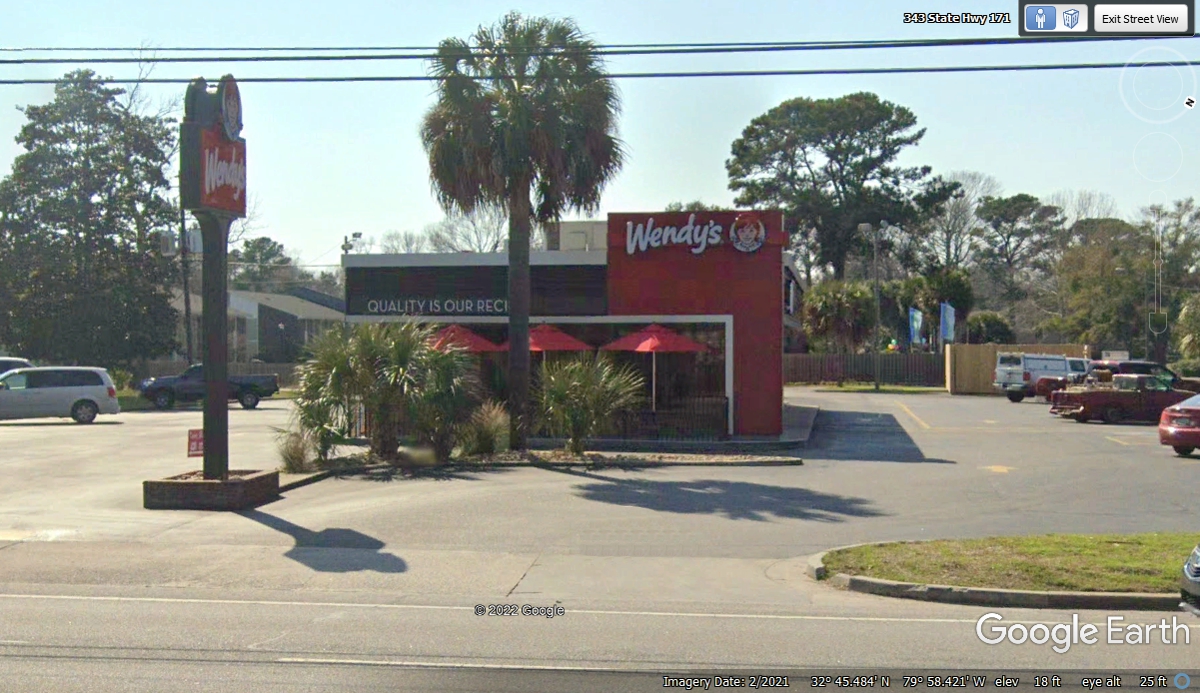 October/November 2021 Vacation Day 16 · · PAGE 50.
November 10, 2021: Wednesday and the hot hotel breakfast was good. Our travels on US 17 departing Charleston, South Carolina for Florida got started at 7:15 AM today which puts home within reach before bed time. We got on the city street that is US 17 South (heading west out of town) and most of the morning commuters are going into the city as we head out.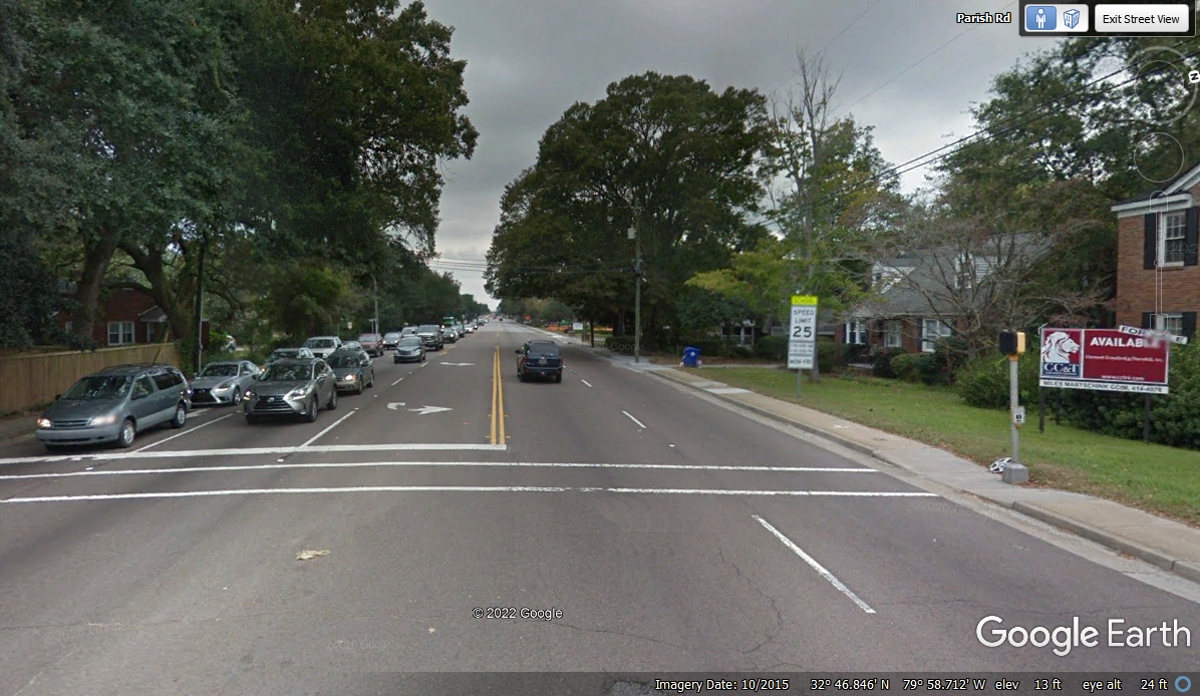 Some of you may not know there is a town named NORTH CHARLESTON which is obviously north of the city of Charleston. Driving past this interstate highway around the metro area points the way to open country and higher speed limits. We were at the other end of this loop yesterday as we entered Charleston.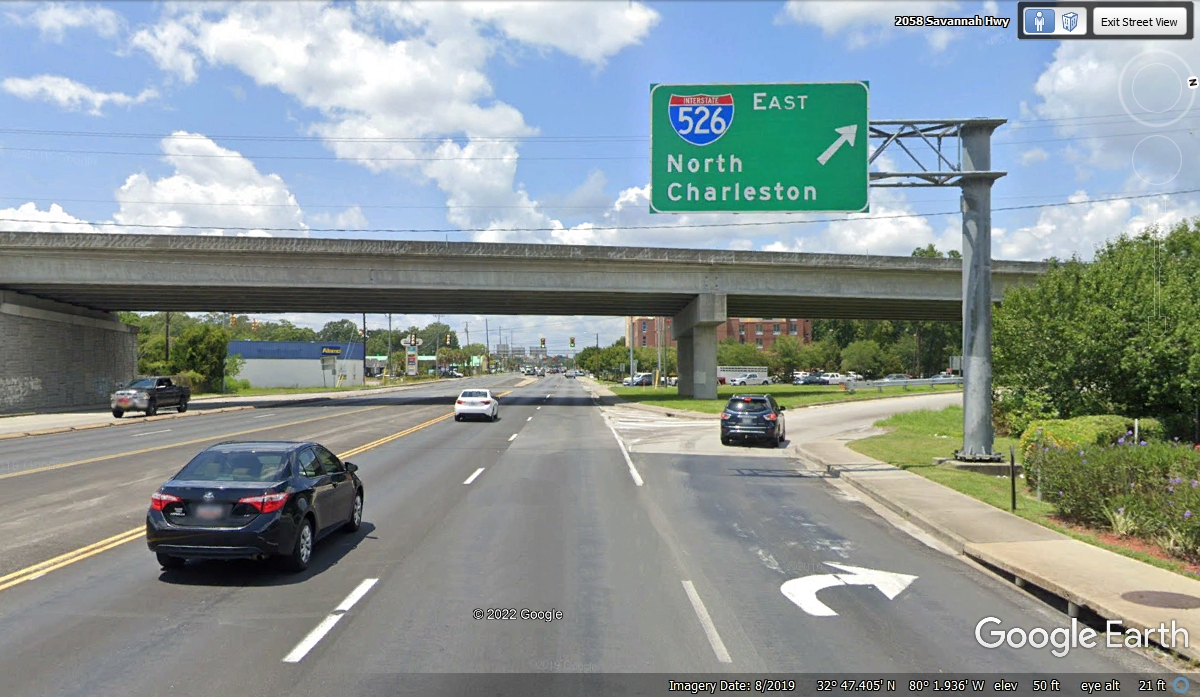 This image is only 3.5 miles west of I-526 where the inbound traffic is less than the westbound US 17 southbound traffic.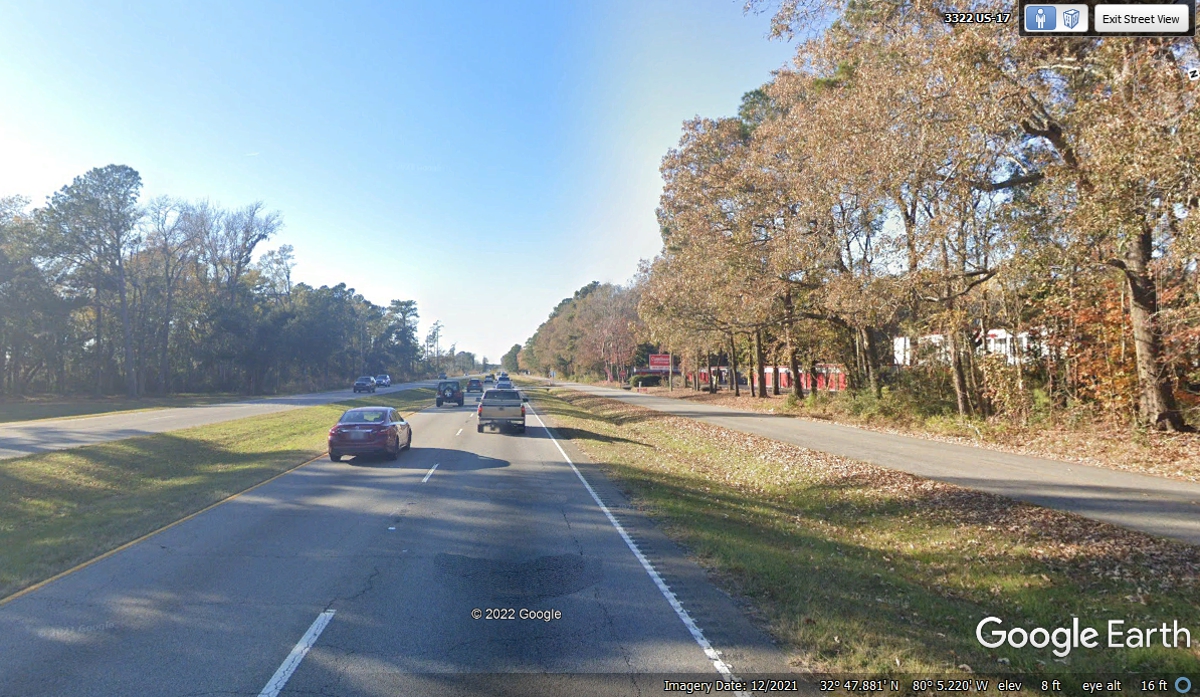 Here is the junction of US 17 and South Carolina route 64 that goes up to Walterboro on I-95 where I usually stop for fuel when I am going north on that route. Today, we stay on US 17 heading toward Savannah, Georgia after connecting to I-95 southbound. We passed this place at 7:57 AM.

I-95 is in sight up ahead where we can get up to our top speed again heading home. We passed this location at 8:25 AM to get on I-95 southbound.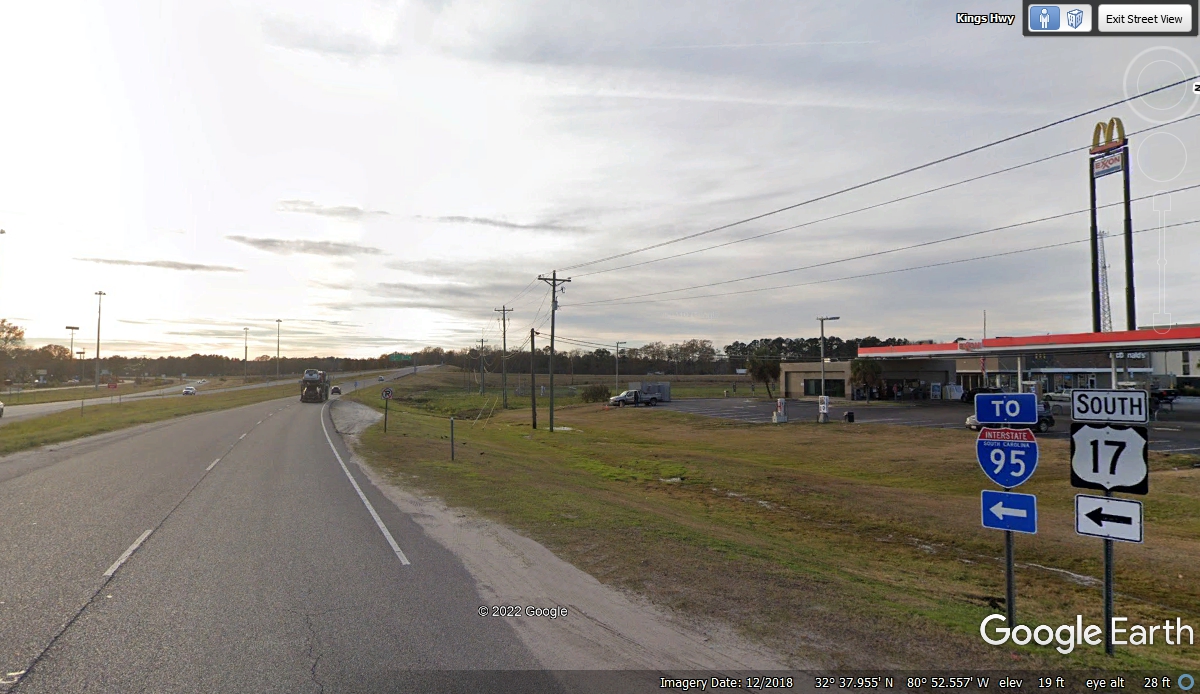 US 17 joined I-95 at Exit 33 and now they separated here at exit 22. We will see US 17 crossing paths with I-95 in Georgia and down to Jacksonville, Florida.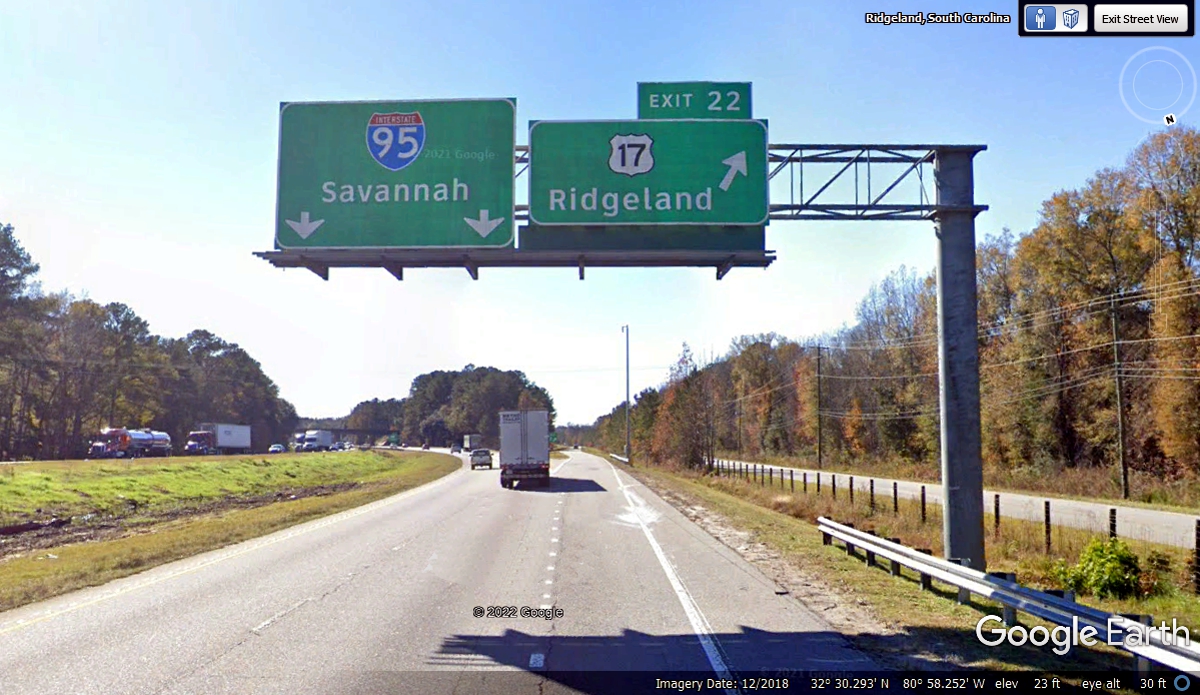 We crossed the Savannah River at 8:53 AM where this sign is just after the river which is the state line.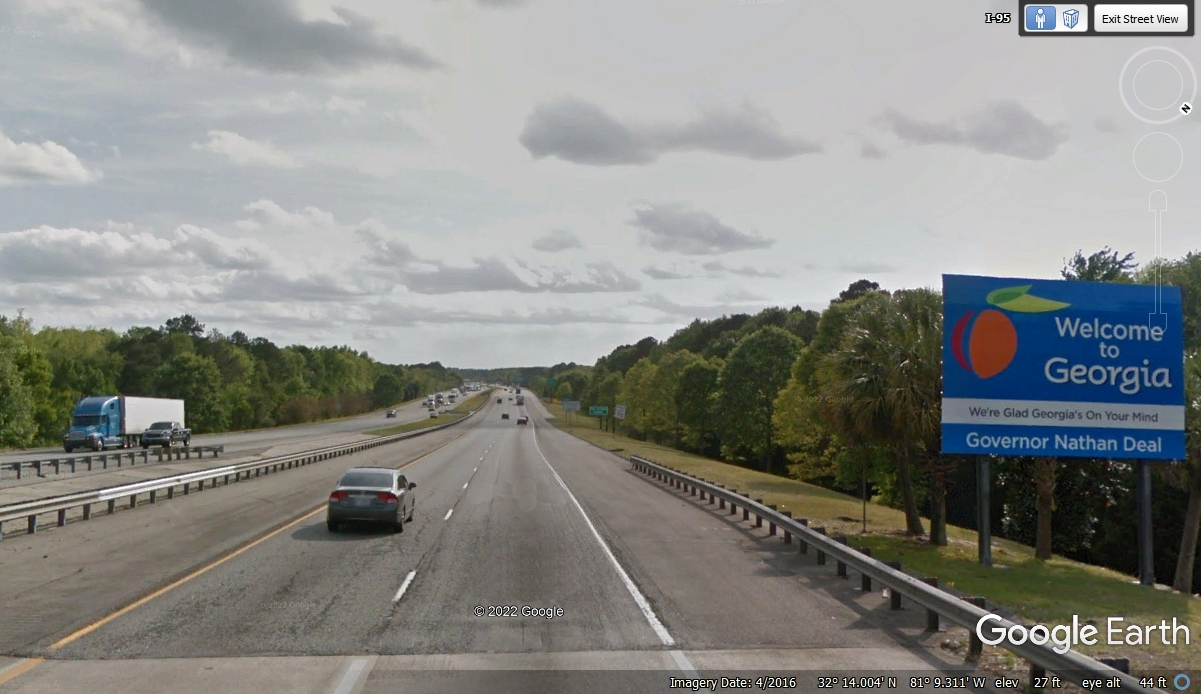 The next important intersection is Interstate 16 that goes to Macon, Georgia where it connects to I-75. I-16 is a coastal evacuation route when a hurricane threatens this section of the Atlantic coast. The Florida state line is 99 miles south of this location. We passed this location at 9:03 AM.

We made a pit stop for Chase at a Georgia Rest Area located at mile marker 39 at 9:49 AM and were back on the road at 9:53 AM.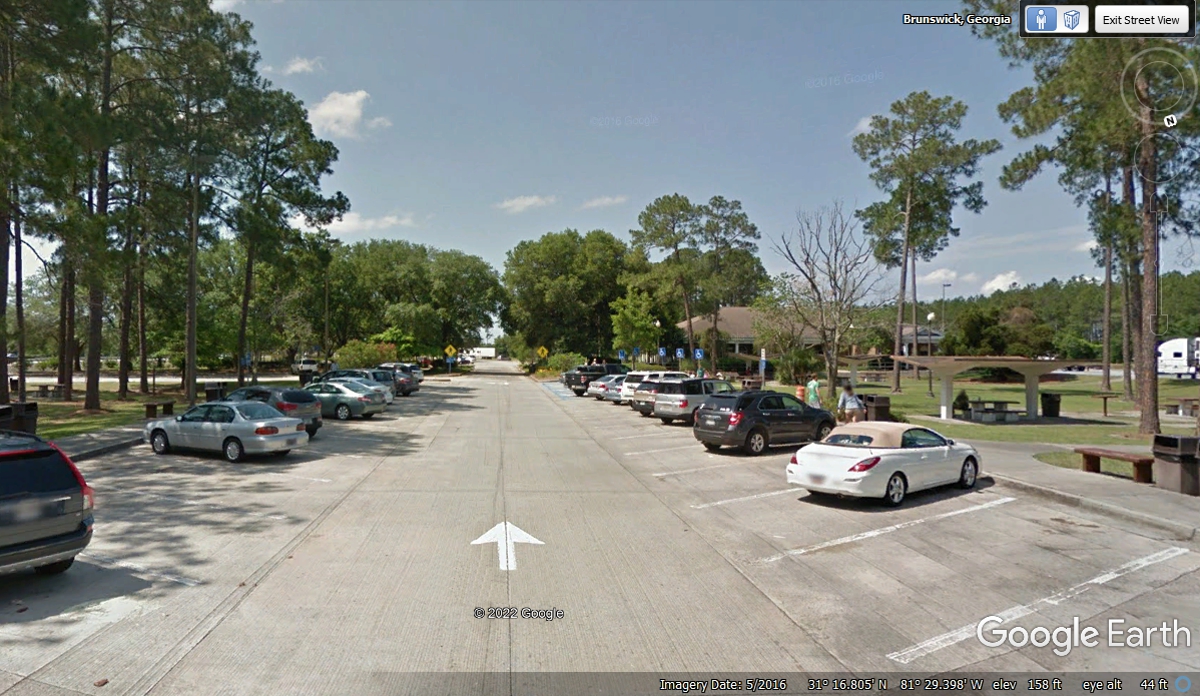 Our final fuel stop is near Kingsland, Georgia at exit 5 from I-95 at this station which is currently managed by Circle K stores. We arrived at 10:44 AM with our departure at 10:49 AM ready to get on the road south.