October/November 2021 Vacation Day 12 · · PAGE 40.
November 6, 2021: Saturday afternoon we spent some time getting ready for the banquet tonight. Chase would not be allowed to go there. We made sure the TV was turned on and that he had water and kibble in his bowls. I took him out for a walk before we left him in the room. Our hotel was chosen since it is a pet friendly place. He still did a lot of barking in the room while we were gone. He was alone and in a strange place. We gave him plenty of hugs and a good walk as soon as we returned about two hours later.
The Valley Forge Casino Resort is across the highway from the Valley Forge National Historic Park. Toner had their banquet in a meeting room on the floor above the casino.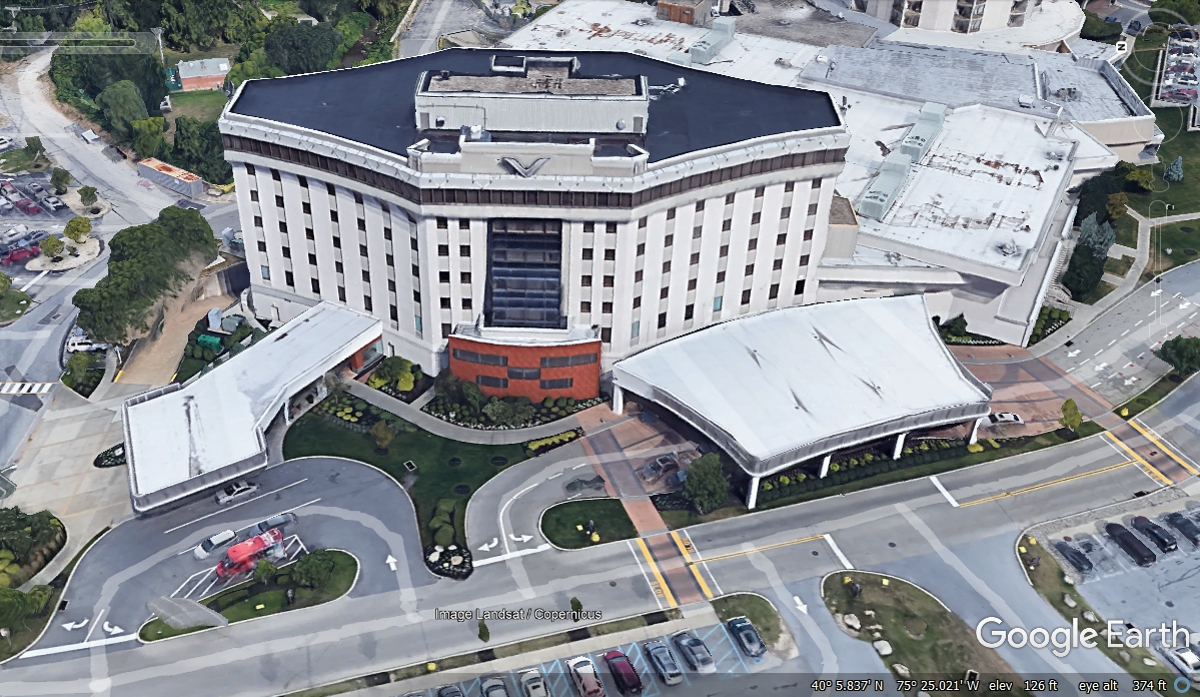 We arrived at the casino parking lot at 5:55 PM as the event was scheduled from 5:30 PM to 11 PM. We had some time to see a number of old friends who were also vendors who use Toner Cable Equipment as a distributor. I met with our host and let him know we would be leaving right after dinner as we had to leave Chase at the hotel. Since he had met Linda's dog at his office yesterday, he understood our need to get back to the hotel. The meal was good and conversations at the head table were interesting. All of the Toner employees were introduced with the number of years they worked there. We left around 8 PM.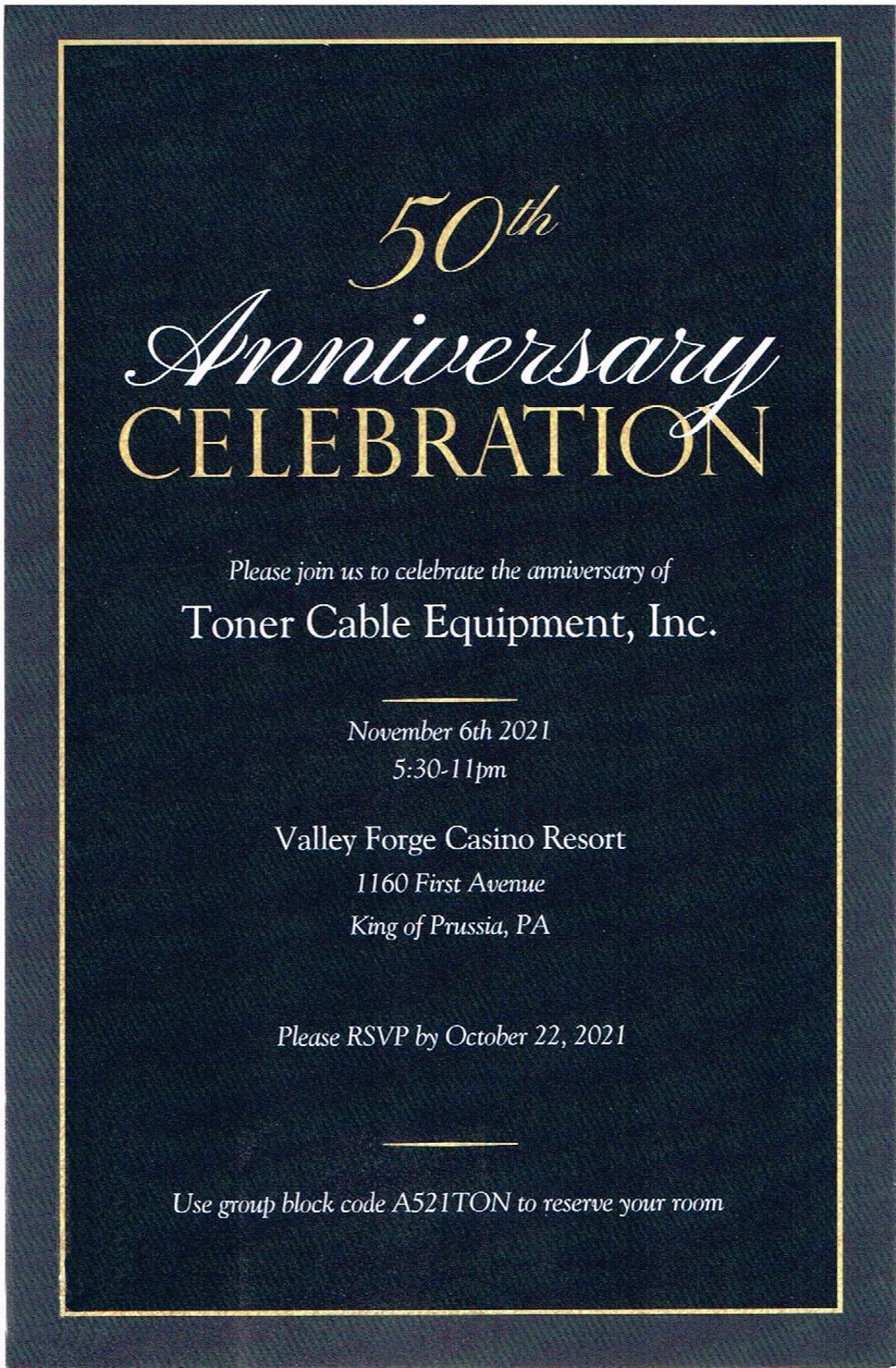 October/November 2021 Vacation Day 13 · · PAGE 40.
November 7, 2021: Sunday morning was the beginning of our trip home to Florida. I got all our baggage loaded into Linda's Chevy Equinox and we departed the Motel 6 at 7:27 AM. The Motel 6 where we spent the last two nights is visible on the left side of this image. The ramp to get on Interstate 76 going East is up ahead on the right. DeKalb Pike was named for one of the Generals at Valley Forge during the winter of 1777-1778 with George Washington.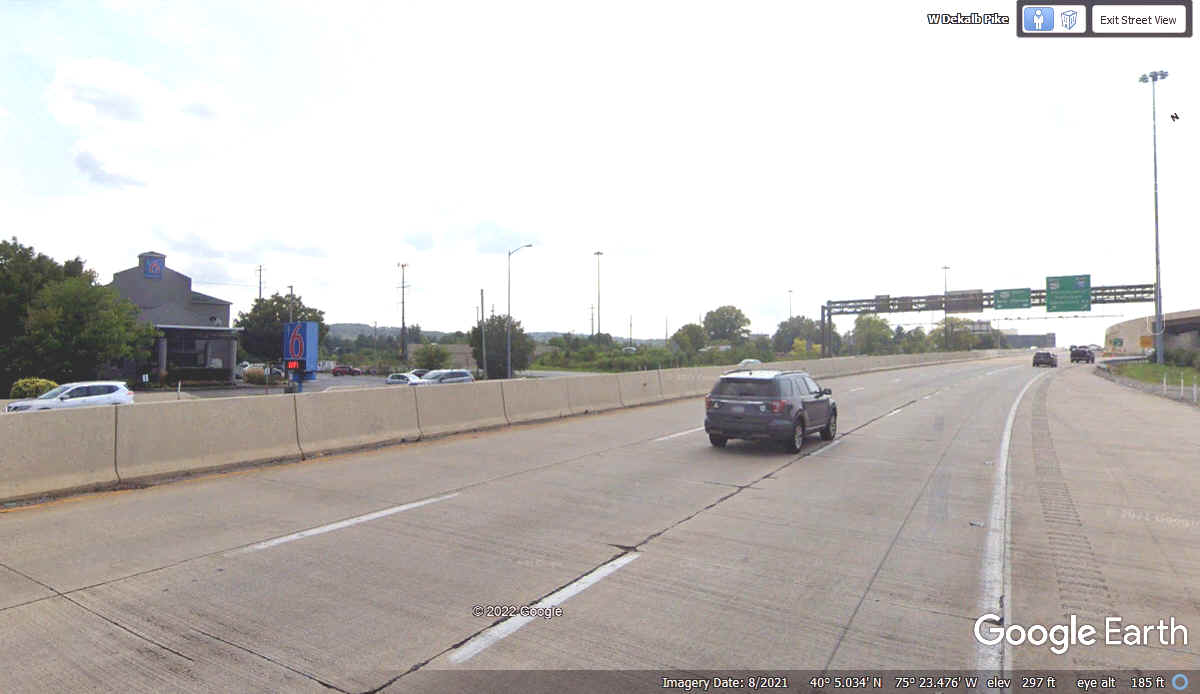 This is our first turn of the day onto I-76 East to get us to the next route to bypass Philadelphia on the west side using I-476 going south to I-95 southbound. From this on-ramp to the exit ramp for I-476 south is just over FOUR miles.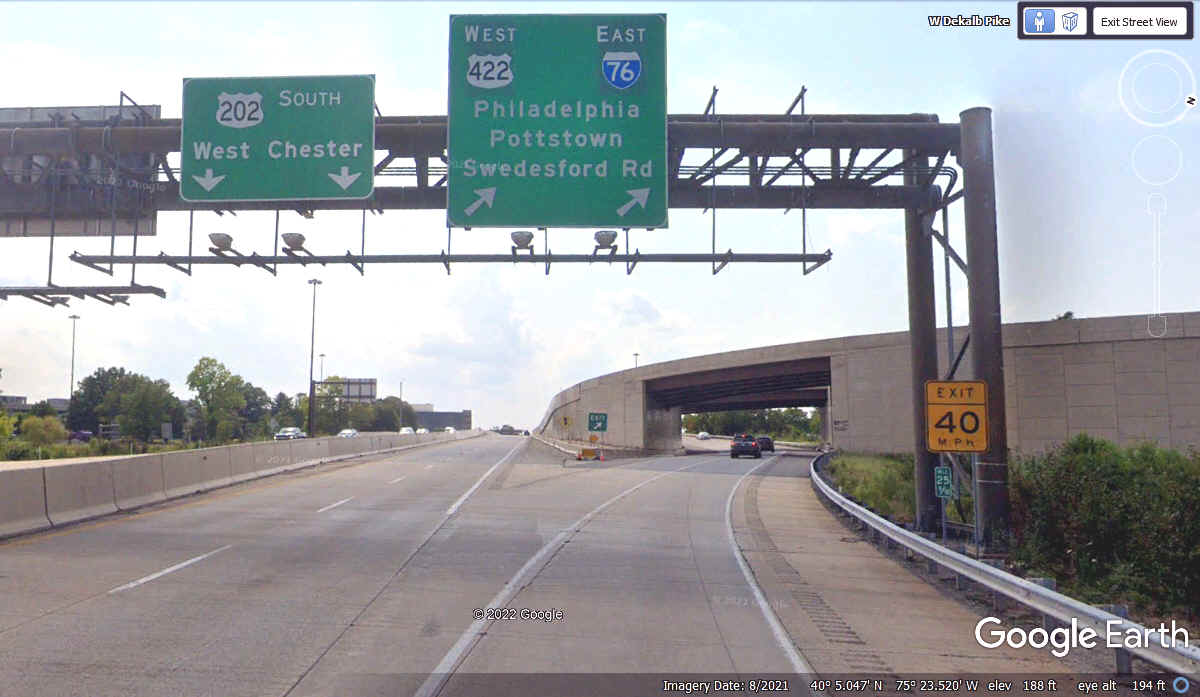 Time to change routes again leaving I-76 that goes to the inner city then use Interstate 476 to get down to I-95 that starts the long trip to Florida.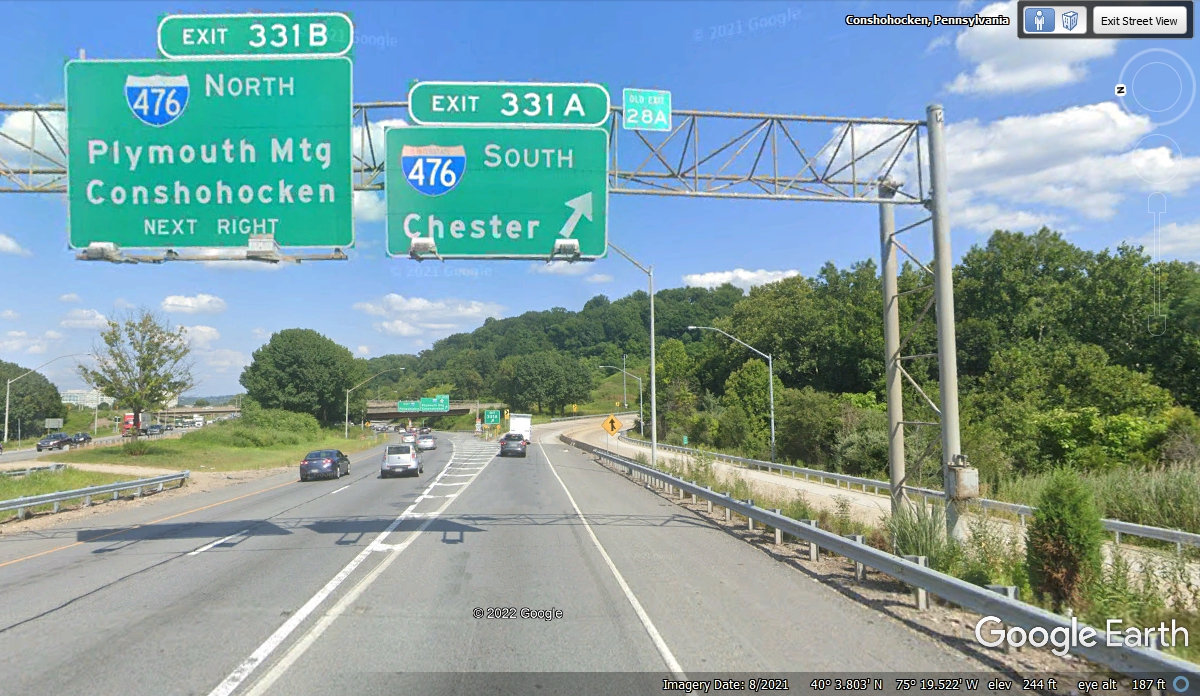 US 30 goes West from Philly all the way to the Pacific Ocean in Oregon. It is the first exit from I-476 on the northwest side of Philadelphia.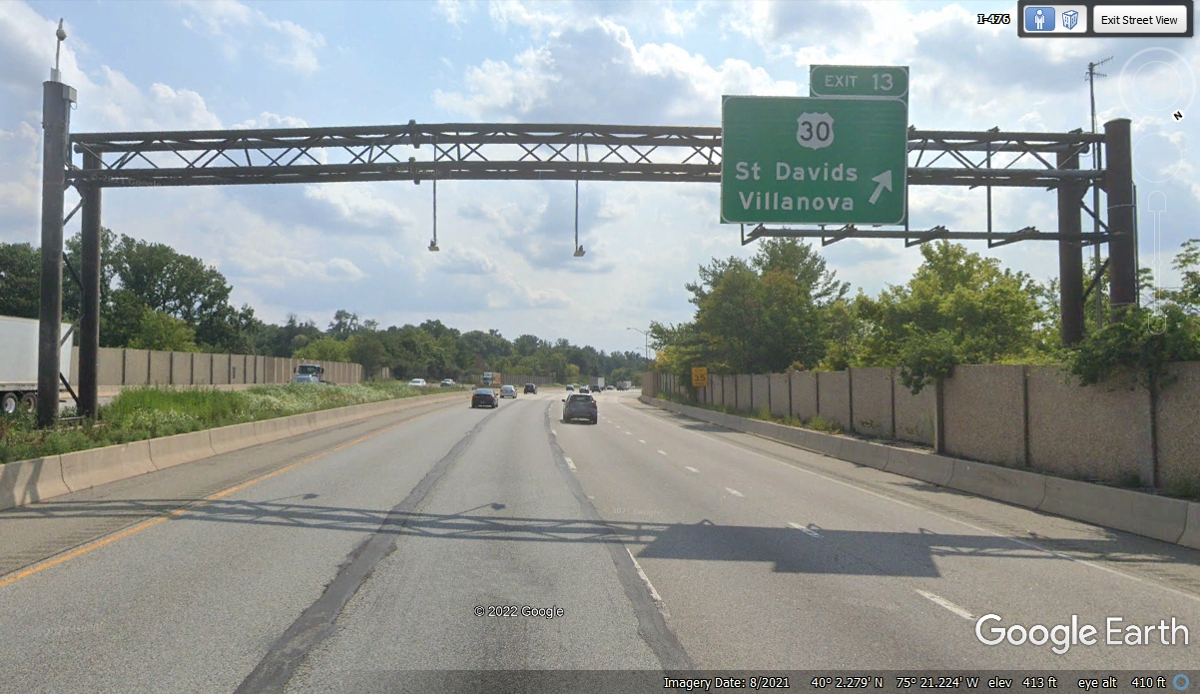 US 1 begins at the northernmost part of Maine at the Canadian border. We have been on it or near US 1 in Maine, New Hampshire, Massachusetts, Connecticut, New York, New Jersey and here in Southeastern Pennsylvania. US 1 goes through a number of major cities all the way to Miami and ends in Key West, Florida.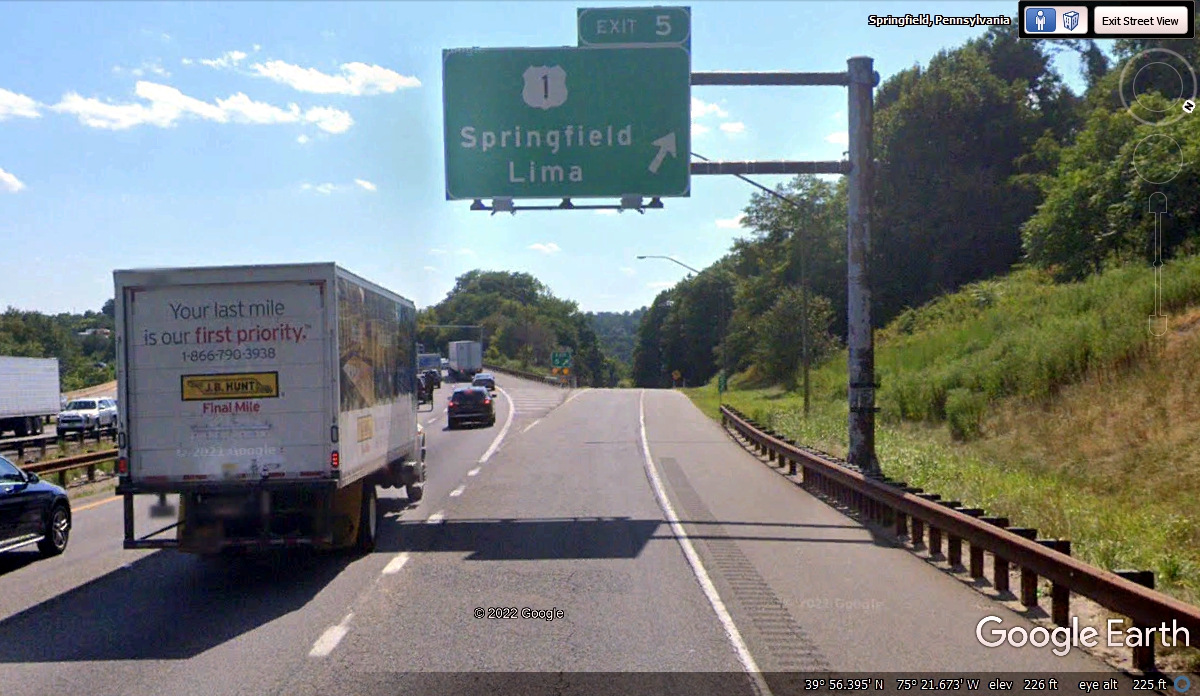 I-95 has a major split as it approaches the Delaware River west of the Philadelphia International Airport. We are going SOUTH of course.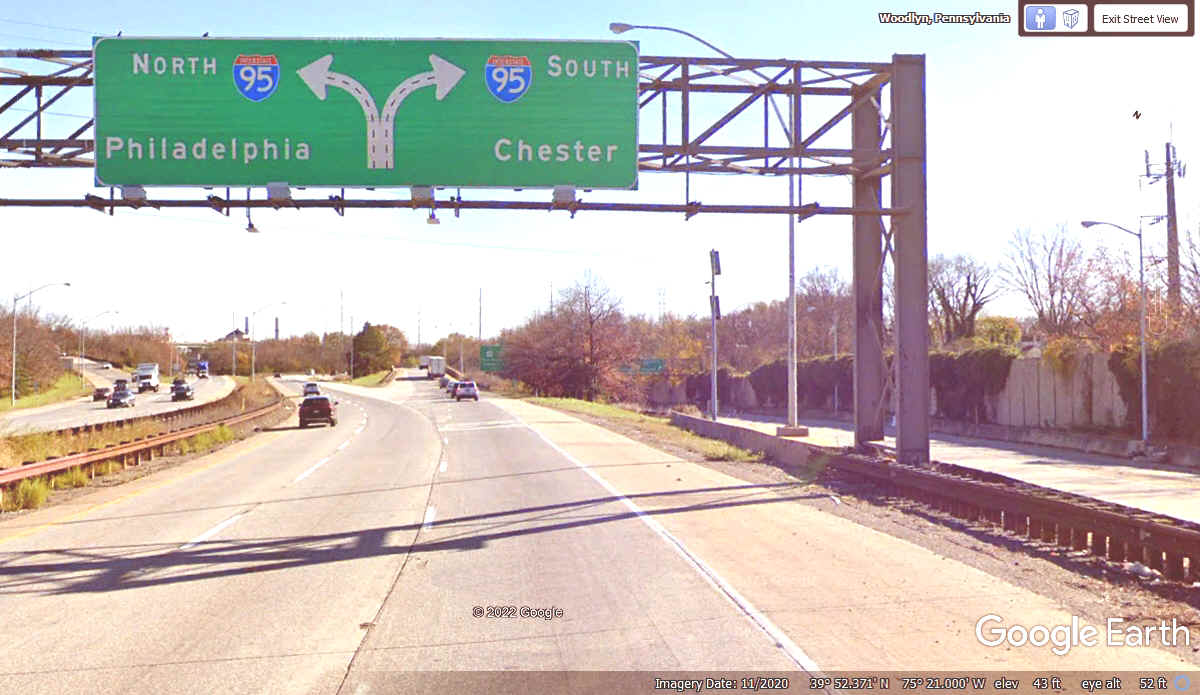 Here is a split on I-95 going south in Pennsylvania, you want make sure you take it from the RIGHT lane.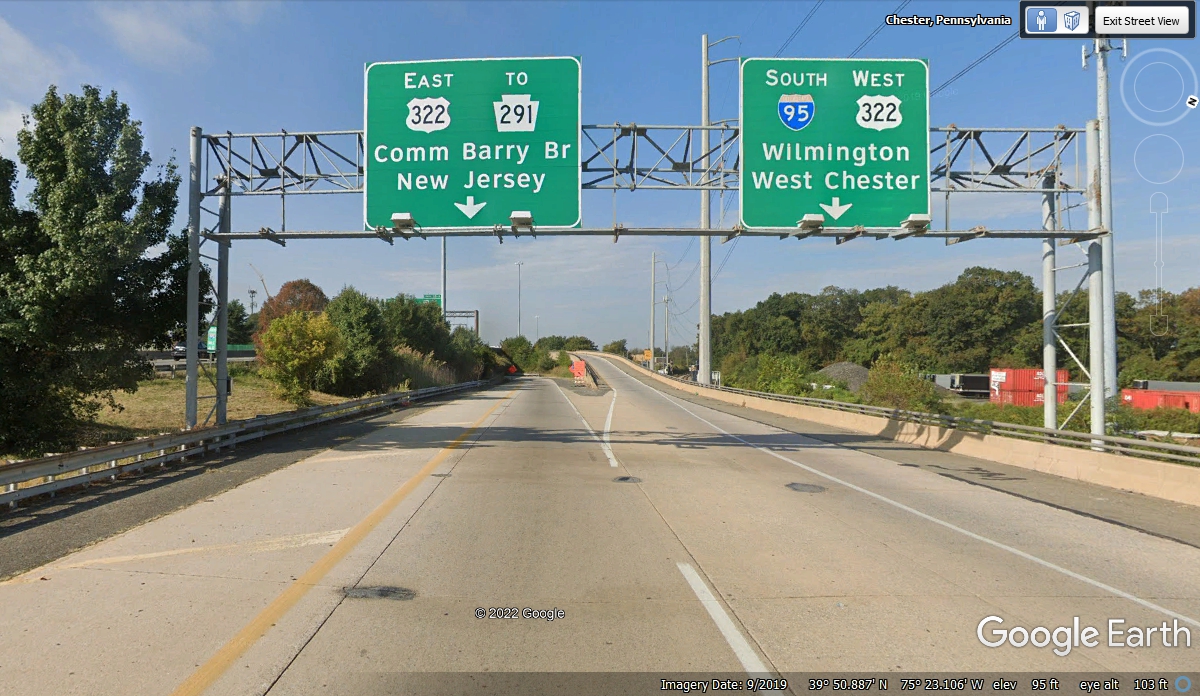 We needed to be in the RIGHT lane in the photo above, but now we need to be in one of the THREE LEFT LANES to stay on track!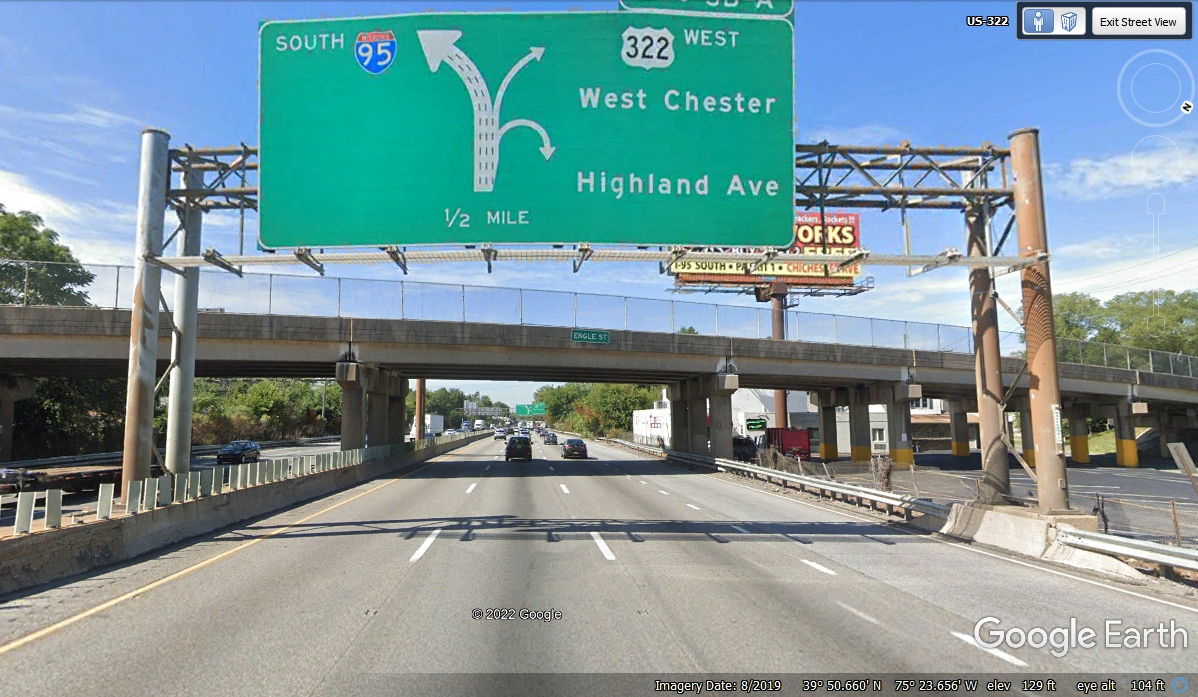 Here comes a big split where we will bypass the city of Wilmington, Delaware. There is a mile marker sign near the bottom of this photo indicating 0.5 miles until we hit the state line between Pennsylvania and Delaware.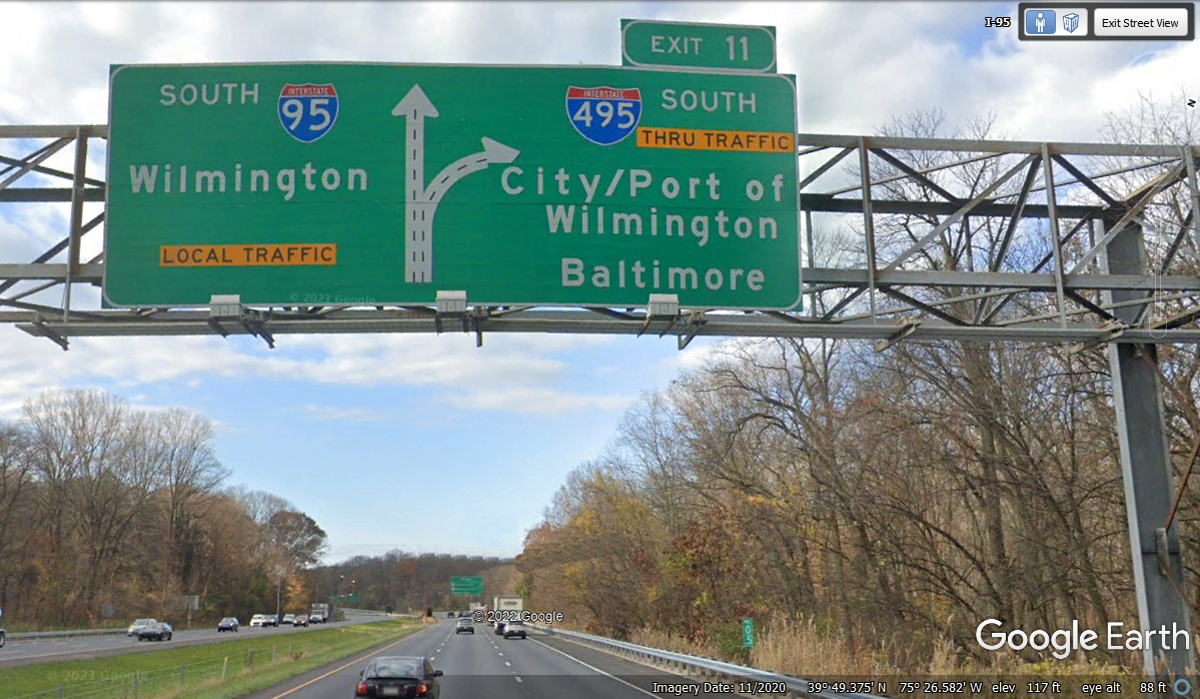 There is the Welcome to Delaware sign.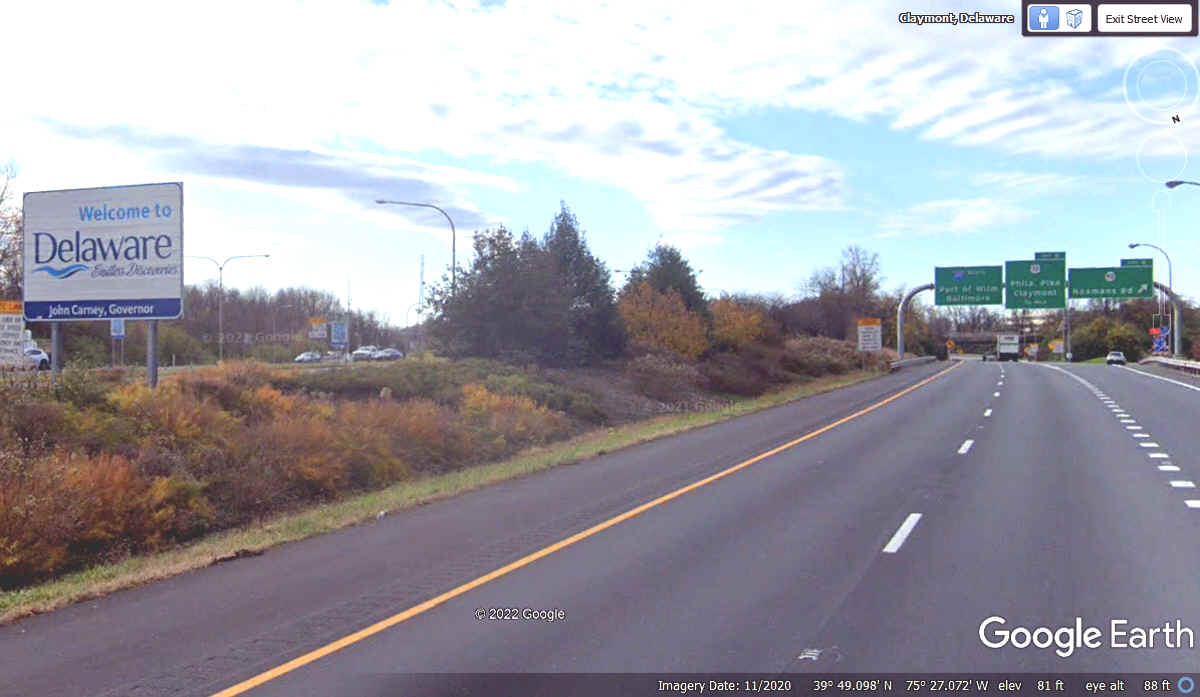 Here is the first exit in Delaware on I-495 to take us where we are going toward Maryland and Virginia today.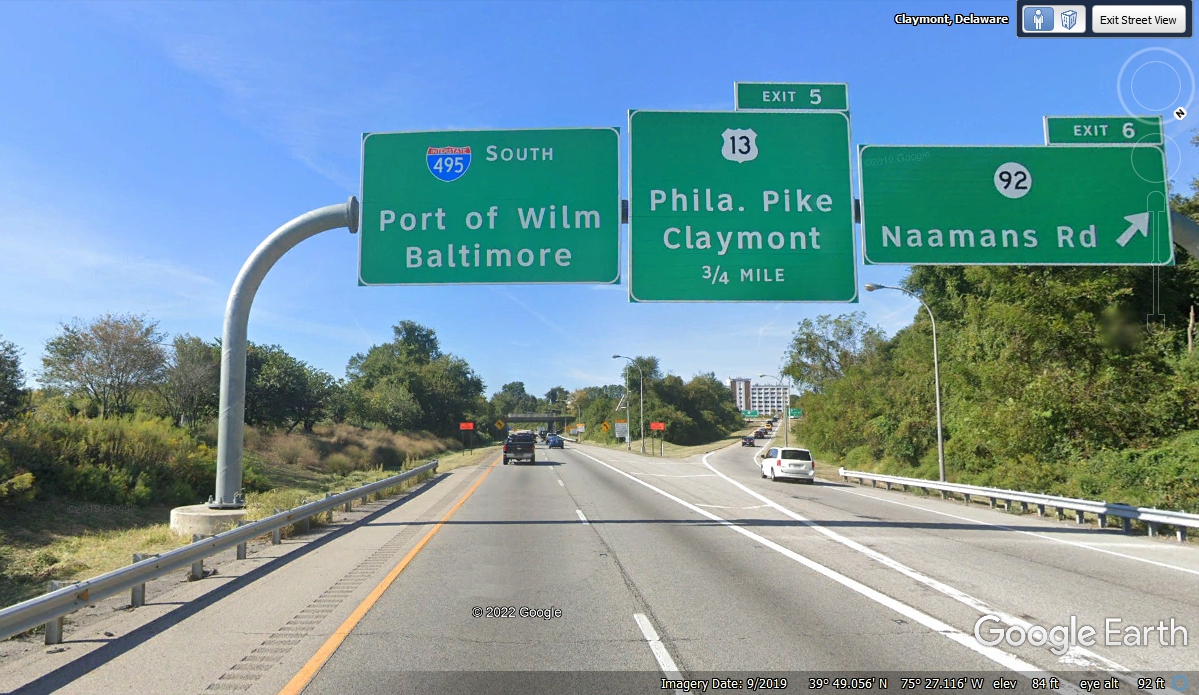 Here comes our exit to US 13 from the right lane up ahead.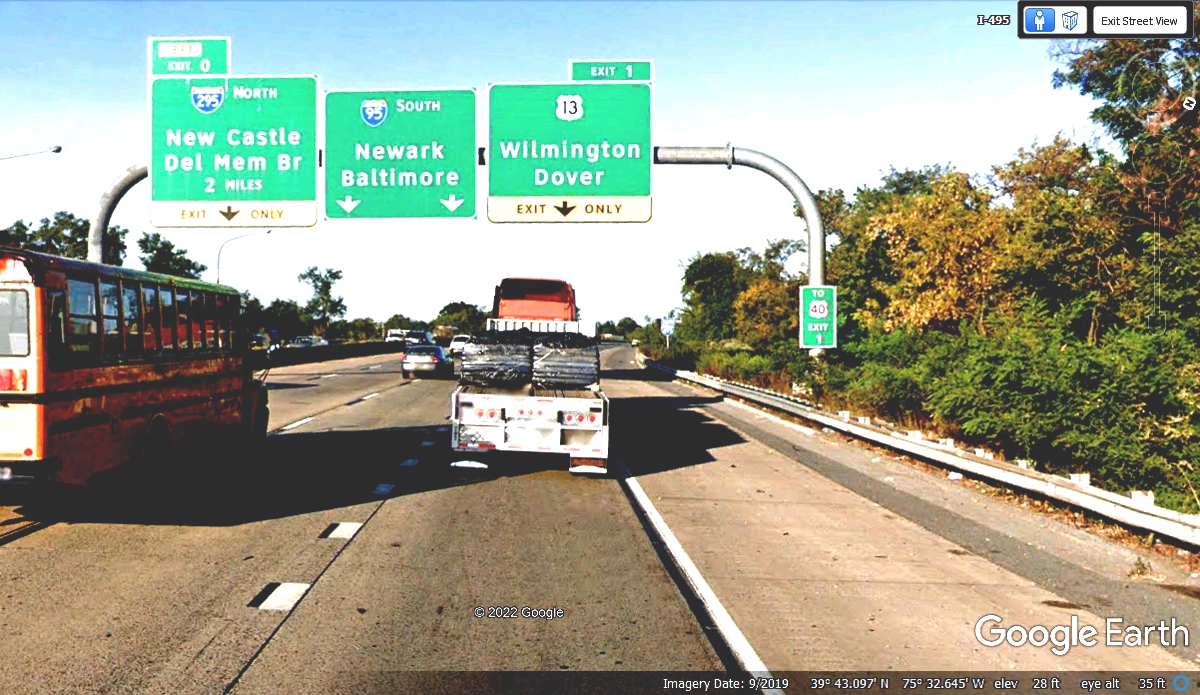 This second sign approaching the actual exit reveals that US 13 going north and south will split on the ramp.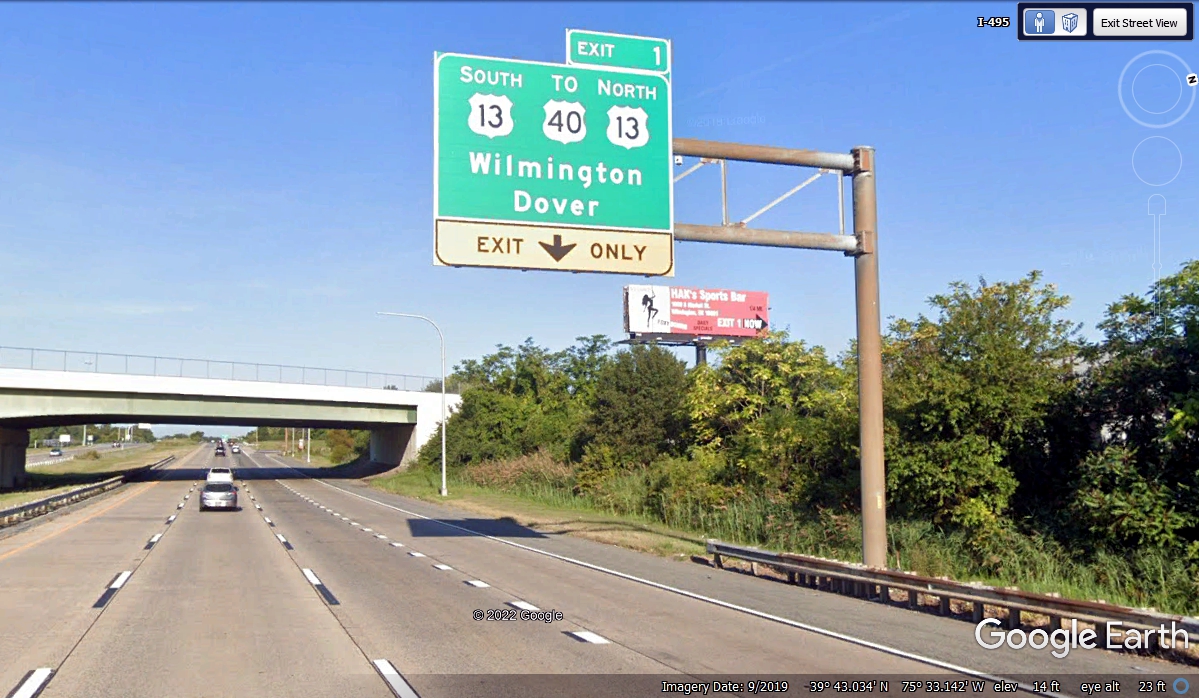 We are going south so the RIGHT LANE is our path.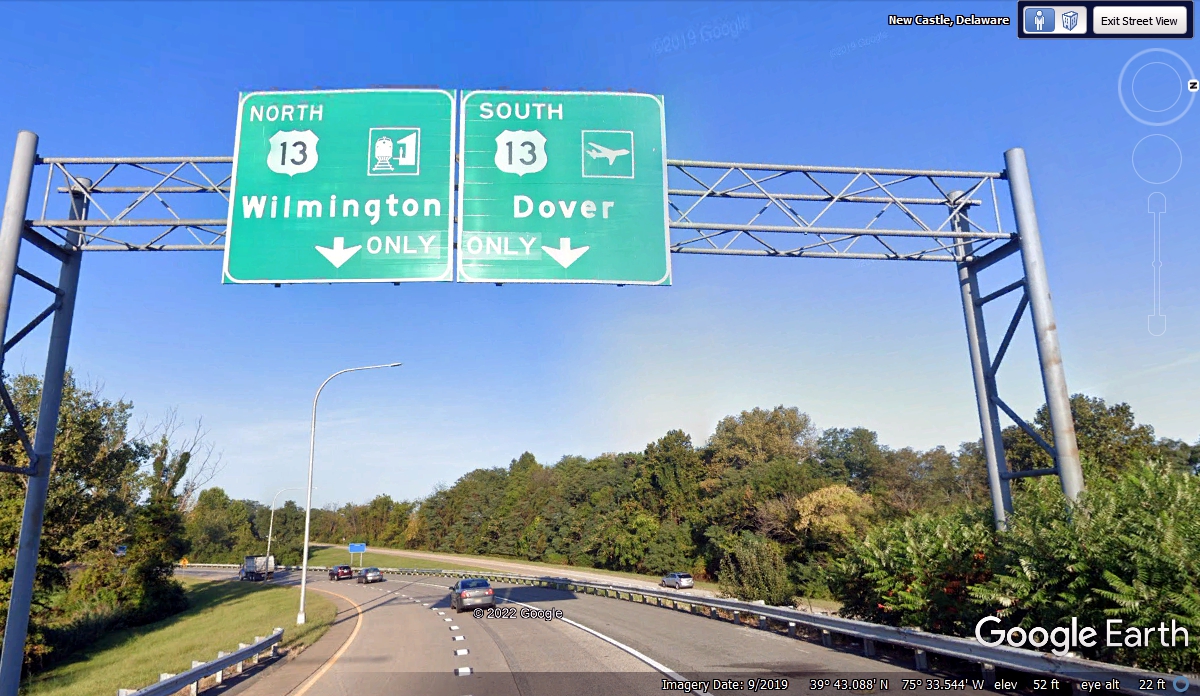 About 1.5 miles after getting ON US 13, this junction with I-295 is a place where we go straight through with no turn, remaining on US 13.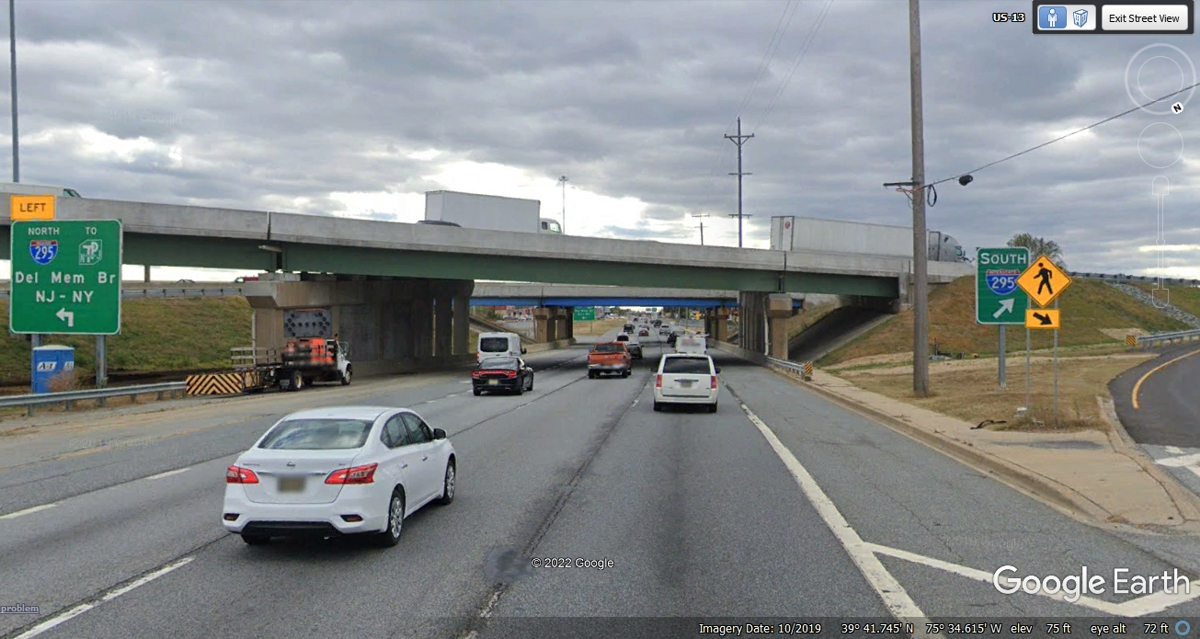 We had an engine light come on about getting the oil changed. I pulled off the road and used my GPS 296 database to discover a Wal-Mart was less than a mile from here on US 40.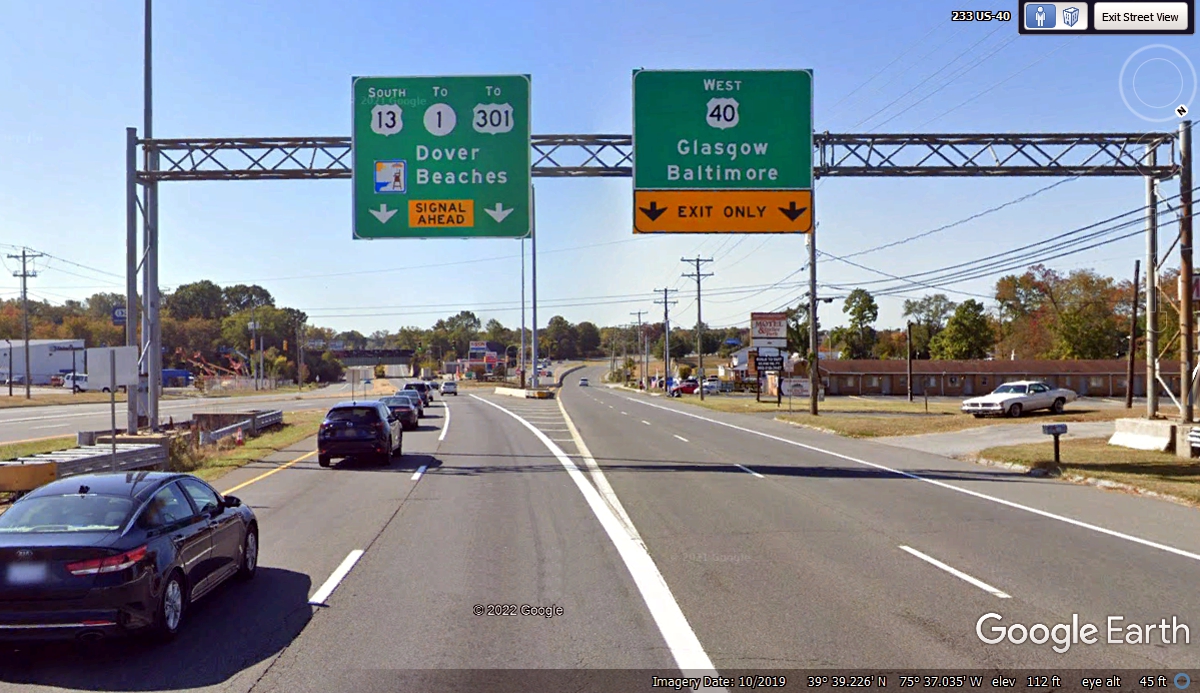 A reminder this is SUNDAY and it turns out the Auto Center at the Wal-Mart on US 40 in New Castle, Delaware is open for service when we stopped here at 8:27 AM. There were a couple of other customers in line ahead of us, but we could get the oil changed here. The GPS indicated our departure at 9:37 AM.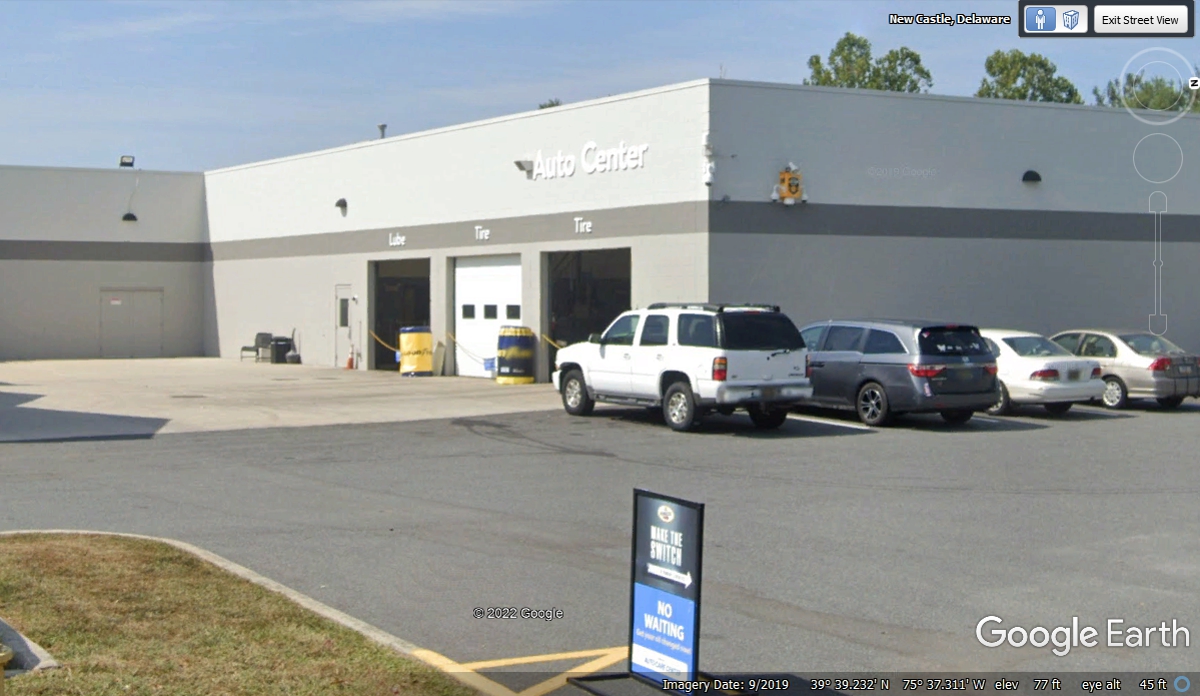 Folks may not give Wal-Mart the respect they deserve. On this SUNDAY, they provided the service we needed to get back on the road heading south toward Maryland and Virginia.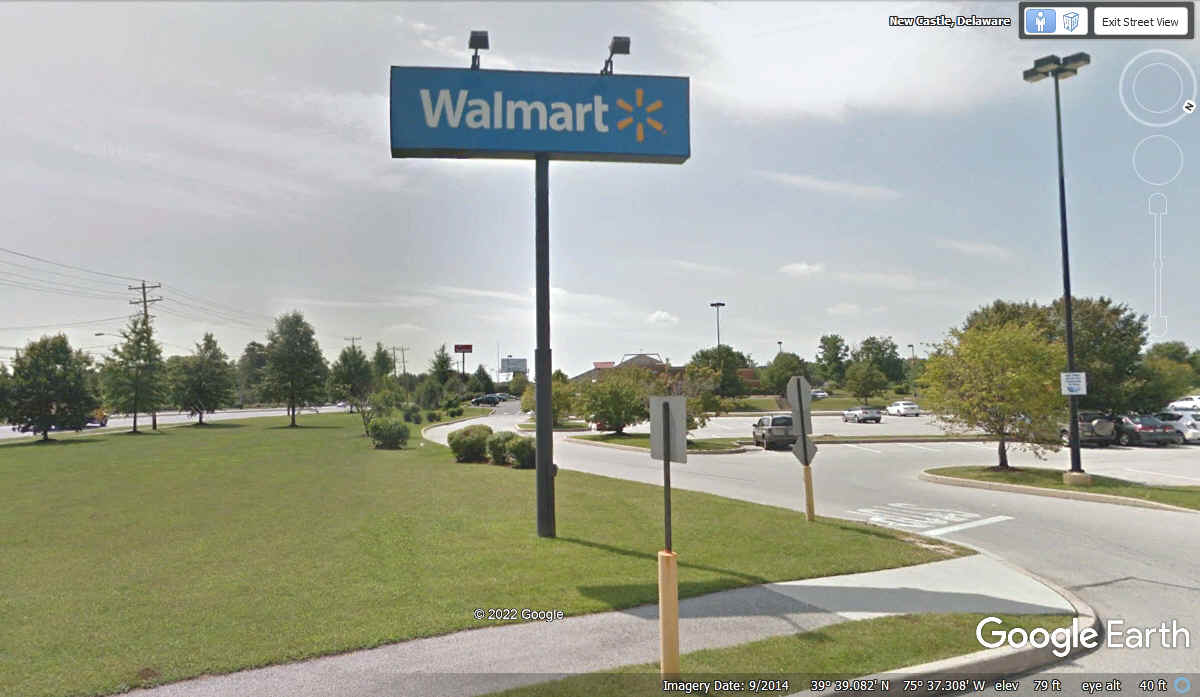 I have stopped for fuel at this Royal Farms convenience store several times on previous business trips up this way. We arrived at 9:50 AM and we were on our way at 9:54 AM.