October/November 2021 Vacation Day 11 · · PAGE 37.
November 5, 2021: Friday, this is the location of my largest distributor when viewed approaching from the East.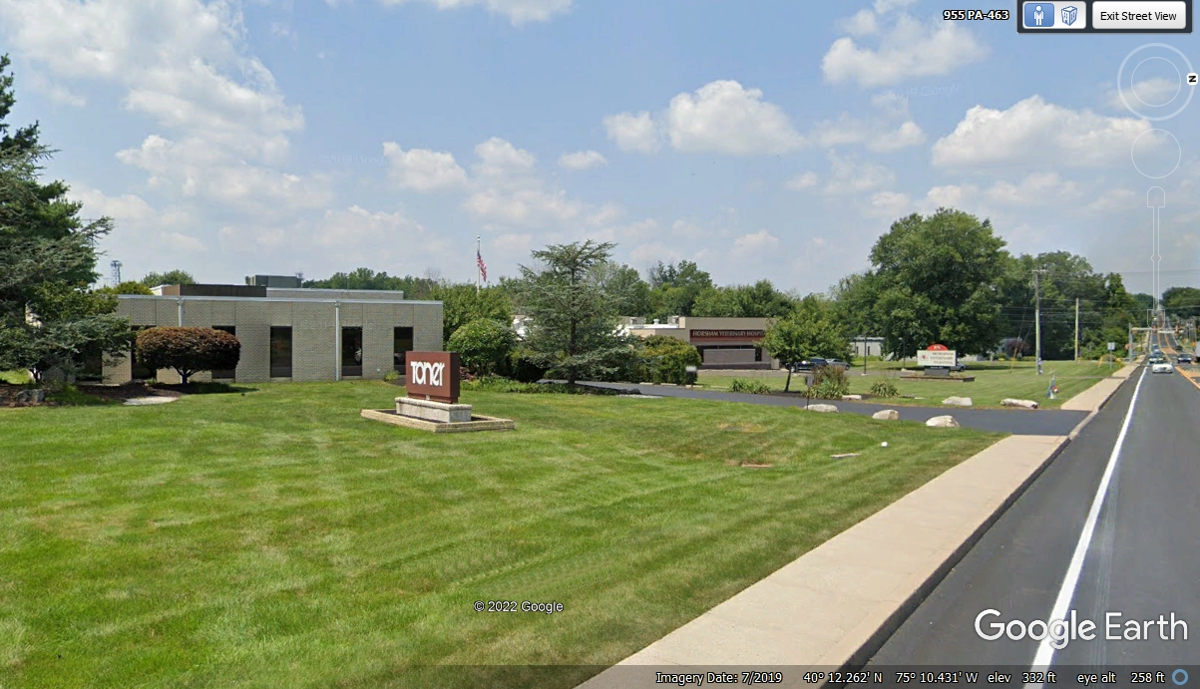 Friday continues with a visit with an old friend and son of the founder of Toner Cable Equipment, Inc. He sent an invitation to Linda and I to join their banquet on Saturday night, November 6, 2021. I brought Linda to their office to meet and greet some of the folks I have known and worked with over the past 30 years. We were allowed to bring Chase into the building to meet my friend. We arrived at 12:23 PM for a short tour after the greetings to the staff that were not on lunch break. We departed at 12:39 PM to go for our lunch break. We will see everyone at the Saturday evening banquet.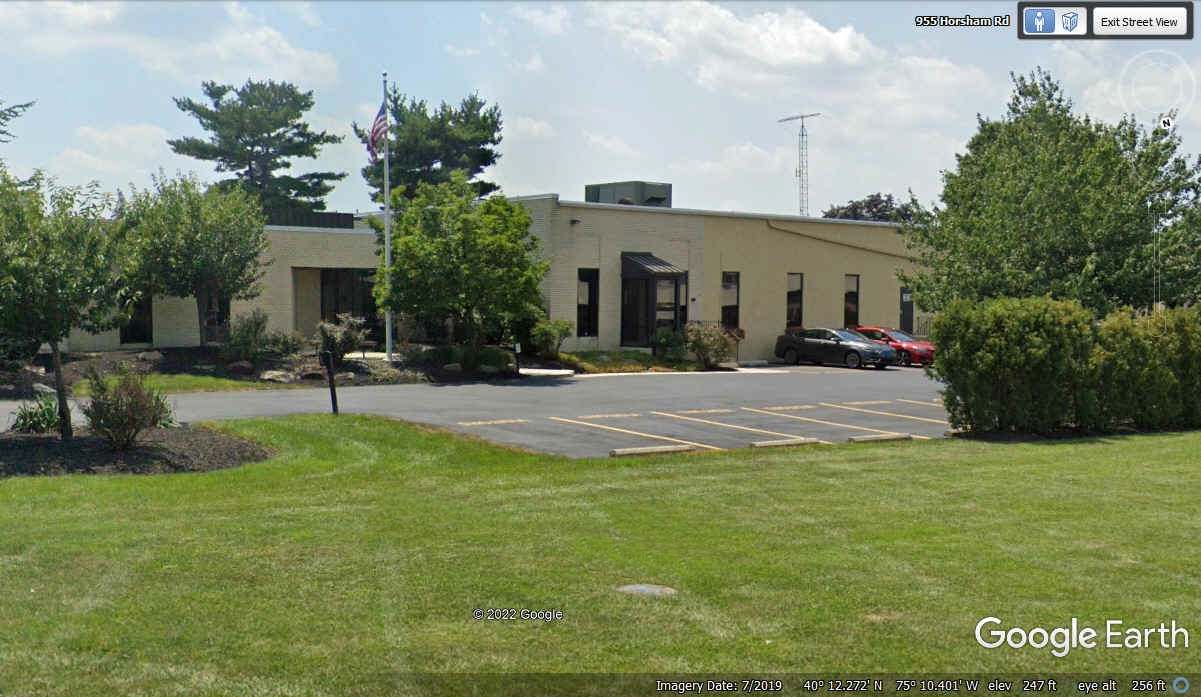 Here are some satellite antennas on the East side of the building that are connected to their test and evaluation lab inside.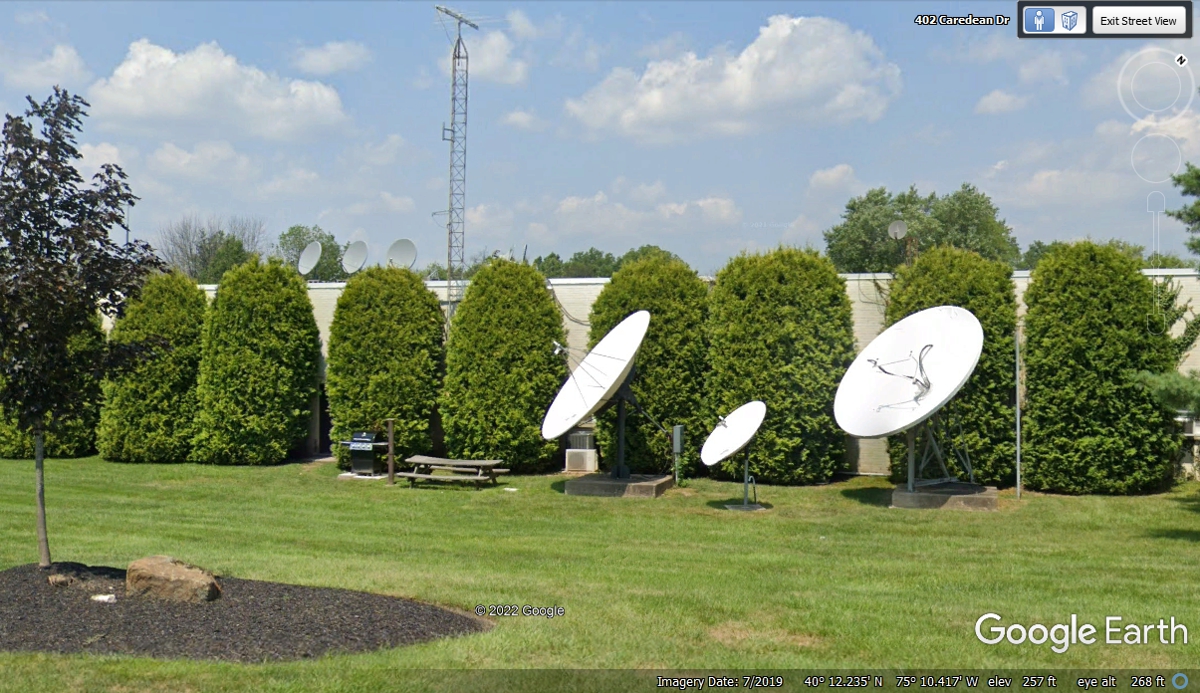 The oldest dish is at the rear of the building. They purchased this one from the company where I worked in the 1980's.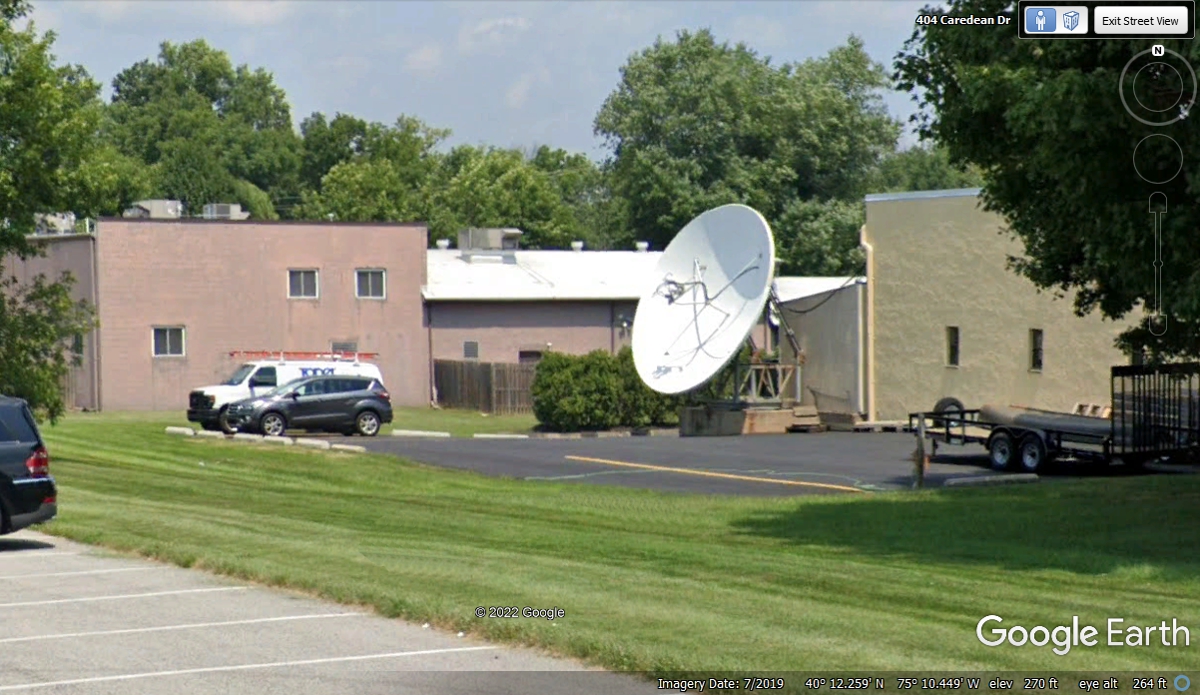 When we departed, we went East on Horsham Road to go North on PA route 611 about 2.6 miles away. I had always thought state route 611 was previously US 611. Here is an online article that tells the story of this highway. Pennsylvania Highways: US 611 (Decommissioned) (pahighways.com) My photo posted here is the sign for the state route 611 today as we go north to get our lunch.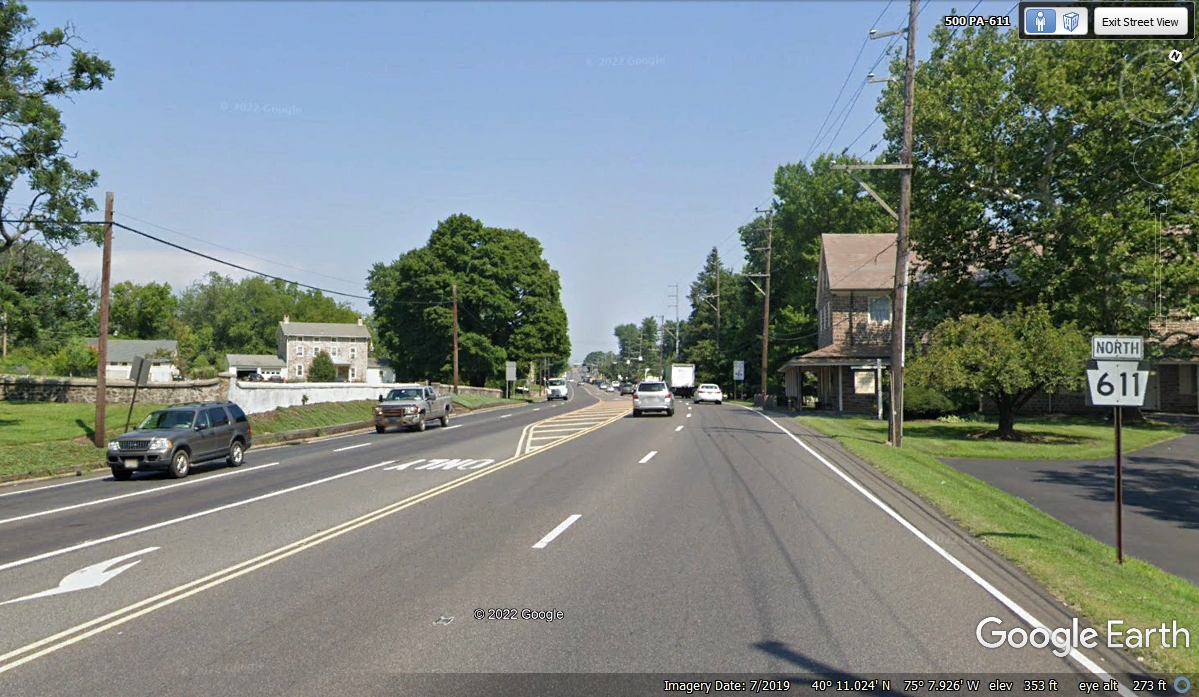 Below is an original US 611 road sign photo which is licensed under the Creative Commons Attribution-Share Alike 4.0 International license.
Description

English:

US 611 sign at Cheltenham Ave.

Date
17 June 2014, 17:51:34
Source

Own work

Author
Peetlesnumber1
This file is licensed under the Creative Commons Attribution-Share Alike 4.0 International license.

There is an old Naval Air Station beside this state highway as we climb the hill going north from where we turned onto PA route 611. The runways have a big YELLOW "X" painted along their length to indicate this is a closed airport, not in service.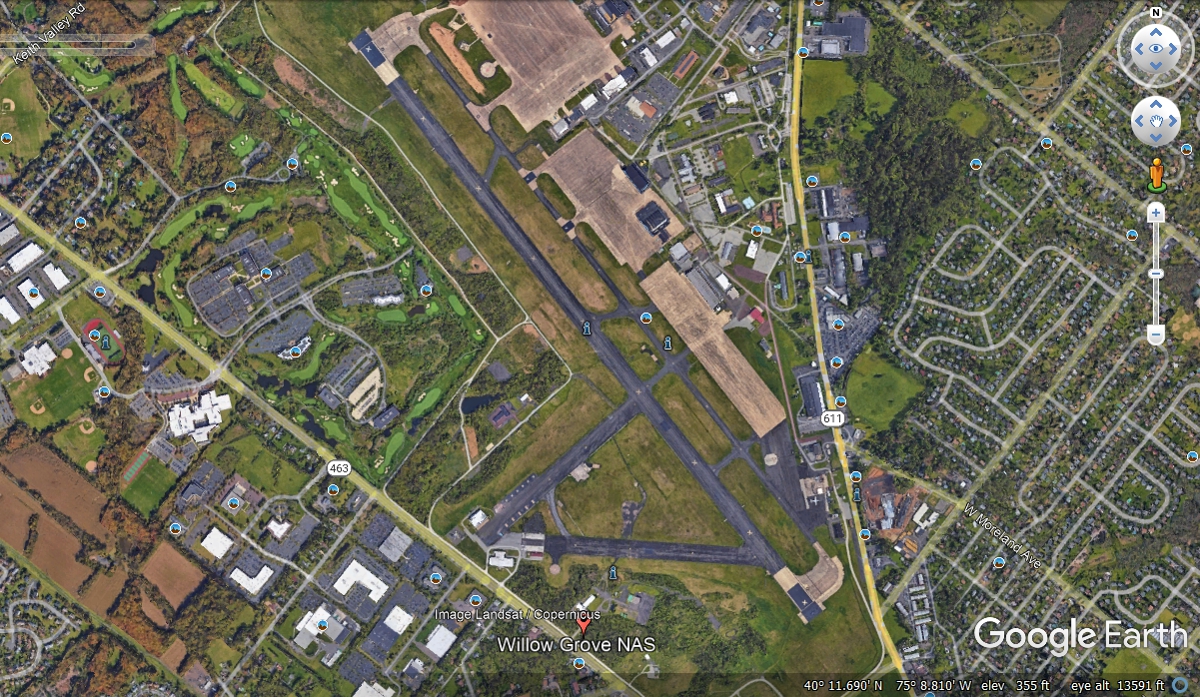 The Wings Of Freedom Aviation Museum contains a number of aircraft from the 1950's and 1960s on their grounds at the edge of the old naval air station adjacent to the 611 highway.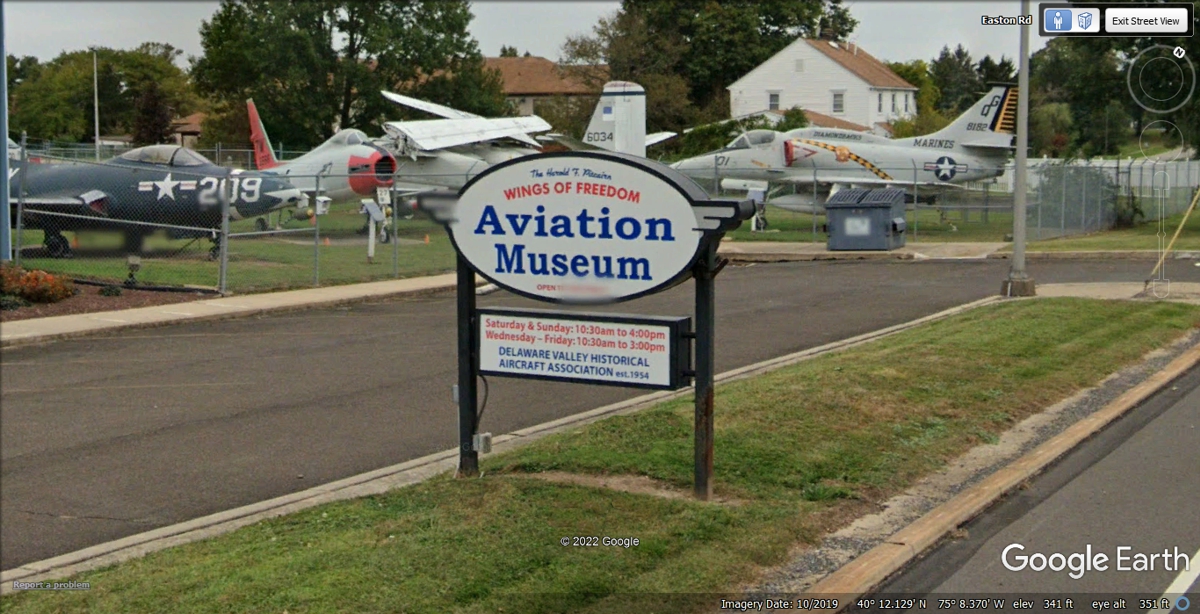 The US Navy Sea Dart was an experimental aircraft that is discussed in this article: Convair F2Y Sea Dart - Wikipedia There was one of these at an air museum in Kissimmee, Florida back in the late 1970's. The museum there was built to house one of two Boeing SST prototypes that were never completed. The blue Sea Dart was parked outside the main exhibit building in Kissimmee when I saw it in my early RC model airplane days in 1978.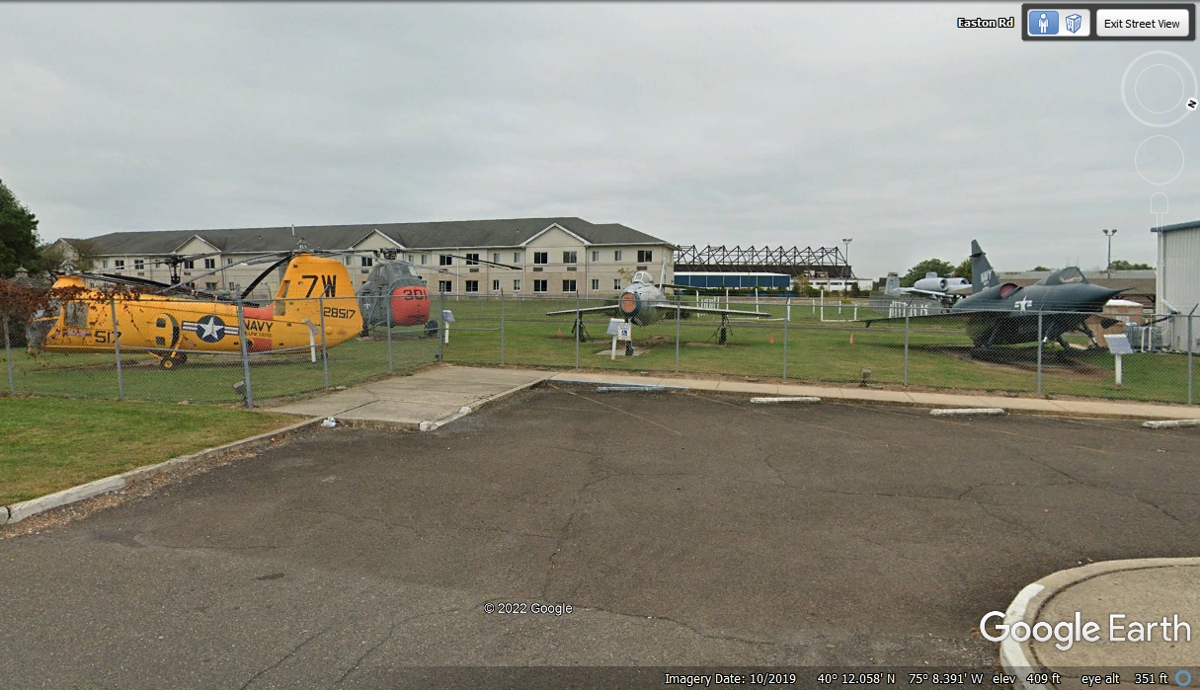 Here is the front of museum as seen from the street passing by its location on PA route 611.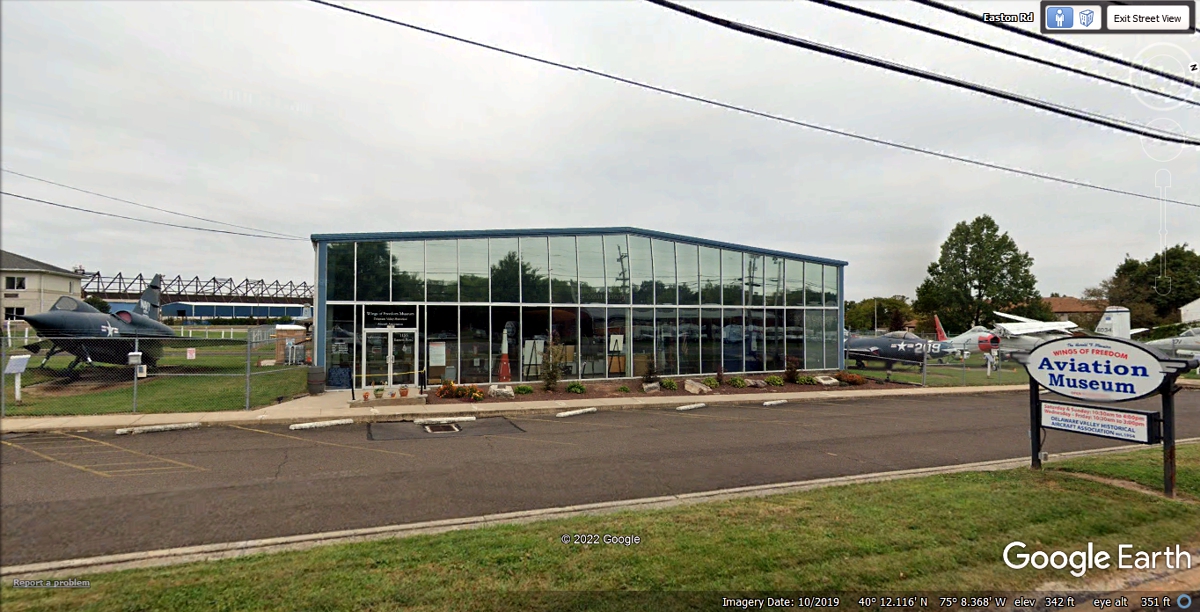 Here is a view of the aircraft on the north side of the building.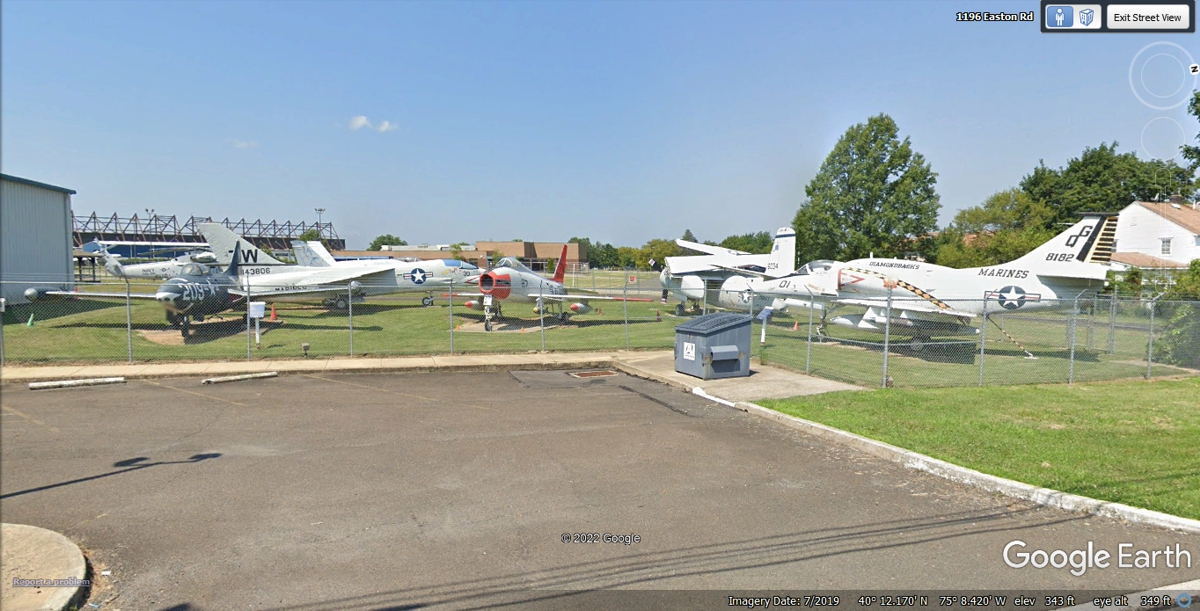 Here is a reminder of what this location was before base closures turned this place into a public business area. Now there are no gates or guards at this entrance since this is no longer a military base.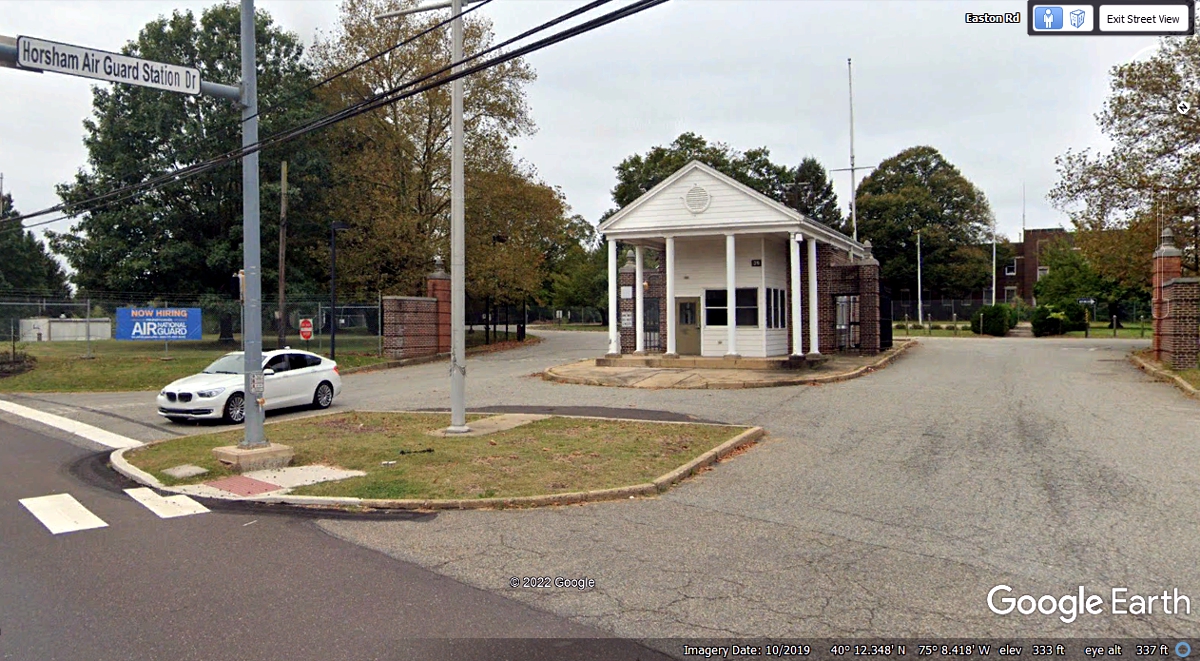 This Wendy's is about 6.2 miles from Toner's front door. We had take-out of course with Linda's dog Chase being the reason. We parked under a shade tree behind Wendy's just inside the parking lot for the Home Depot next door. After that meal, it was time to fight some Friday afternoon traffic on the way to our motel for tonight near Valley Forge, PA.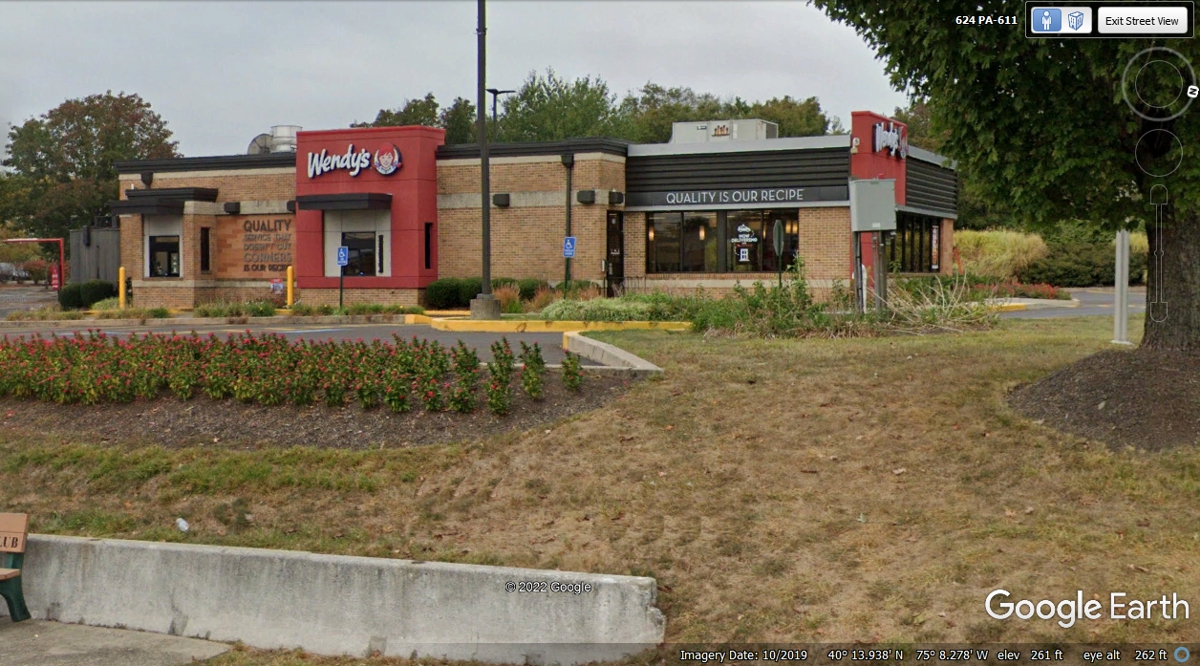 As we started going south on route 611 to our next motel, we passed the one I use when I come to visit Toner Cable. This Days Inn works out fine as it is close to a Friendly's restaurant down the street.

Here is that Friendly's Restaurant on the other side of the street a bit south of the Days Inn. They have a full menu for breakfast, lunch, and dinner.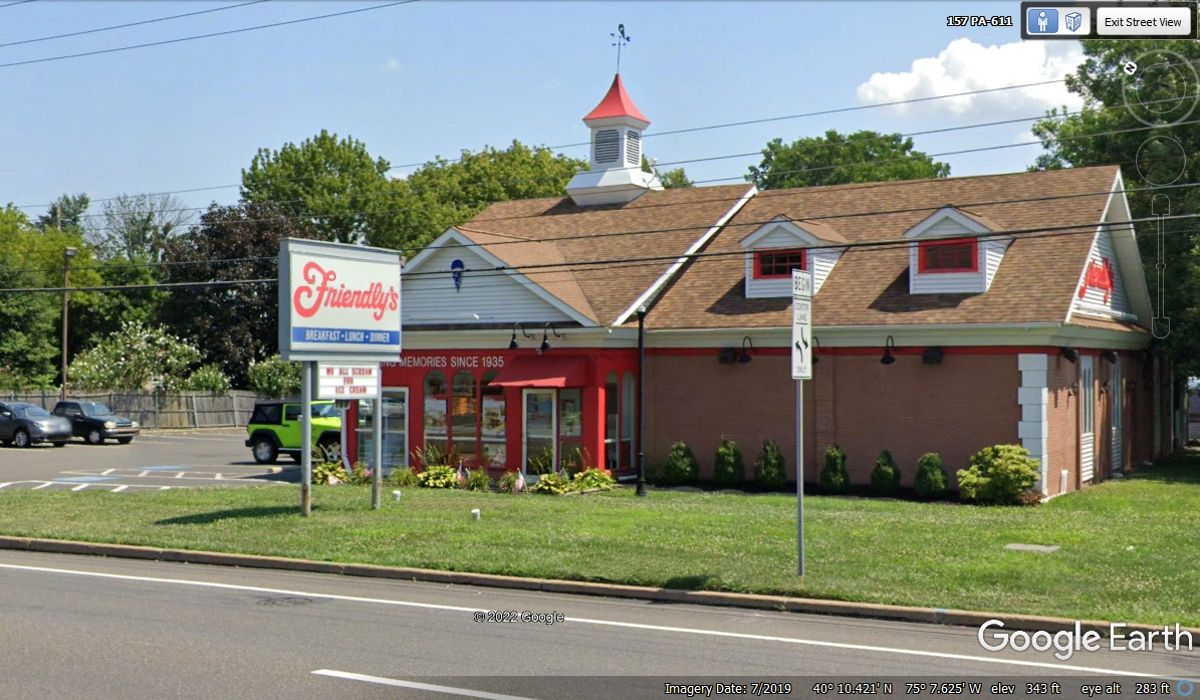 I usually have early morning appointments when I see the folks at Toner Cable. This Dunkin Donuts is where I pick up some treats to put in the break room. The next traffic light seen in this image is the junction of Morristown Pike. I take that route to get over to US 202 going south when I am leaving town.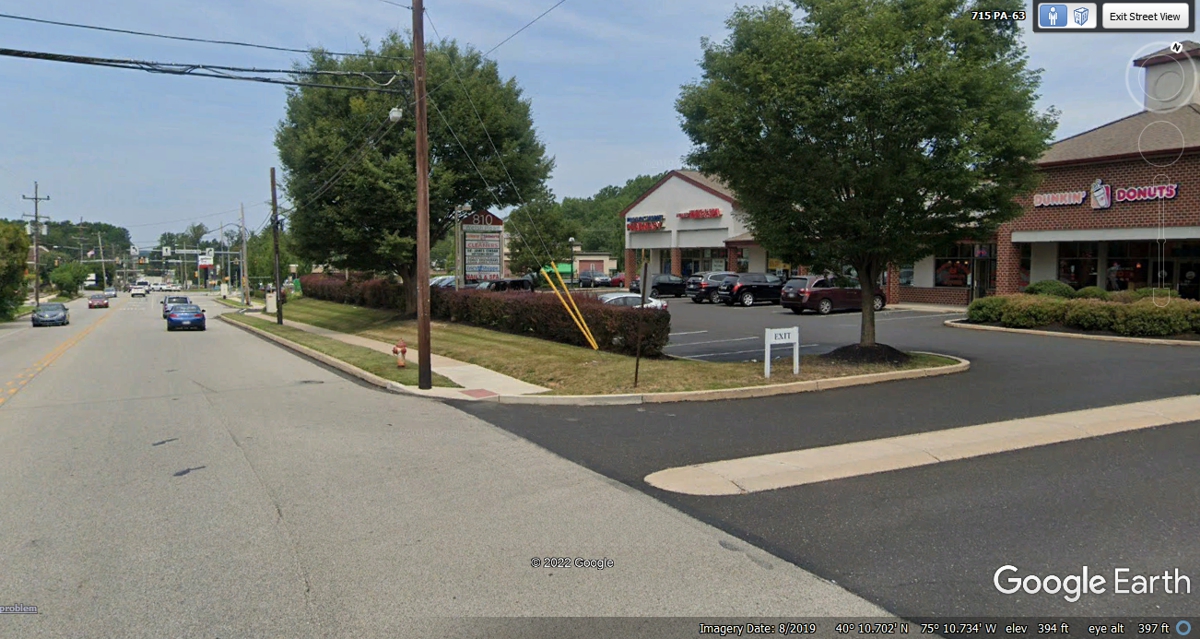 US 202 going south from here will take us to our motel for the night down by Valley Forge, PA.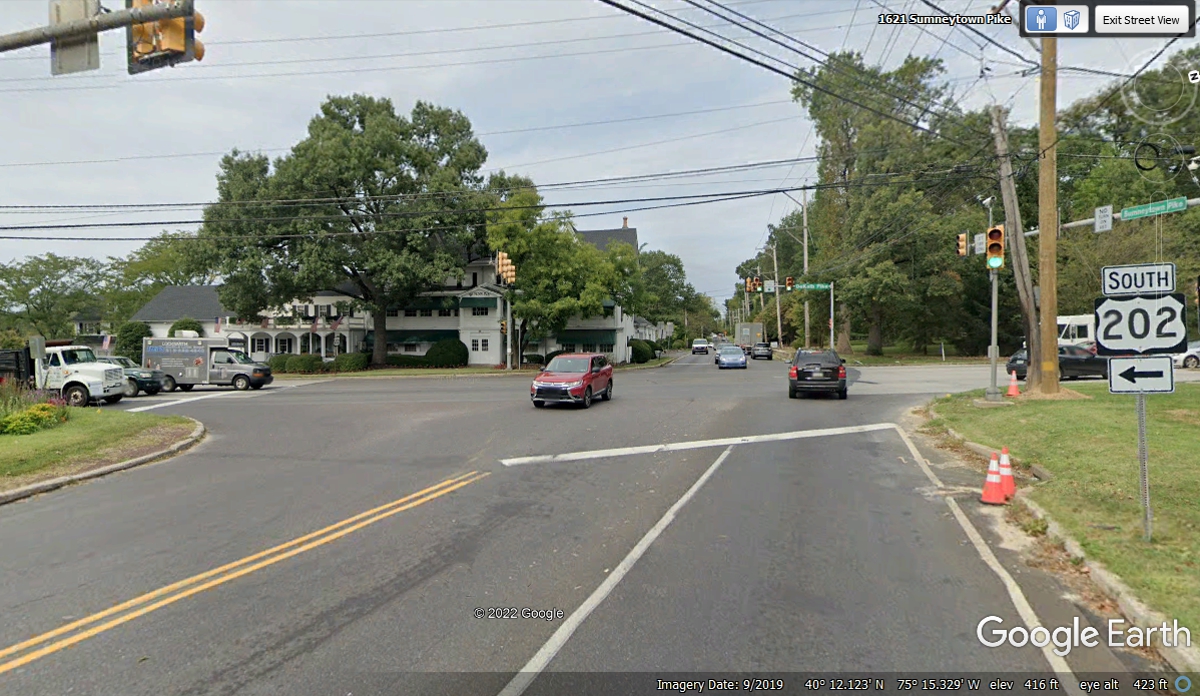 This William Penn Inn is the oldest operating hotel in Pennsylvania. It is located on US 202 less than 7 miles north of Norristown, PA.

Parts of US 202 have been under construction for several years to add dual roadways in this stretch south of the William Penn Inn seen in the image above.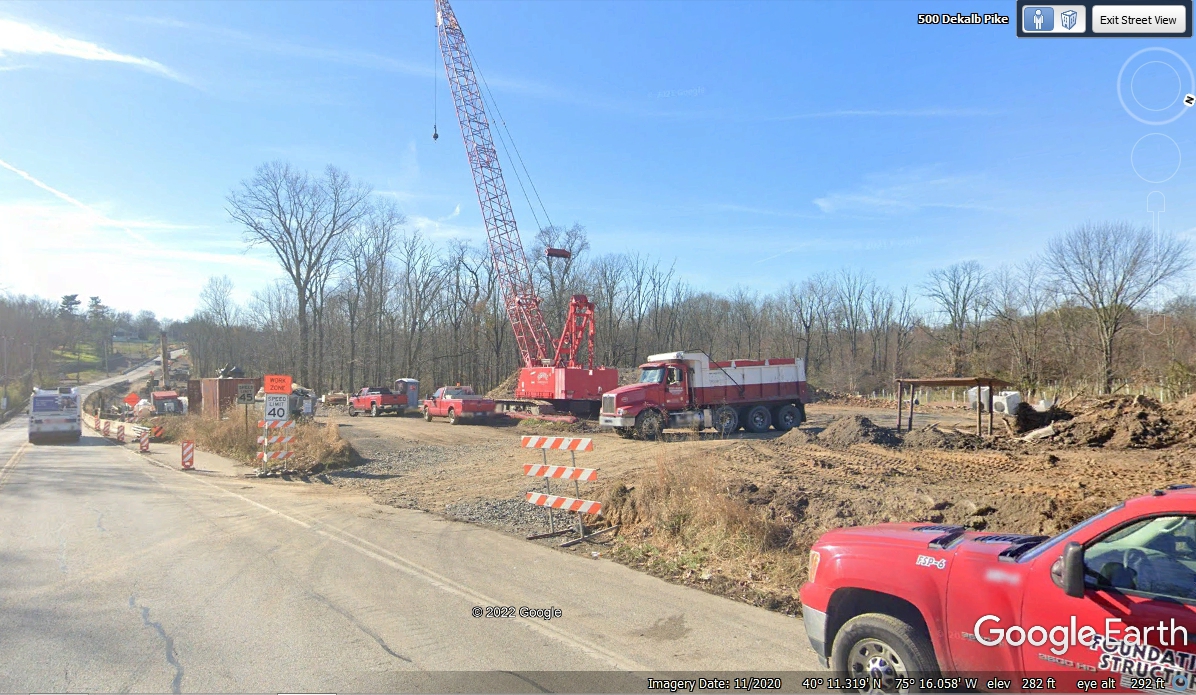 Down near the center of Norristown, the four-lane construction project is approaching the bridge over the Schuylkill River.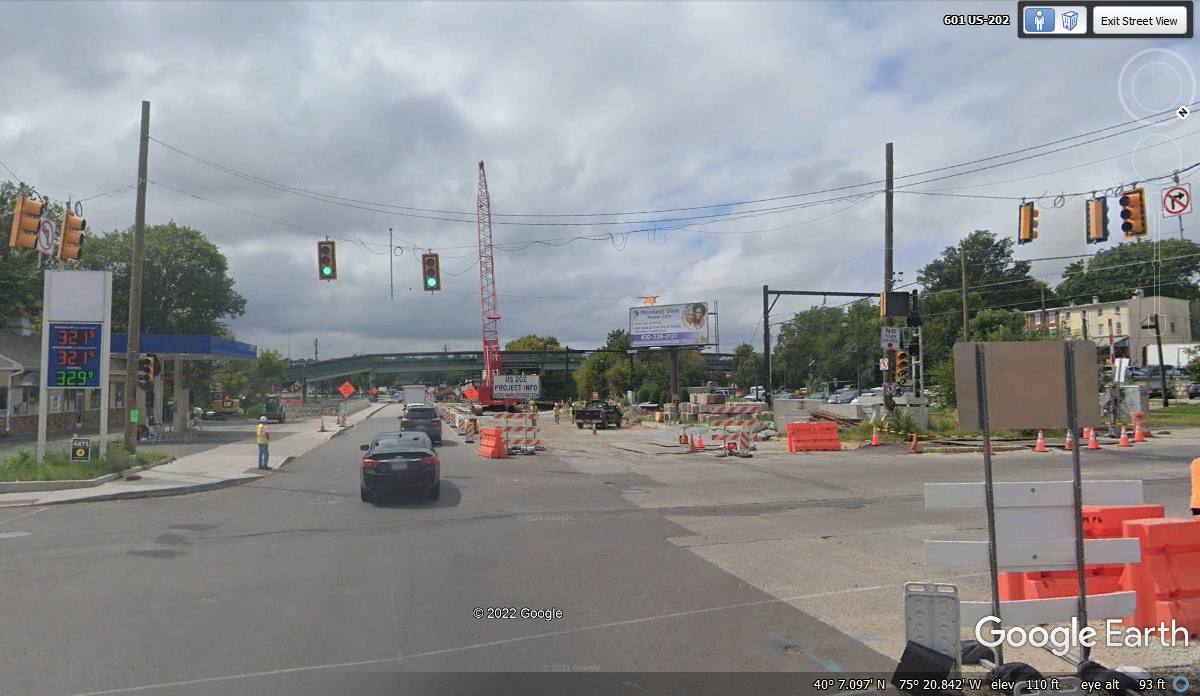 This aerial view shows how to get to our motel since the two major highways near it have no direct access to the Motel 6 that accepts pets.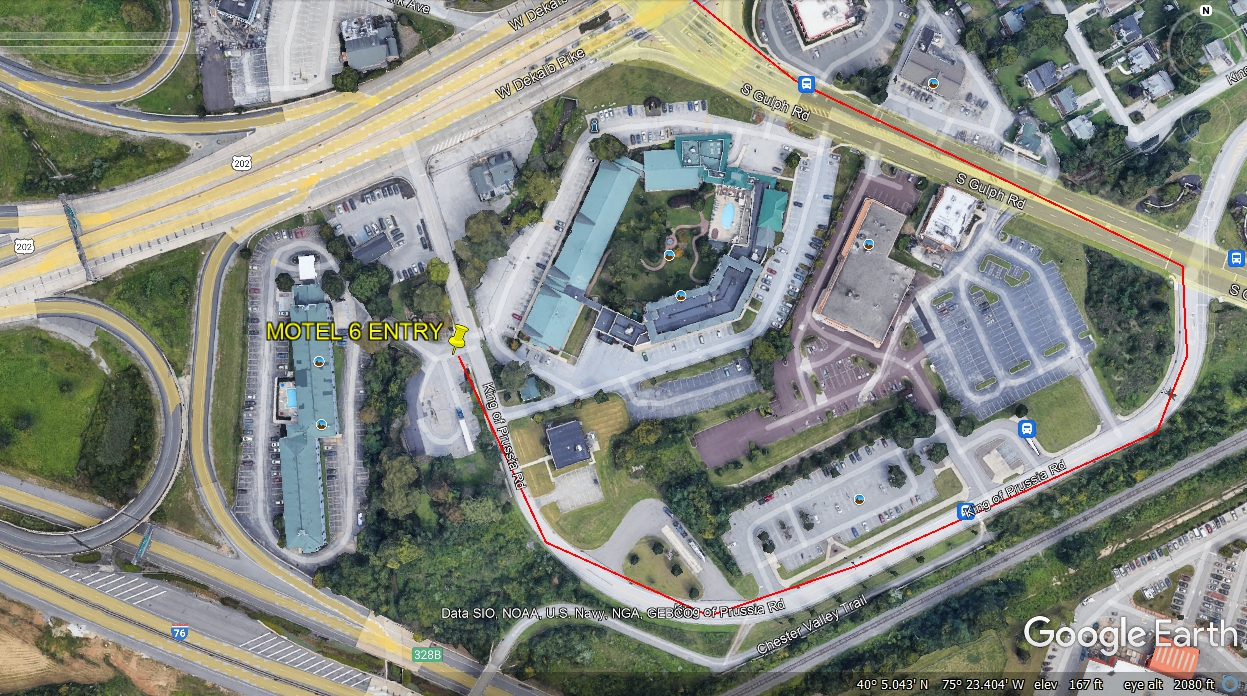 We spent two nights at this Motel 6 on US 202. We arrived here at 3:16 PM and got settled in unloading the car with the things we wanted in the room tonight. I went to a nearby Wal-Mart at 6:48 PM and returned to the motel at 7:34 PM. I got a couple of small frozen pizzas and some bananas.