October/November 2021 Vacation Day 5 · · PAGE 11.
October 30 2021: I created our route a couple of weeks before we began our vacation. This route is basically going north from here, then northwest to our next fuel stop. This route is all NY state highways as there is no interstate highway going our way. We passed this way at 5:14 PM. This is the same highway that went past the entrance to Letchworth State Park.

We followed NY 19A about 2 miles until it joined with NY 39 going into Castile, NY. When we turned onto NY 19 earlier, I looked at my GPS 296 for the shortest route north to meet up with NY route 63. That will put us on a direct route to our planned fuel stop this evening before going directly to Niagara Falls for our motel this evening. At this point, NY 39 is going northeast in the town of Castile.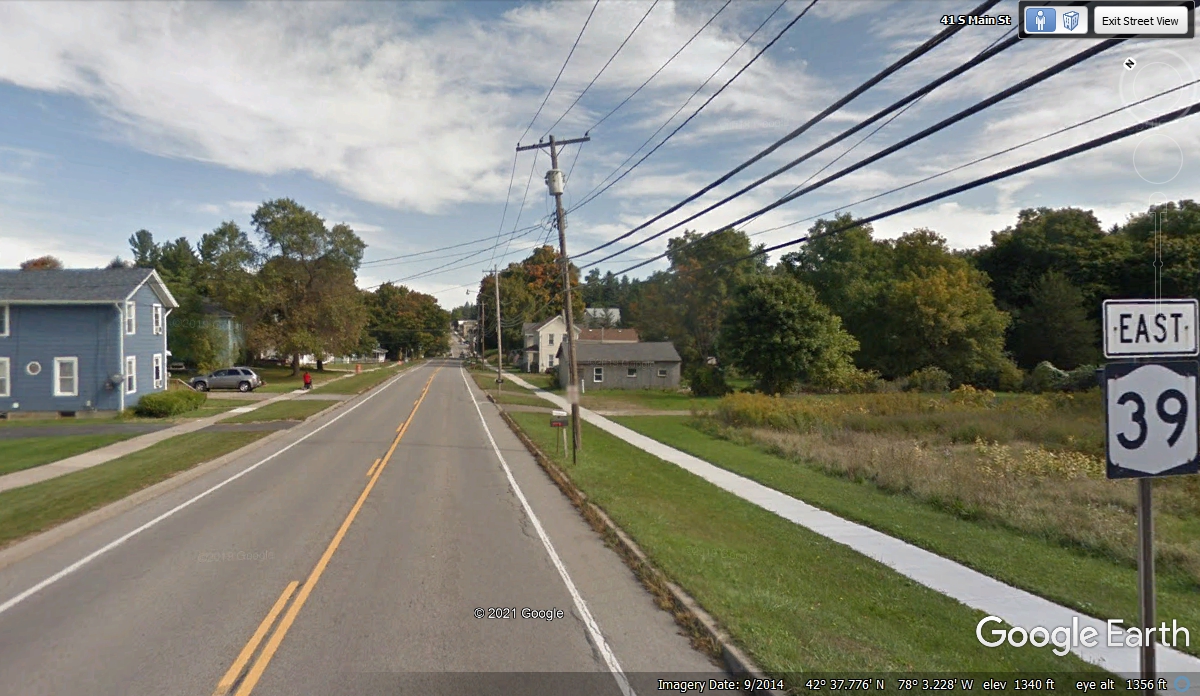 We passed through the little town of Castile at 5:18 PM, well before dark to see some children and their parents getting ready to go for "trick-or-treat" on this Saturday night, October 30. When October 31 falls on Sunday, a lot of people prefer to NOT do the Halloween ritual for the children on Sunday.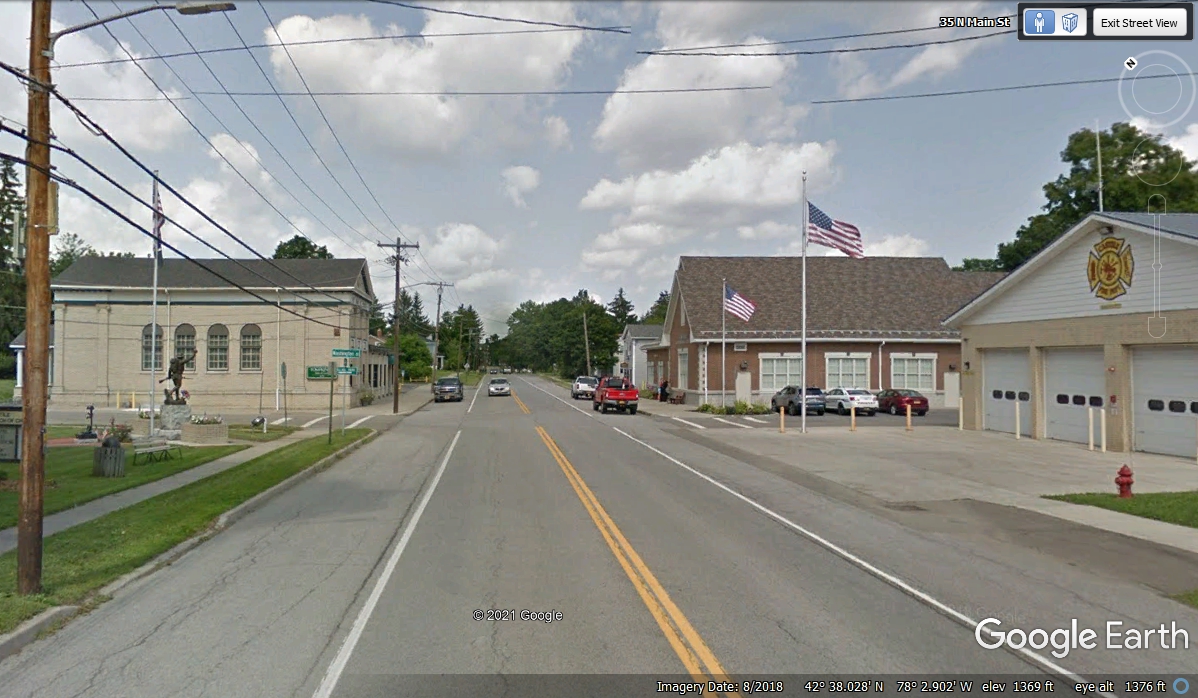 A left turn here in Perry NY, about 6.5 miles north of Castile puts us on highway 246 going DUE NORTH across more farmland.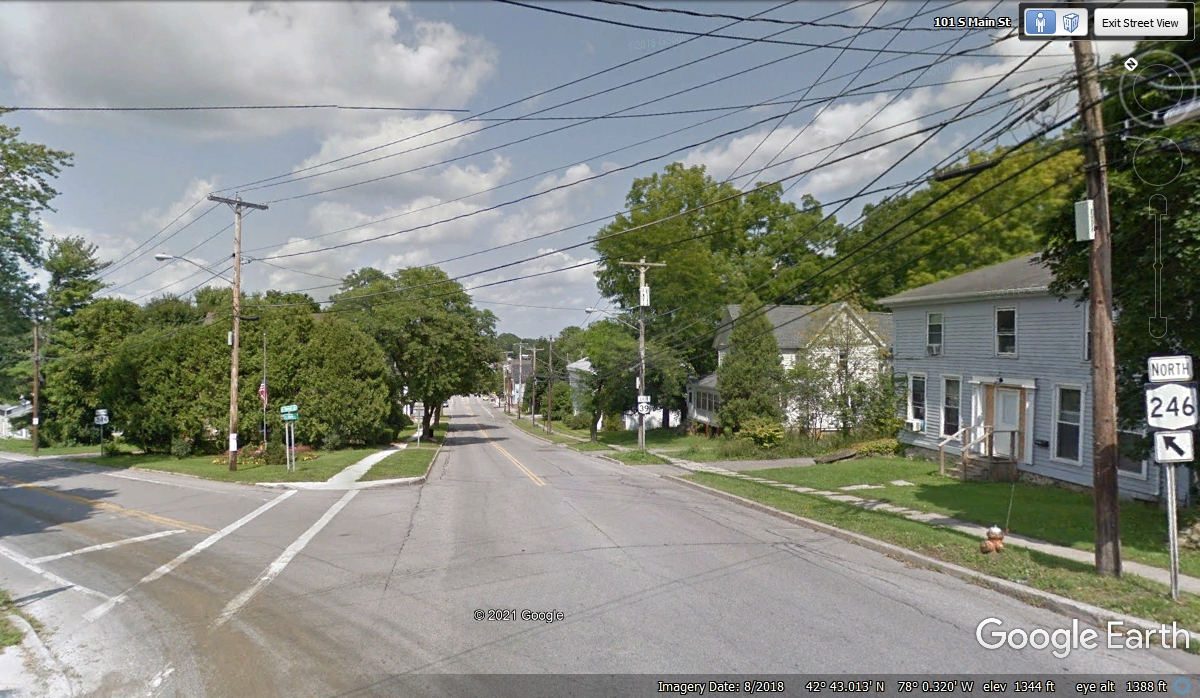 This intersection with US 20A is about 2 miles north of Perry, seen in the image above.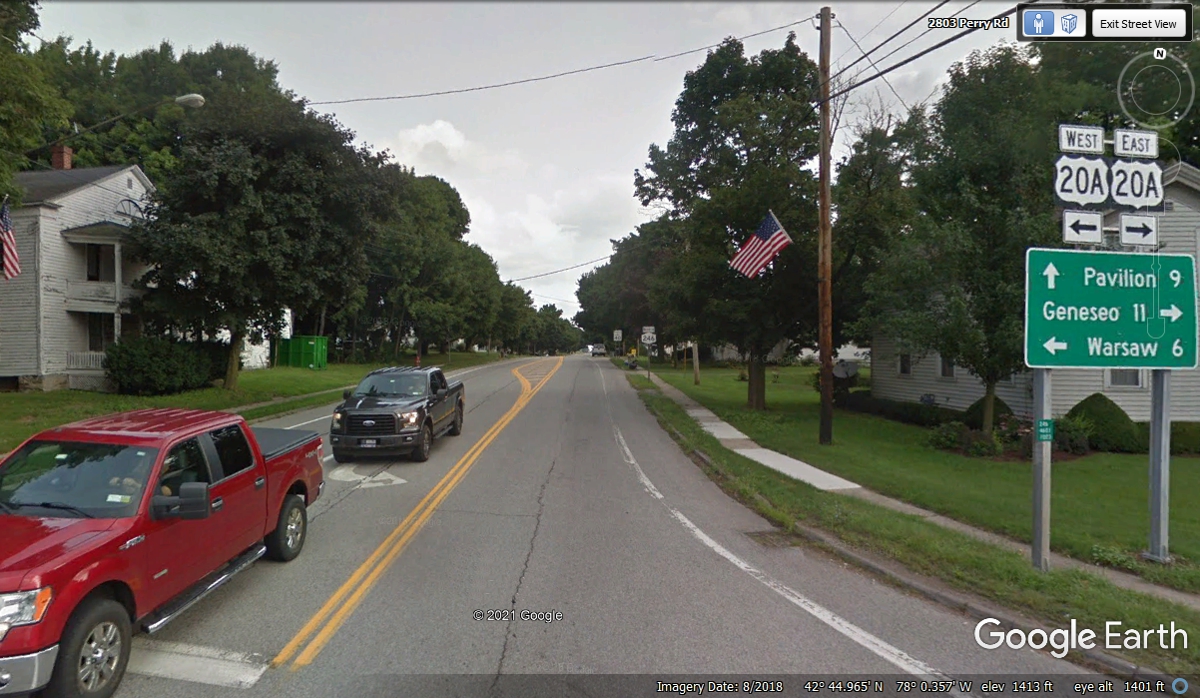 We reach our next route at 10 miles north of Perry, NY where we take NY route 63 going northwest at 5:42 PM.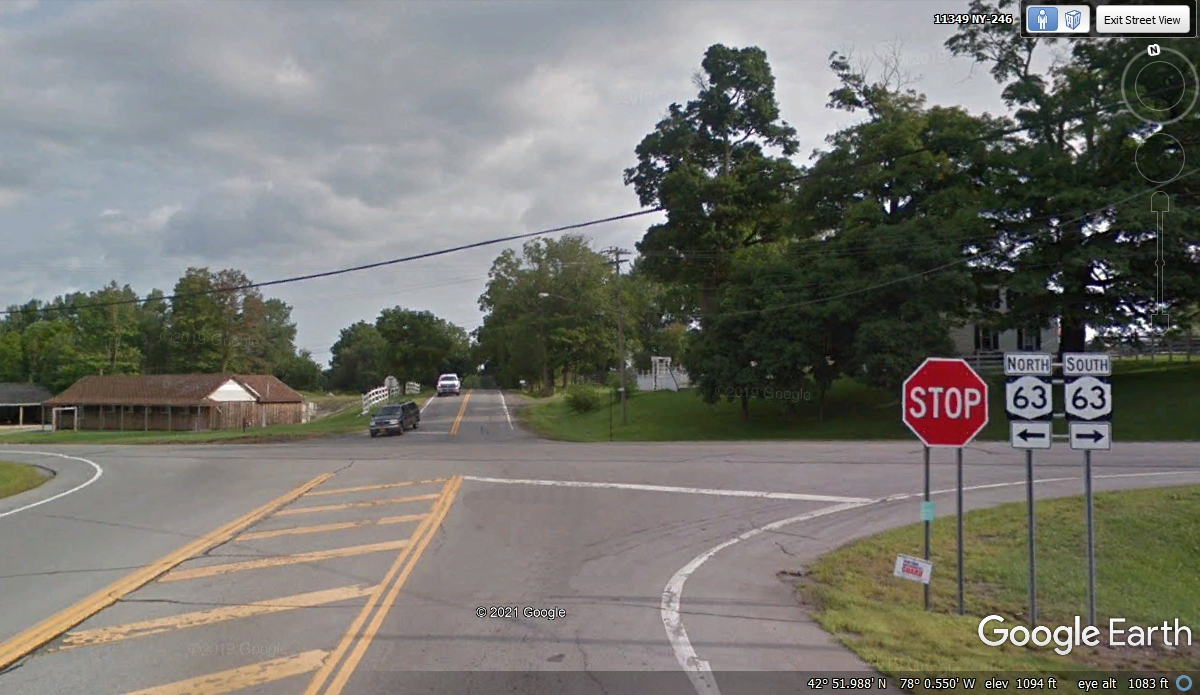 One of the things about this area of New York, it was about 4 miles from where we got on NY route 63 and this cross road junction with US 20.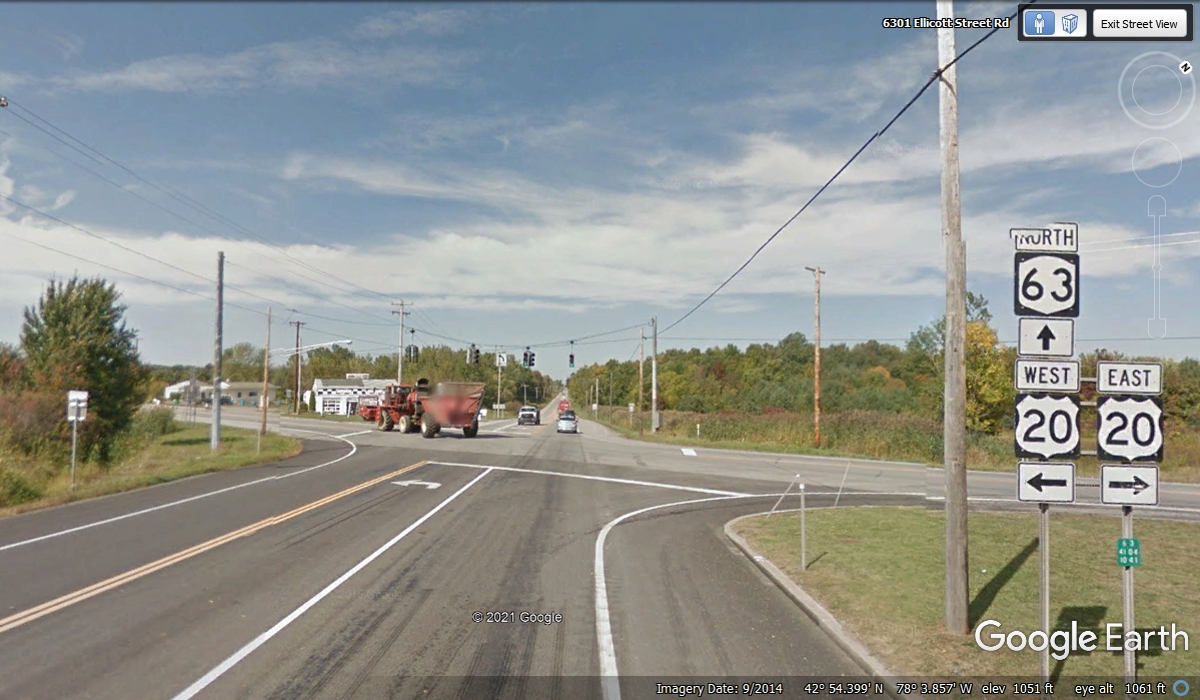 It is less than 9 miles from the US 20 junction until NY 63 joins Main Street in Batavia, NY. The route continues going northwest through town. We passed through this intersection at exactly 6:00 PM.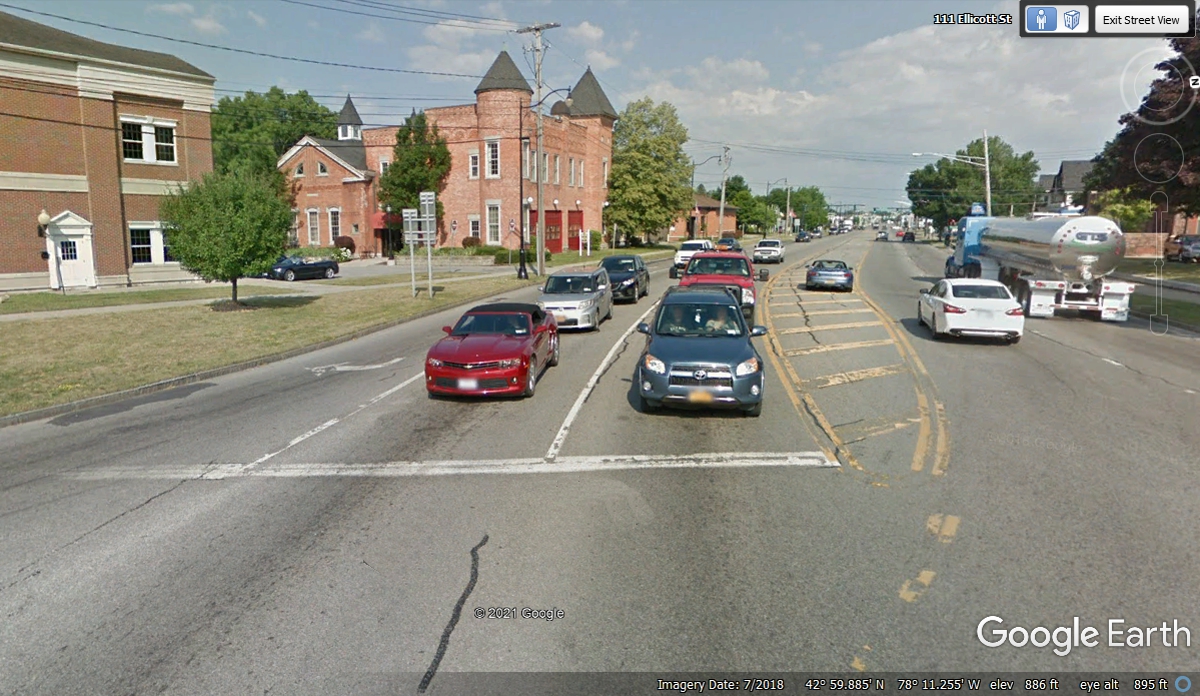 At the north edge of Batavia, NY route 5 goes west with the four-lane highway. NY 63 goes northwest toward our scheduled fuel stop. A few blocks from this intersection is where NY 63 becomes two lanes again.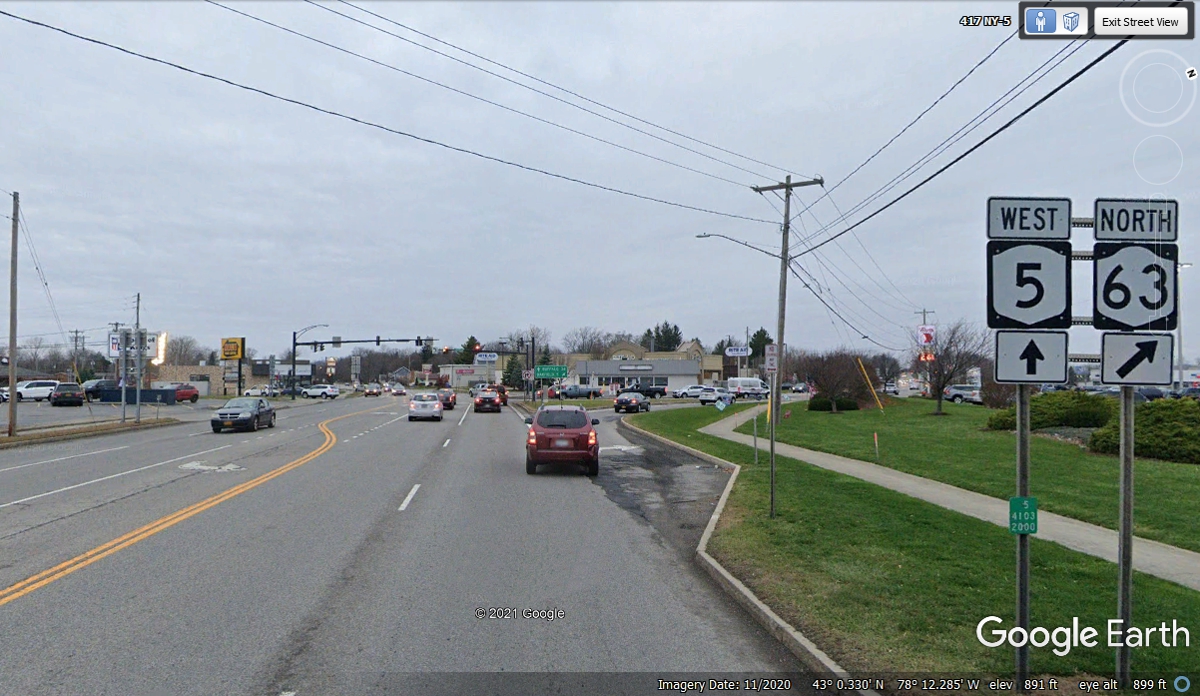 I-90 is part of the New York Thruway system in this part of the state. We are using NY route 63 on the overpass above I-90.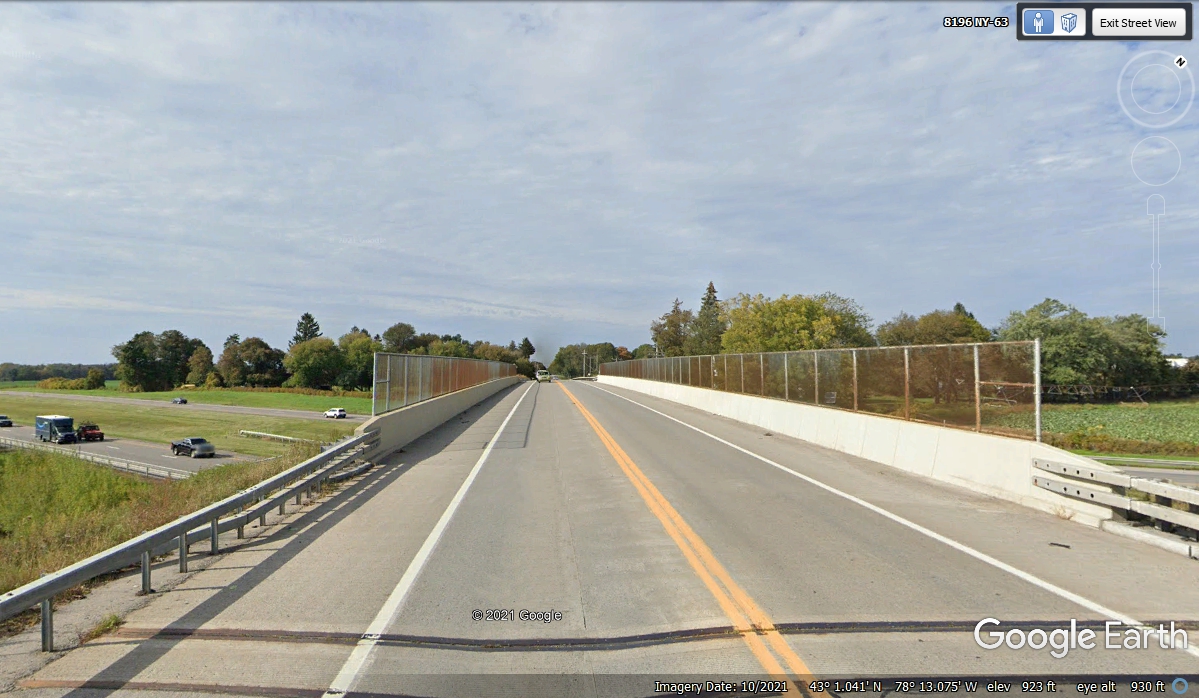 About 2.5 miles after crossing the New York Turnpike on NY 63, the GPS points me onto County Road 26, known as Galloway Road on a due west route. The sun is going down and I turn on the headlights to bright to watch for the glowing eyes of DEER in the HEADLIGHTS. Google Earth shows all images in DAY LIGHT, but in the real world it will soon be dark after sunset. County Road 26 goes about 4.5 miles, then jogs a bit north on Pembroke Road before continuing west.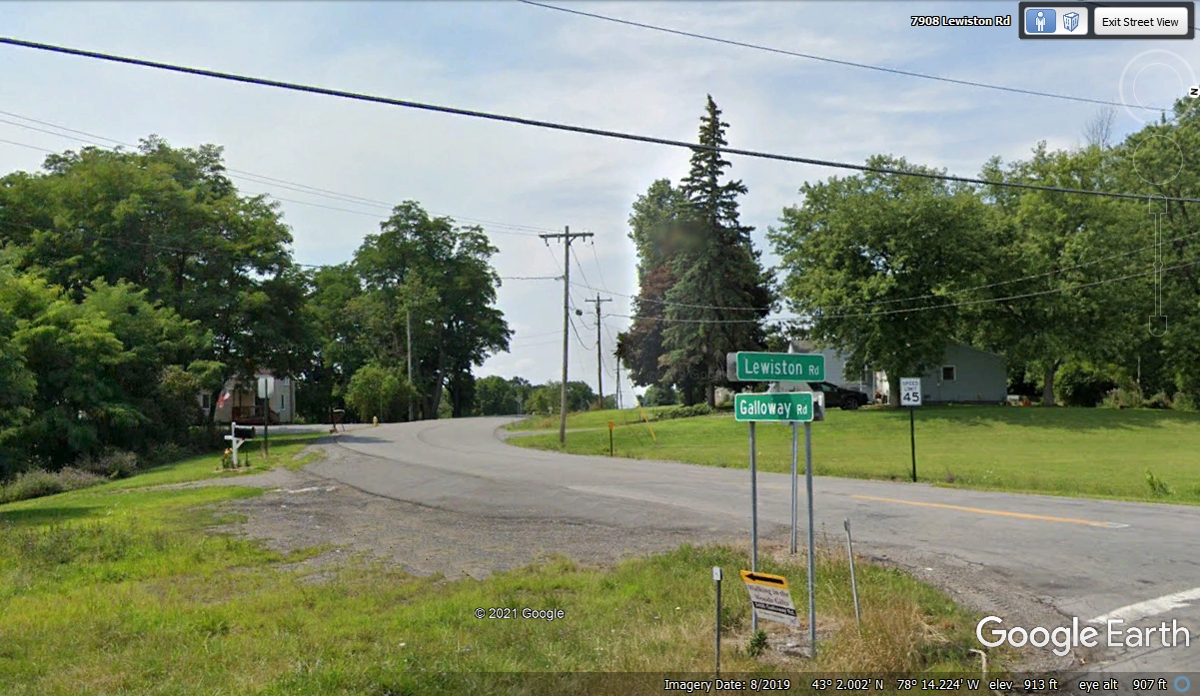 County road 26 ends at the intersection of NY route 77. The road that continues west across NY 77 is Ledge Road until it ends with a right turn to become Reuben Road going north to meet Bloomingdale Road.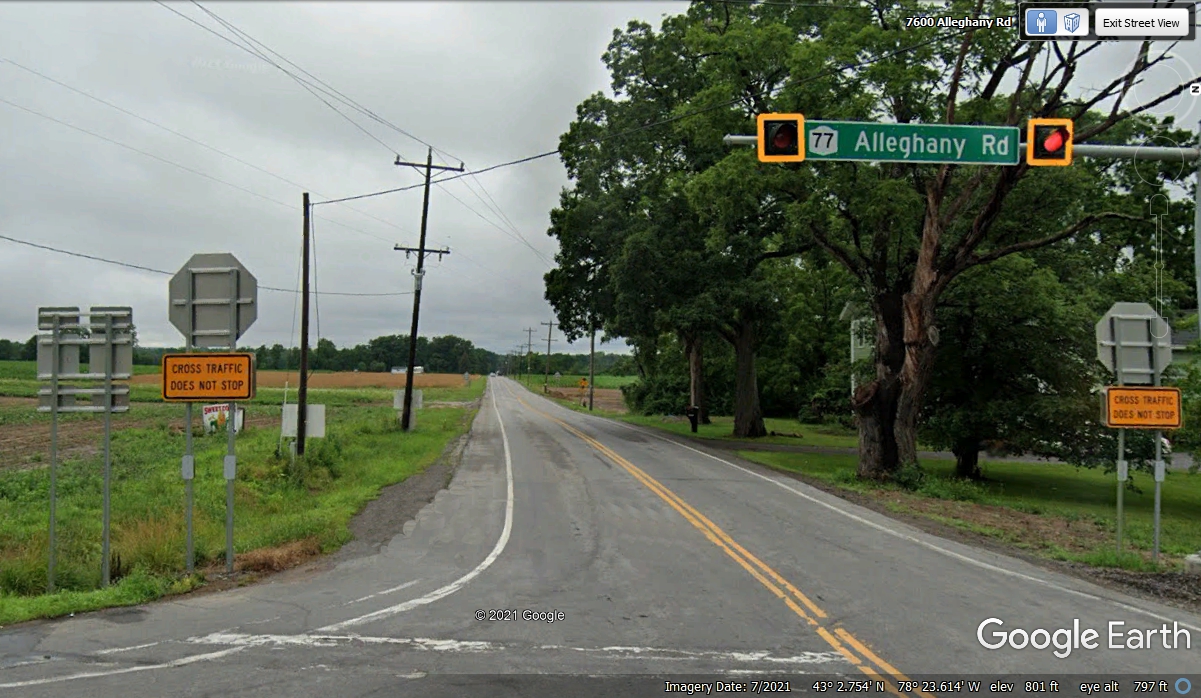 We got to Bloomingdale Road at 6:32 PM, our fuel stop is at that intersection. It was dark of course, but here is what it looks like on Google Earth with daytime conditions. The price of gas that evening was $3.01 per gallon of unleaded. Linda took Chase around the building to find a patch of grass he would use to get relief.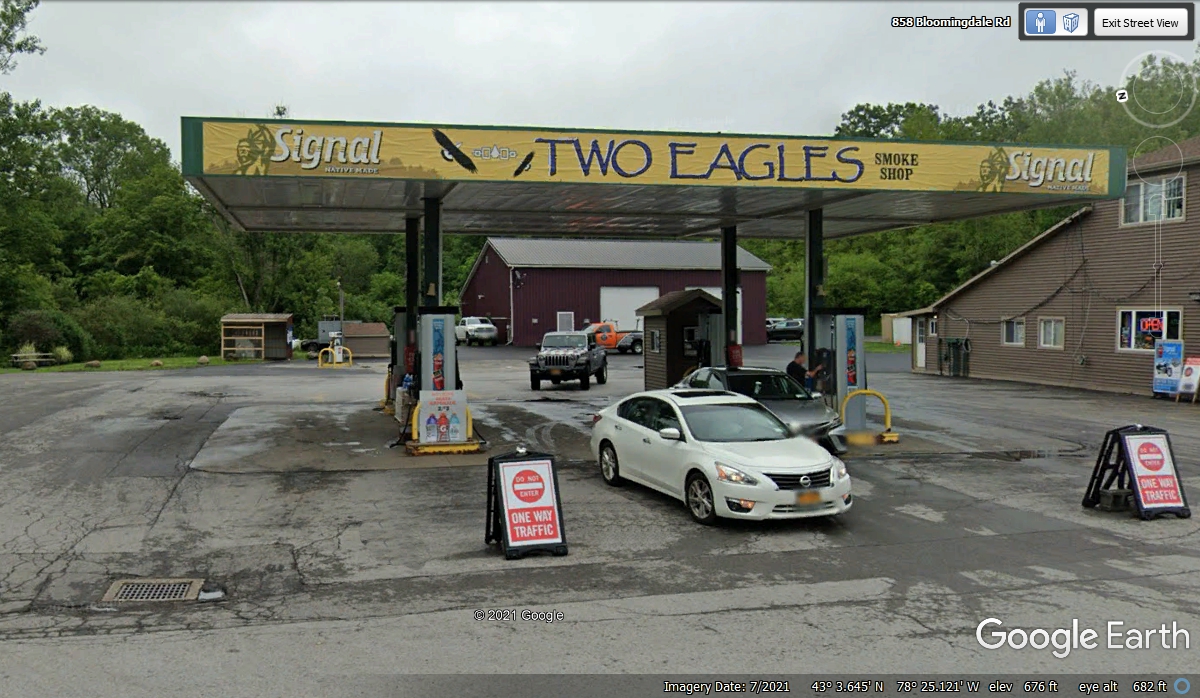 We got on the road again on country and county roads with lights on bright except when we met oncoming traffic. We did not see a deer along the route going over to US 62 at North Tonawanda. The people running the gas station seen above are Tonawanda Indians. The station is located on tribal lands. That is one reason their gas prices were about 20 cents per gallon lower than other gas stations in this part of western New York State.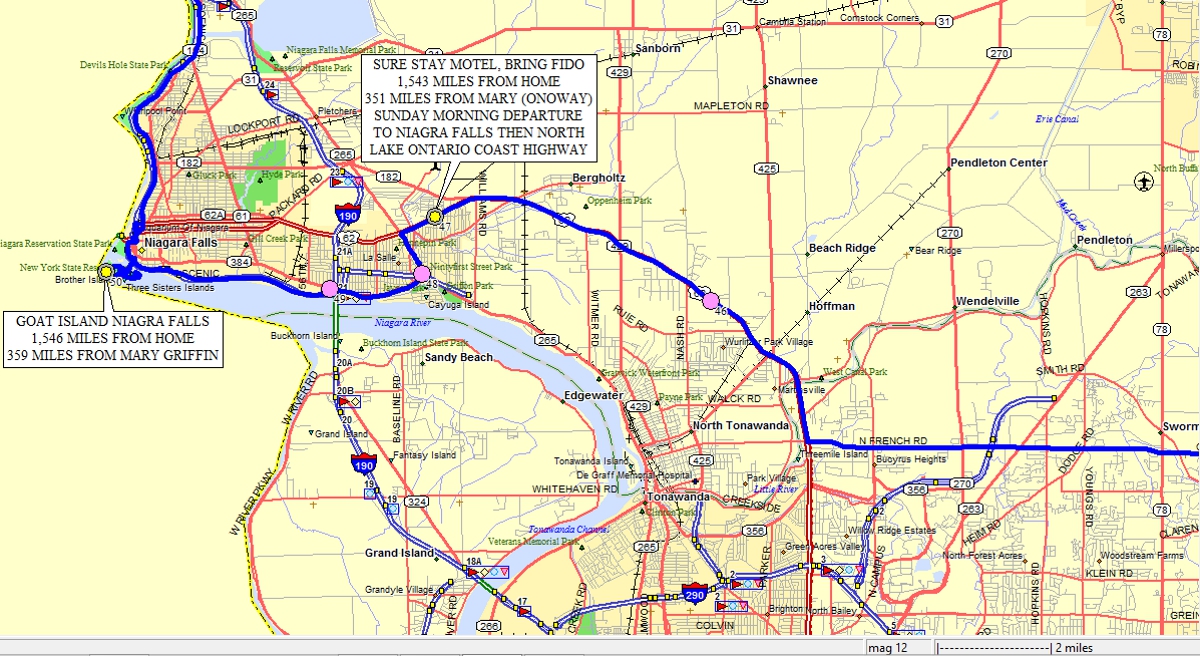 This is the intersection of County Road 282 and US 62 in North Tonawanda, NY. It was night time when we arrived at this intersection at 7:11 PM, but there were plenty of street lights along this part of the route. We turned north on US 62 which will take us to our motel for this night.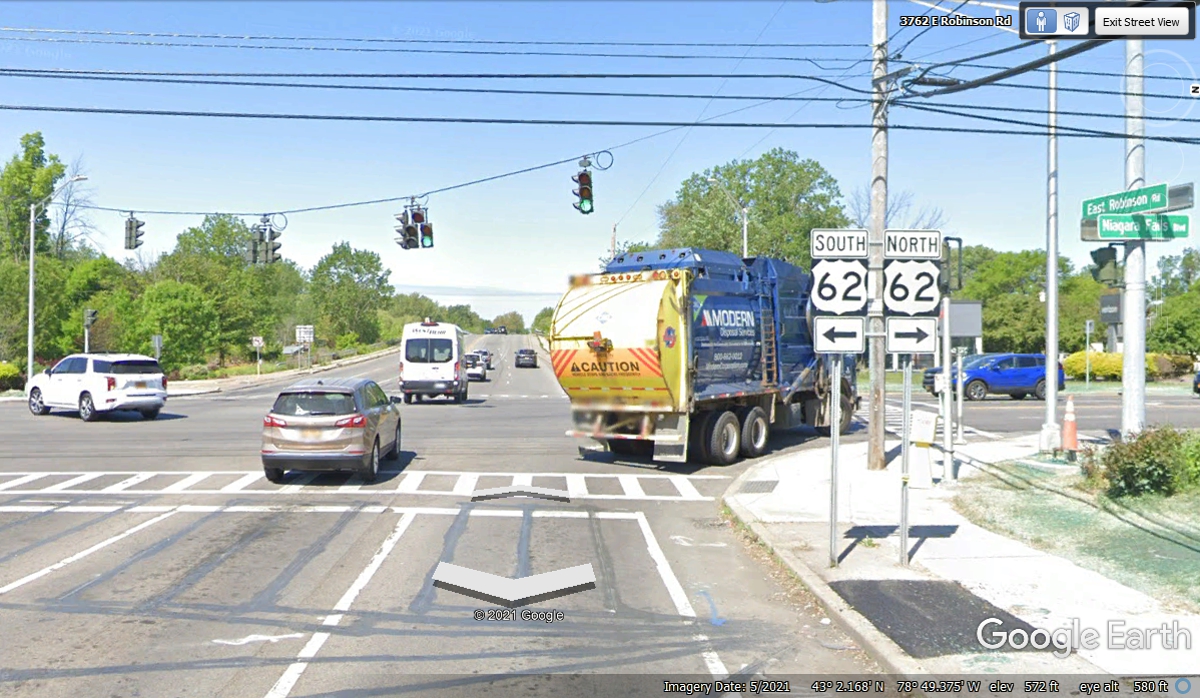 We are now on the last road for tonight since our motel is located on Niagara Falls Boulevard, US 62.

The motel is located just under 9 miles from where we got on US 62. We pulled into the parking lot at 7:28 PM. This motel is part of the Best Western chain of properties. DAY 5 ends here with a good night's rest.