October/November 2021 Vacation Day 7 · · PAGE 25.
November 1, 2021: We are now on I-93 South, a TOLL ROAD and our Sunpass Pro transponder will now be paying our way on these toll roads when we encounter them. It was a hazy overcast day when Google Earth passed this toll collection location. We sailed through the express lanes at 6:45 PM.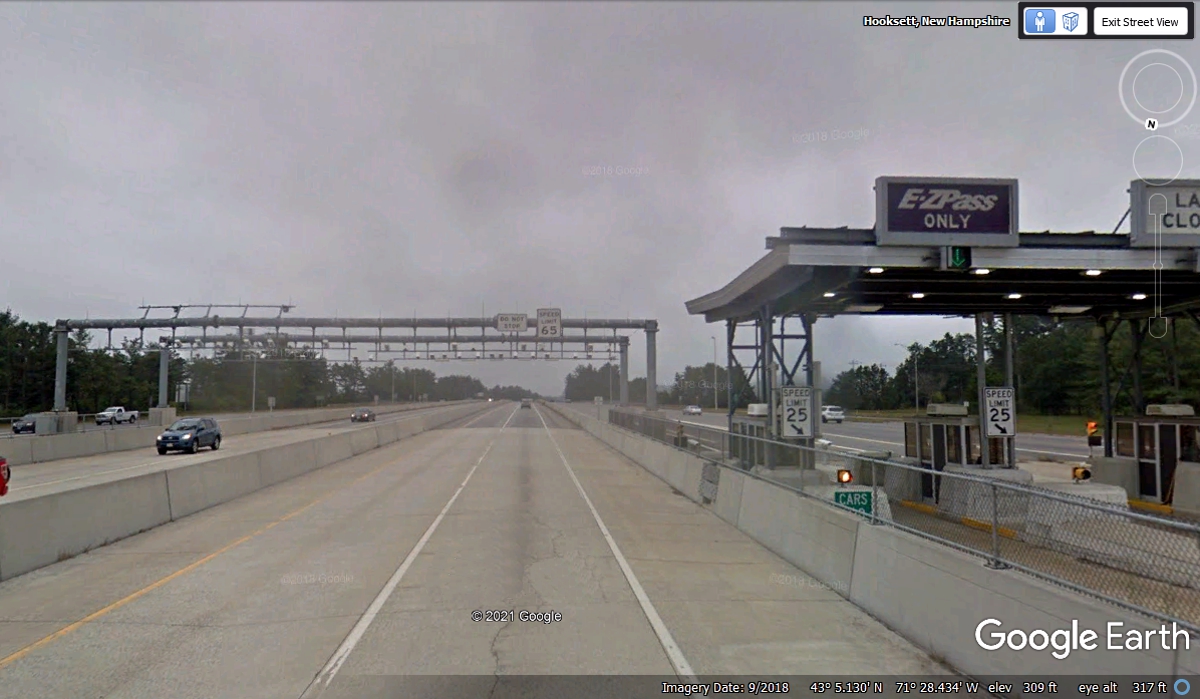 Just TWO MINUTES later, we missed staying on I-93 and ended up on the bypass route I-293. The next exit put us on a frontage road where I pulled into the first gas station to get a look at my GPS 296 to get back on track. The first major street with a LEFT turn was BRIDGE STREET at 6:58 PM.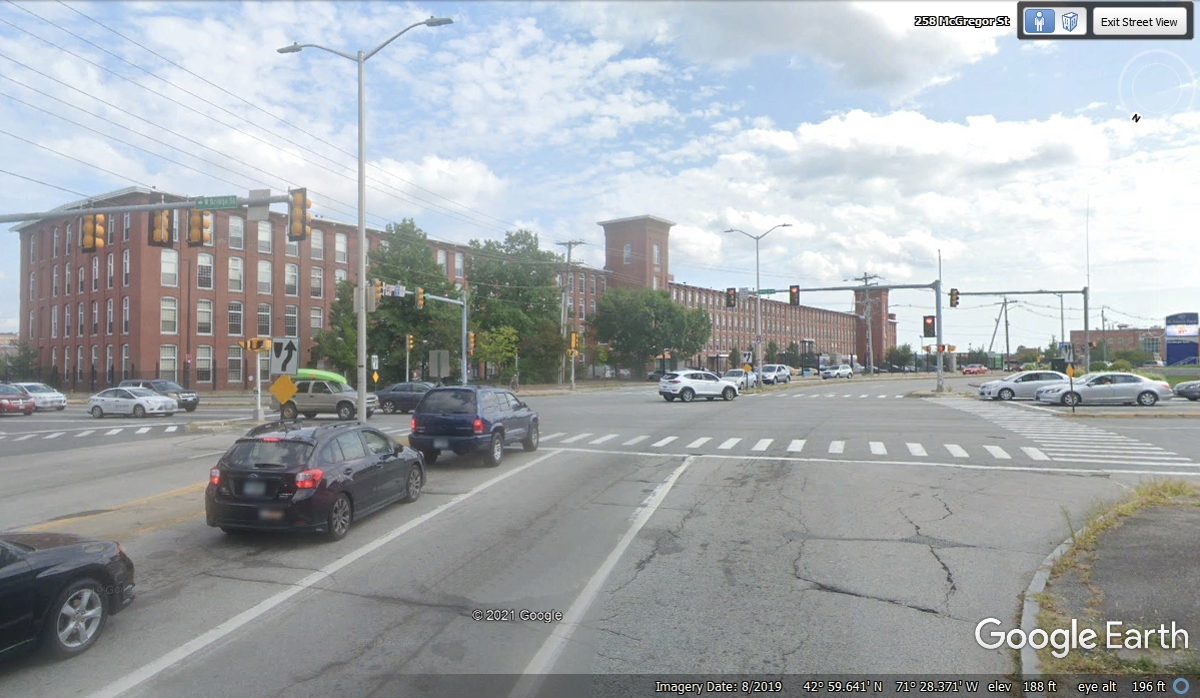 It was dark as I was driving on Bridge Street through town. It took me across a river and city streets toward I-93 going uphill most of the way. There were some traffic lights, but it was well after rush hour and traffic was light as we went through residential areas.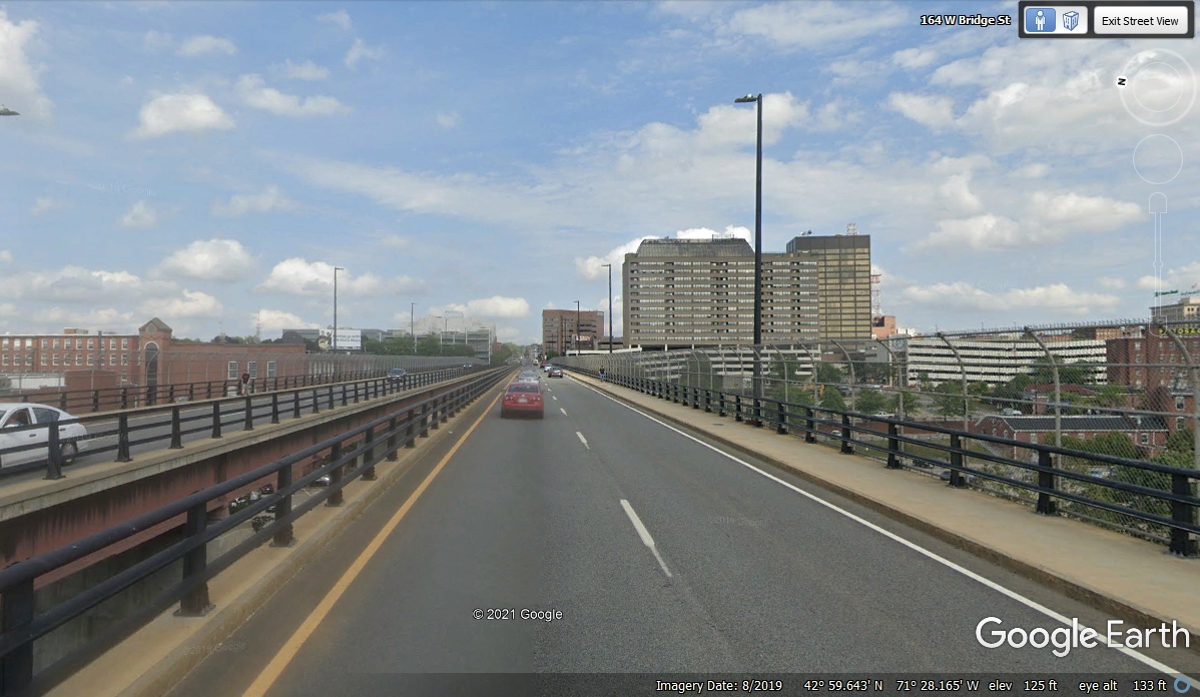 This is the on-ramp to I-93 southbound getting on from Bridge Street. Remember, it was dark when we arrived at 7:05 PM on November 1, 2021.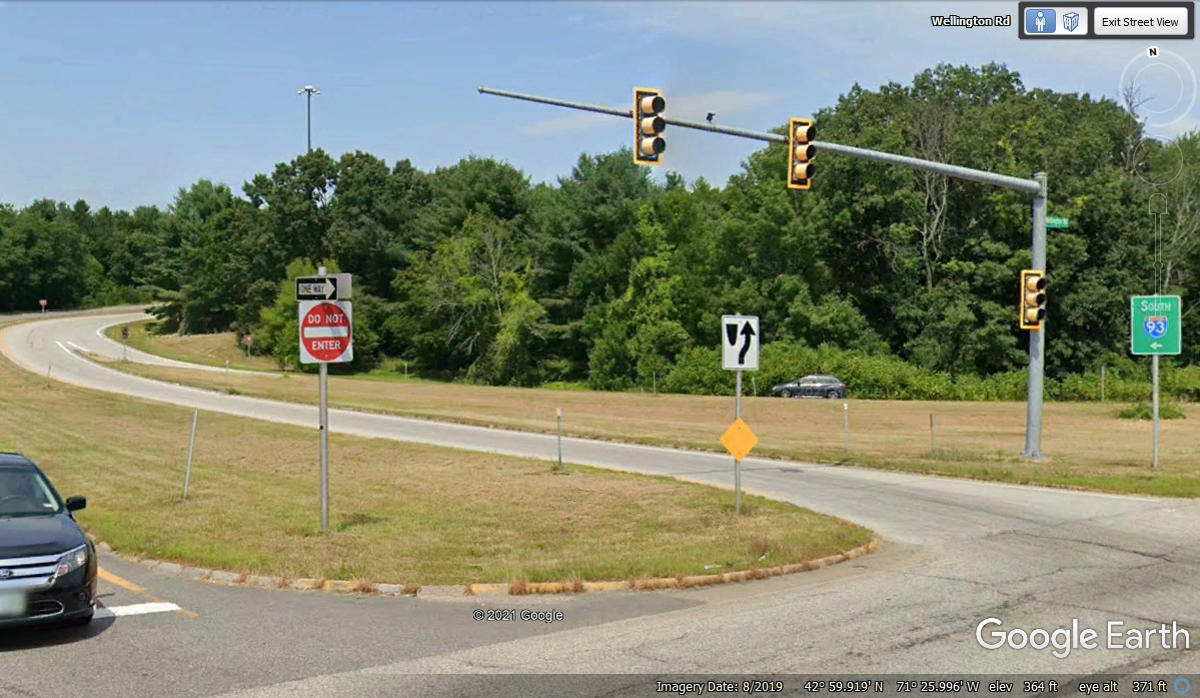 We got on I-93 and then on NH 101 about half a mile from the on-ramp that came up from Bridge Street to join interstate 93. New Hampshire state route 101 is our ride to I-95 where we can go north toward our hotel for this night. We reached I-95 and turned north at 7:36 PM. The image below was at 7:06 PM when we passed by this sign on I-93.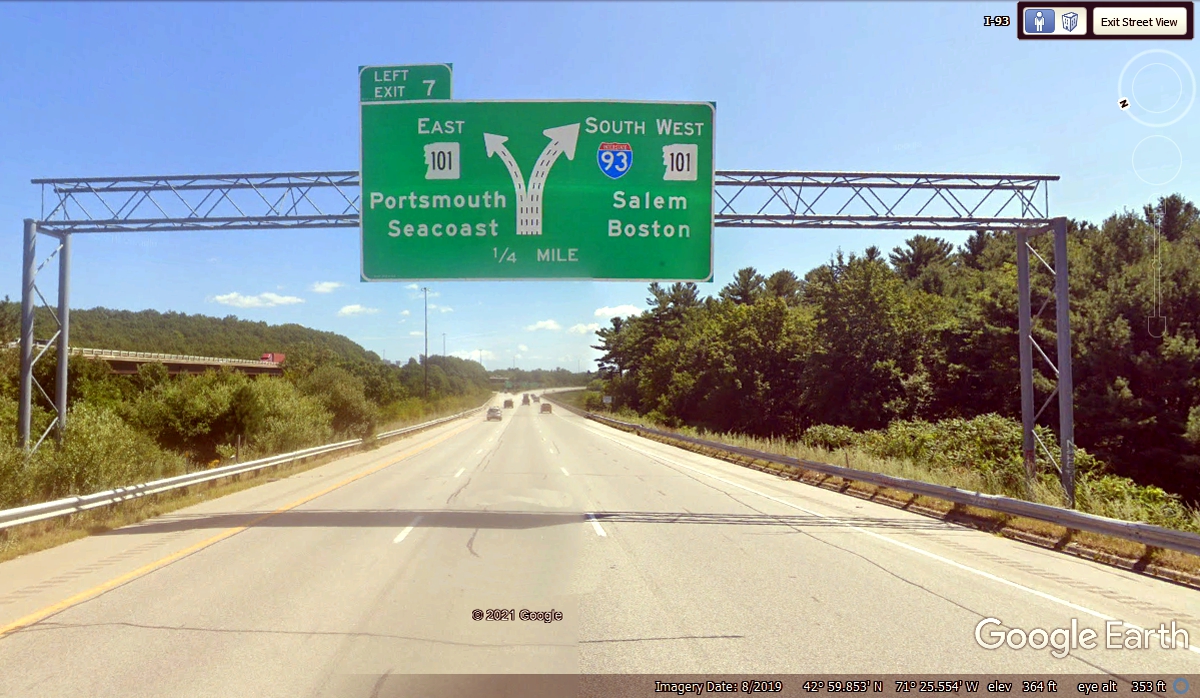 Finally on I-95 northbound on another section of the New Hampshire Turnpike. We were on another segment of the NH Turnpike earlier this evening over on I-93. We connected to I-95 north at 7:36 PM and it was definitely NIGHT TIME.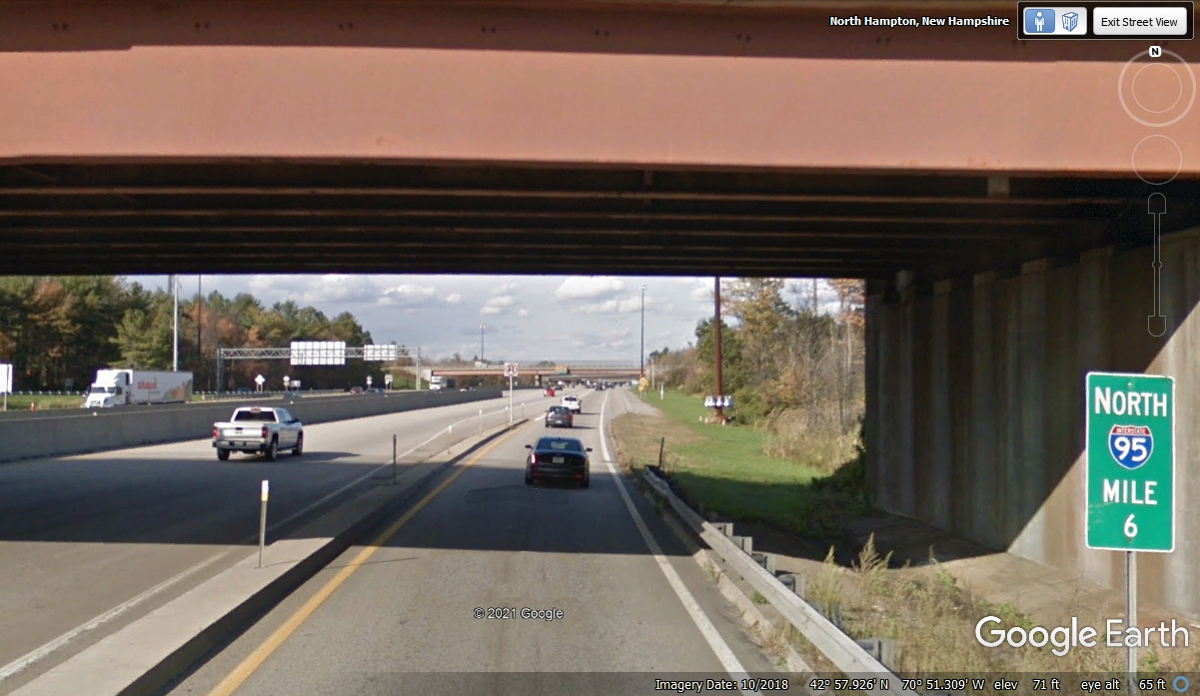 As we drove the few miles from where we got on I-95 up to the US 4 Exit, it was DARK as seen in this photo. These types of night time views are rare in Google Earth.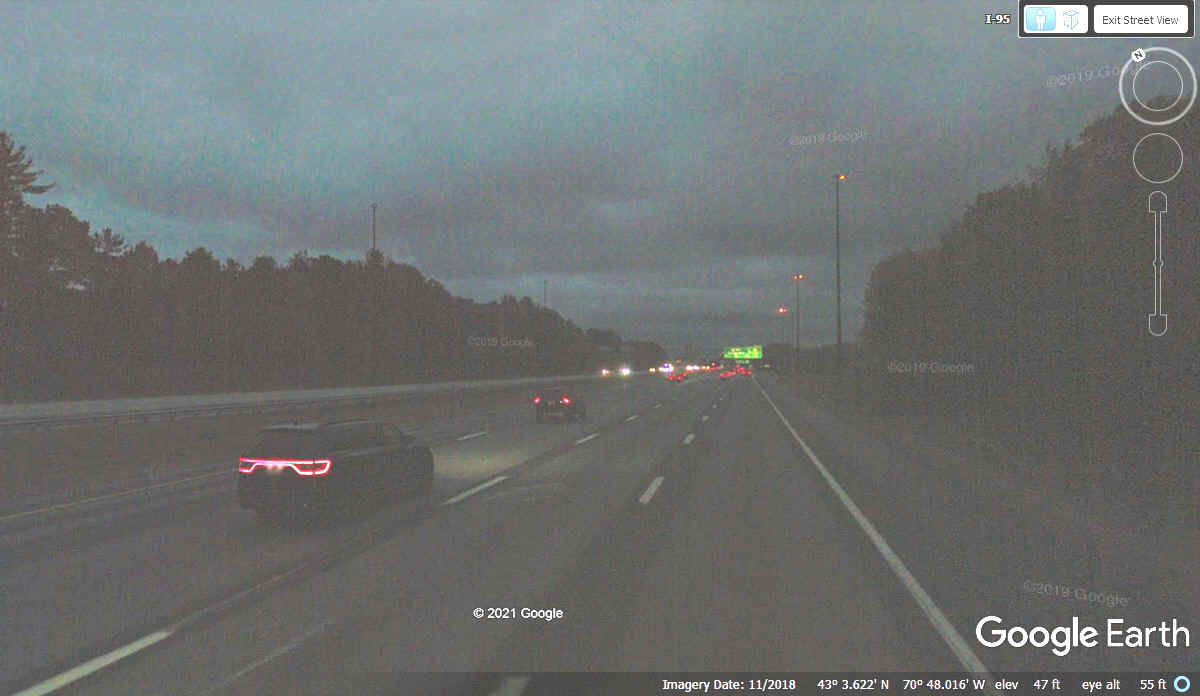 This is a LEFT EXIT to get on US 4 up to our hotel for tonight. We passed this way at 7:43 PM getting on US 4 West. It was dark when we went past this sign. Google Earth usually shows these images only in DAYLIGHT as seen here.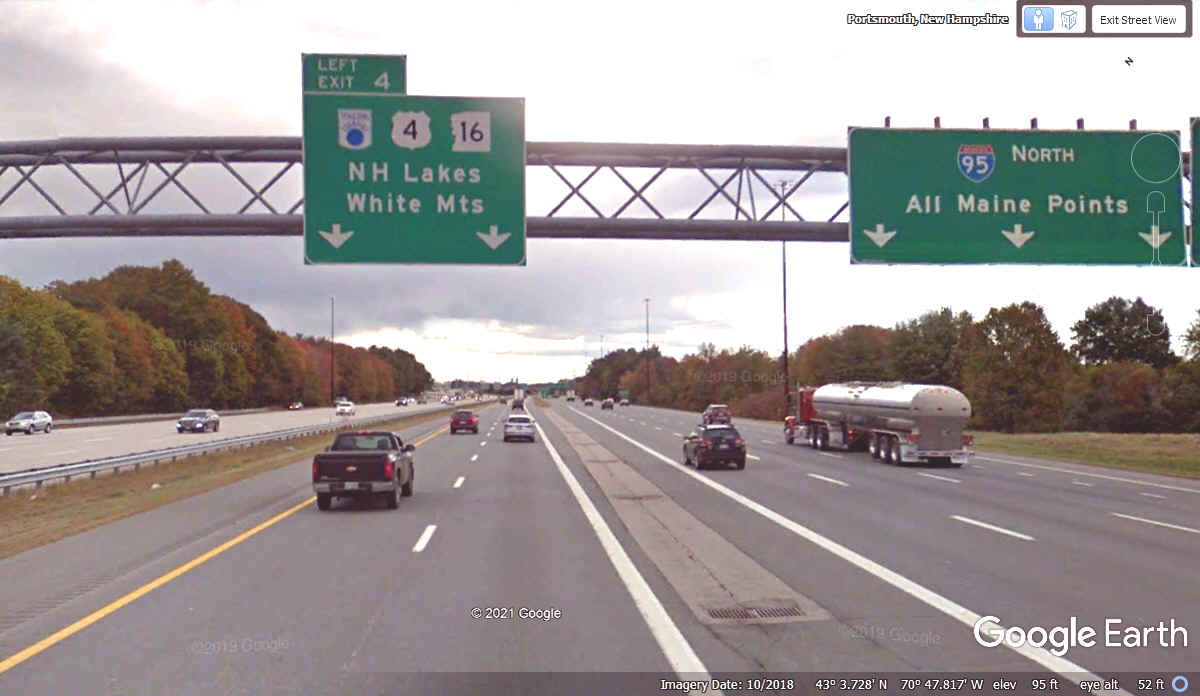 Our Exit from US 4 was the first exit west of I-95. This airport was previously known a Pease Air Force Base before it became a public airport with scheduled airline service.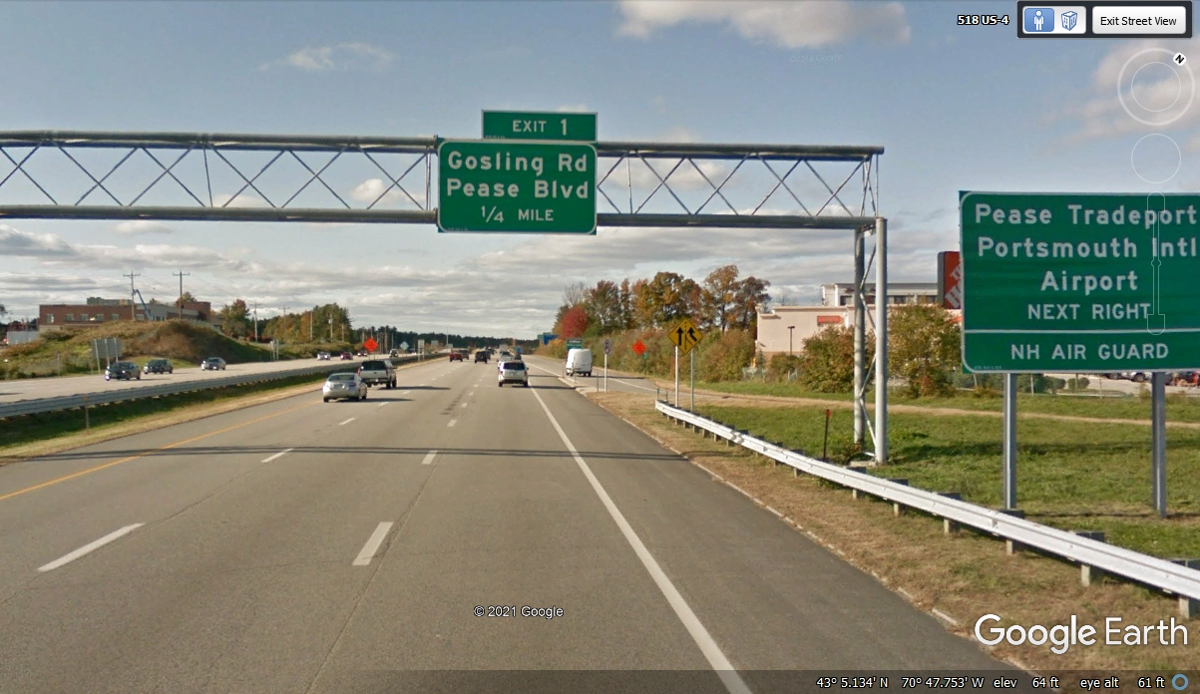 It was 7:47 PM when the GPS was turned off in front of the Motel 6 entrance. Yes it was very dark except for the lights in the parking lot.