October/November 2021 Vacation Day 6 · · PAGE 16.
October 31 2021: Sunday continues as we reach the city of Rochester. This Google Earth view from October 2020 shows the fall colors we have been seeing on our journey the past few days. We have been very fortunate to not have any rainy days on our vacation this year.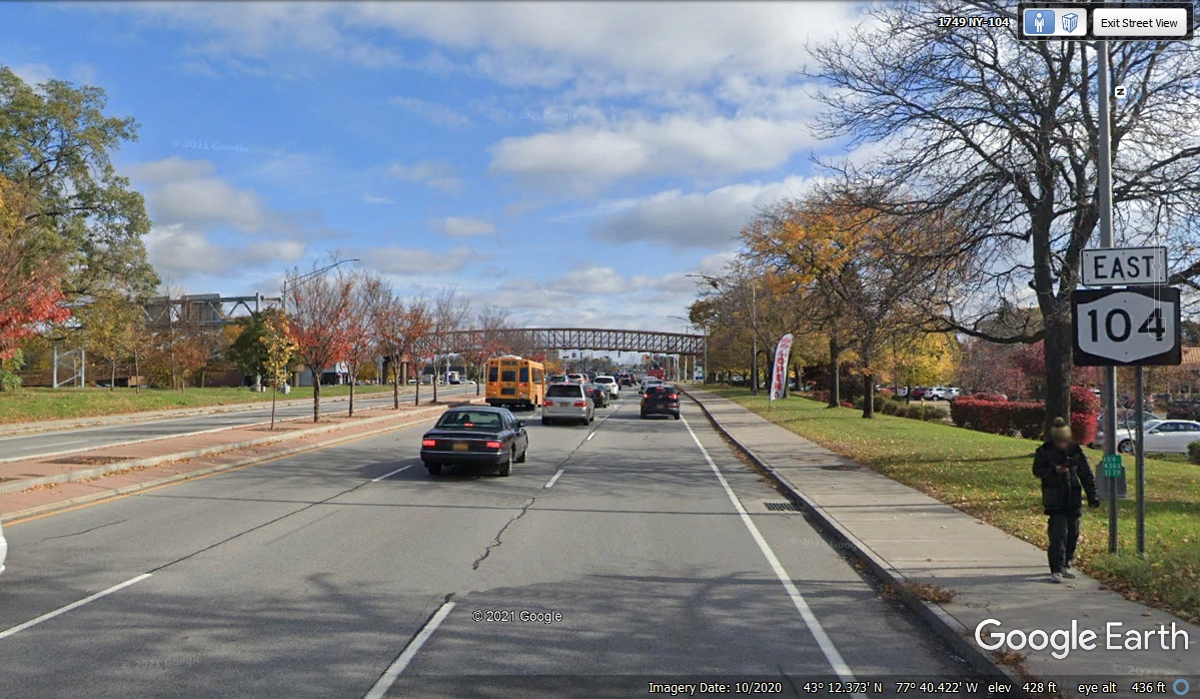 Here is a reminder of Rochester being the home town of Eastman Kodak. The letters at the bottom left corner of the building indicate this is BUILDING 26 of all the properties they have in the metropolitan area.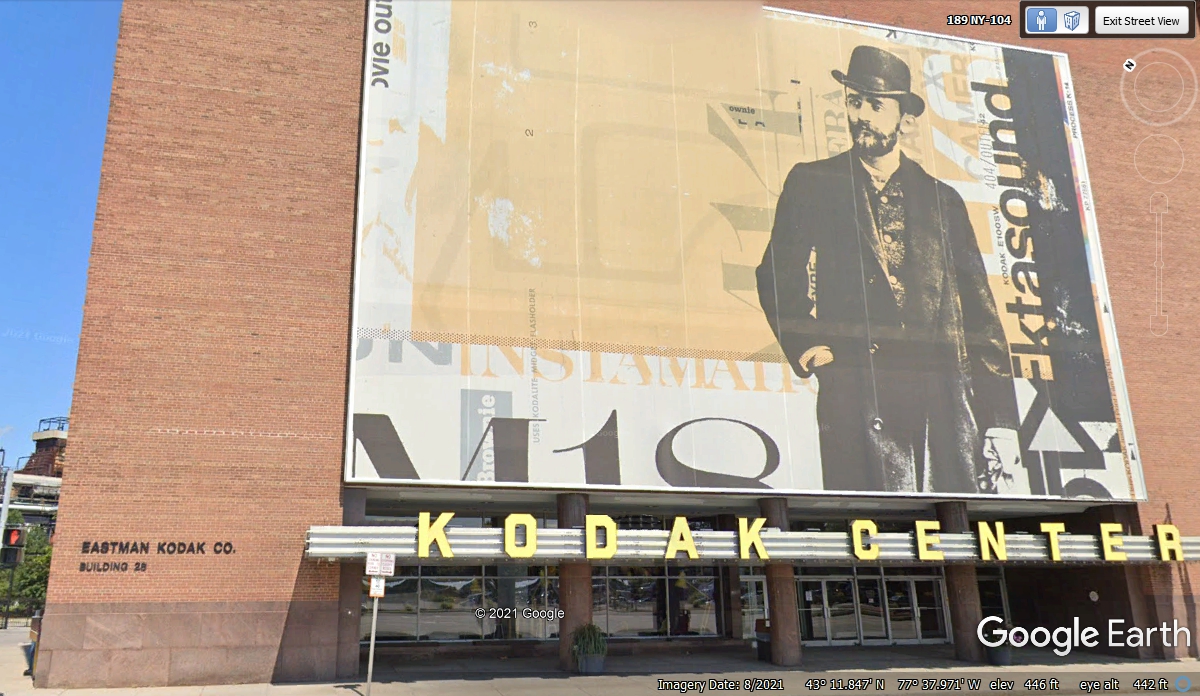 Here is a Google Earth view of the street looking East from the KODAK CENTER building. Judging from the number of cars in the parking lot across the street, Kodak is still in business.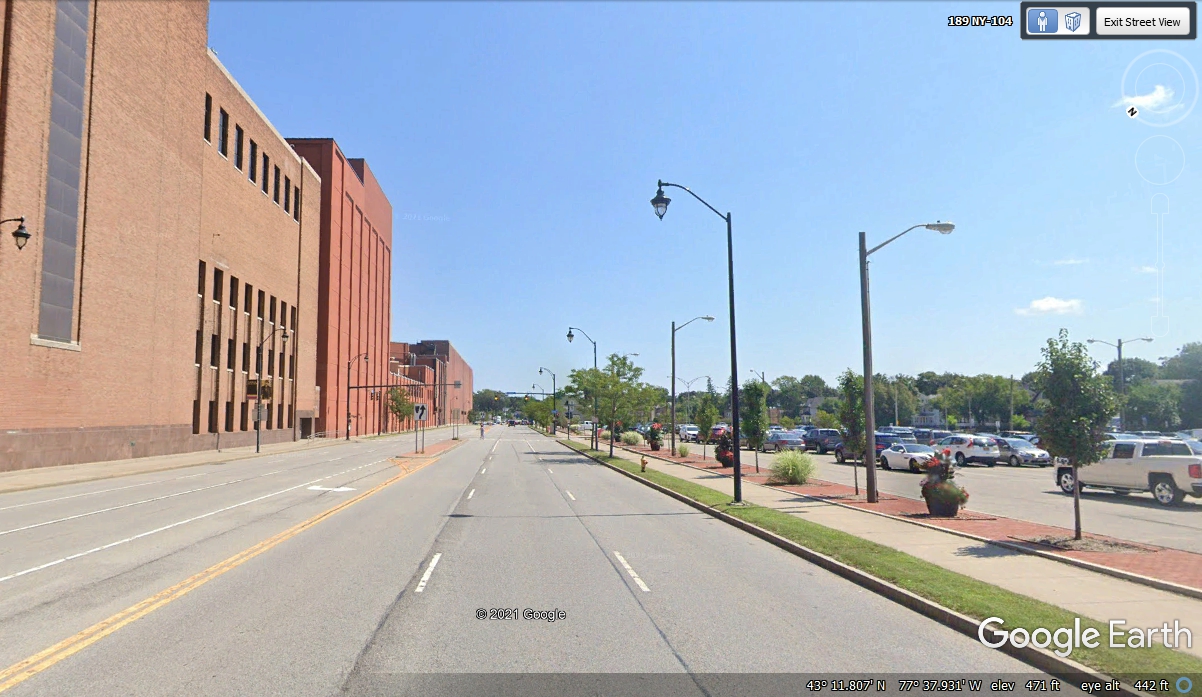 We mentioned back at Letchworth State Park that the Genesee River was on its way to Lake Ontario. We are crossing a bridge over that river on the East side of downtown Rochester, New York as we head out toward the countryside going East.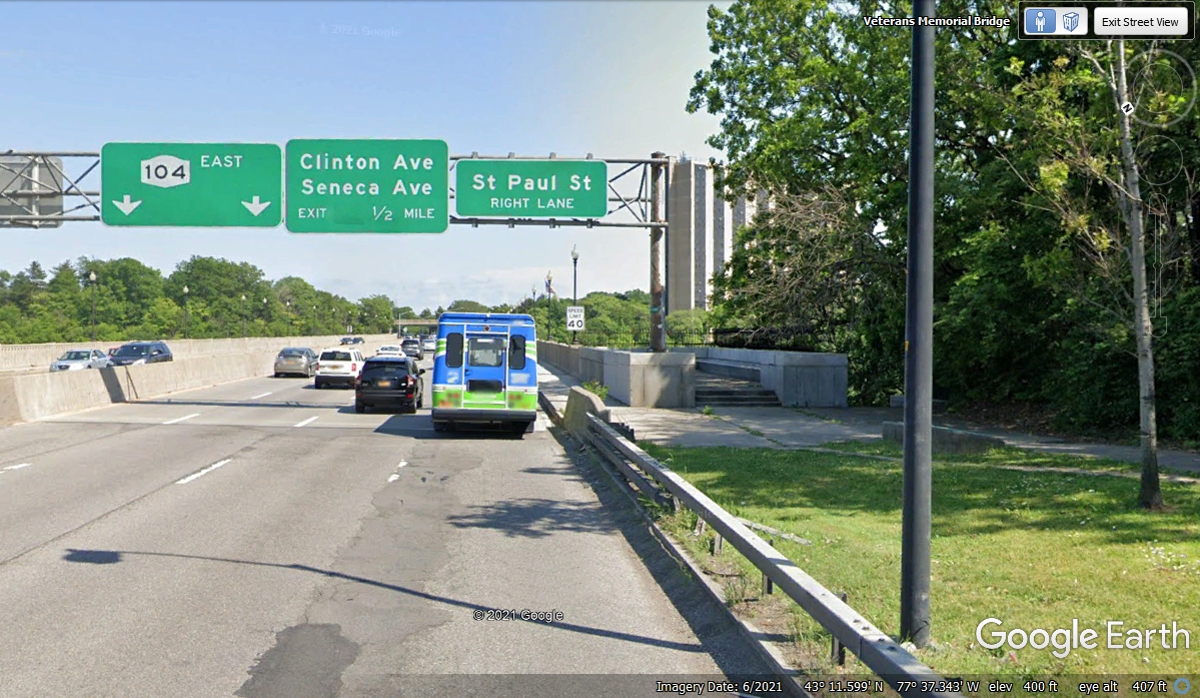 We quickly noticed there were no signs near exits to point to food, fuel, or motels. We decided to get off at the next exit and used the GPS to find food as it is lunch time.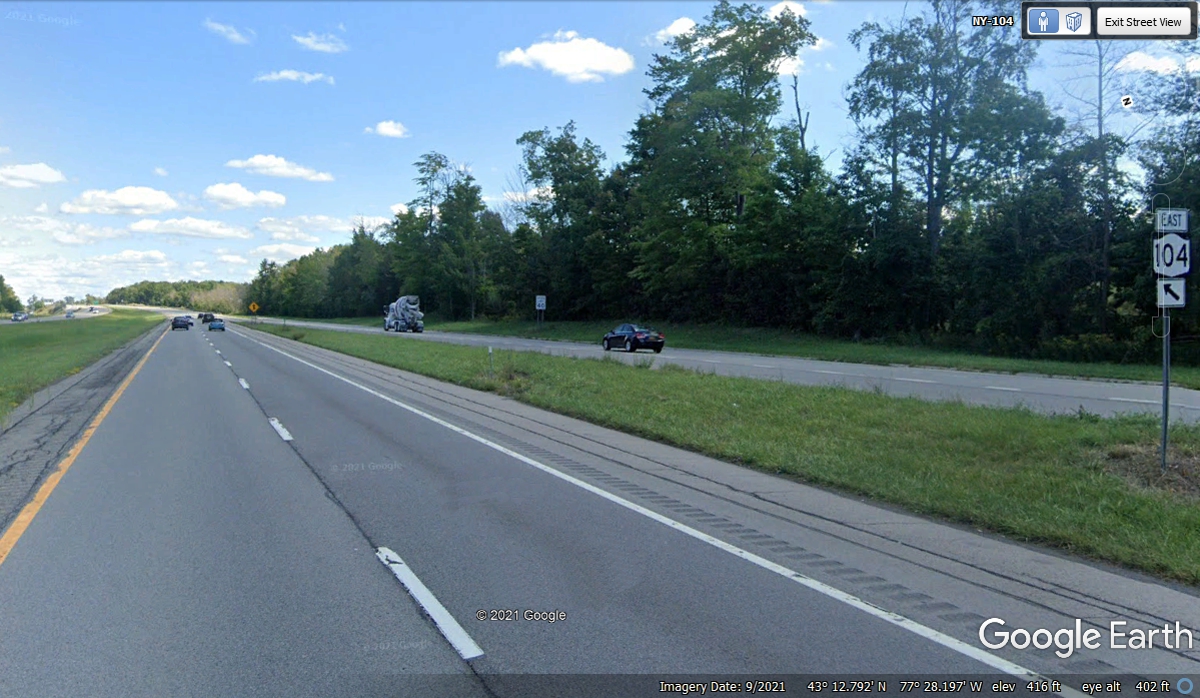 Here comes the next exit to get over into a commercial district with stores and restaurants.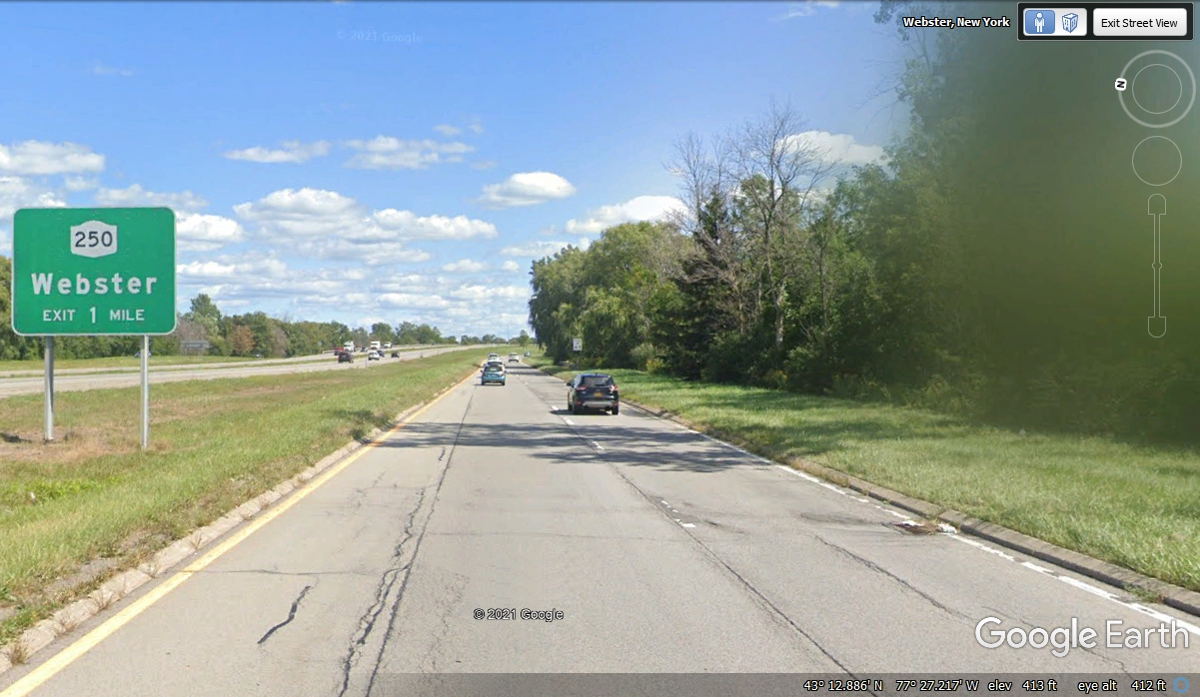 We went down NY 250 about 1 block and pulled into a parking lot to search my GPS 296 looking for fast food. We were just one exit past a Burger King and headed that way. Since there is plenty of green grass here, Chase had a chance for an extended walk to relieve himself. While looking at my GPS, it was easy to select a parallel route to NY 104 to get back to the shopping center where Burger King is located.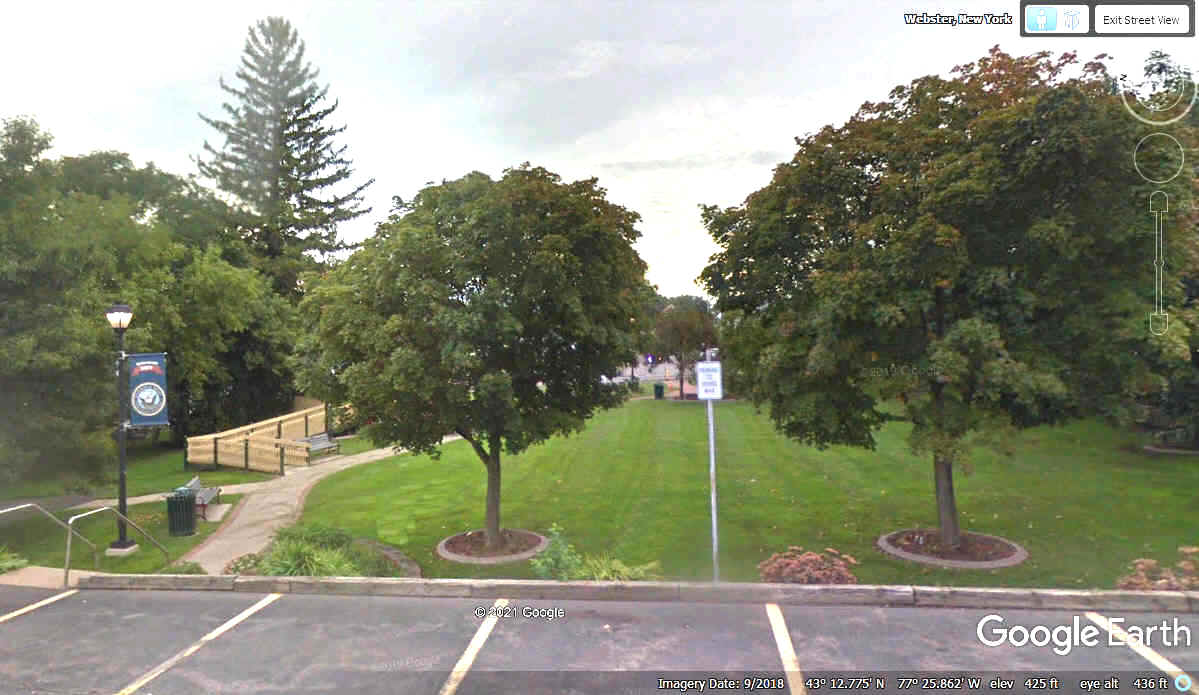 My GPS guided the way from the parking lot out to NY 404, the parallel road to NY 104. A right turn from this intersection seen below and down to Hard Road that was the location of the Burger King.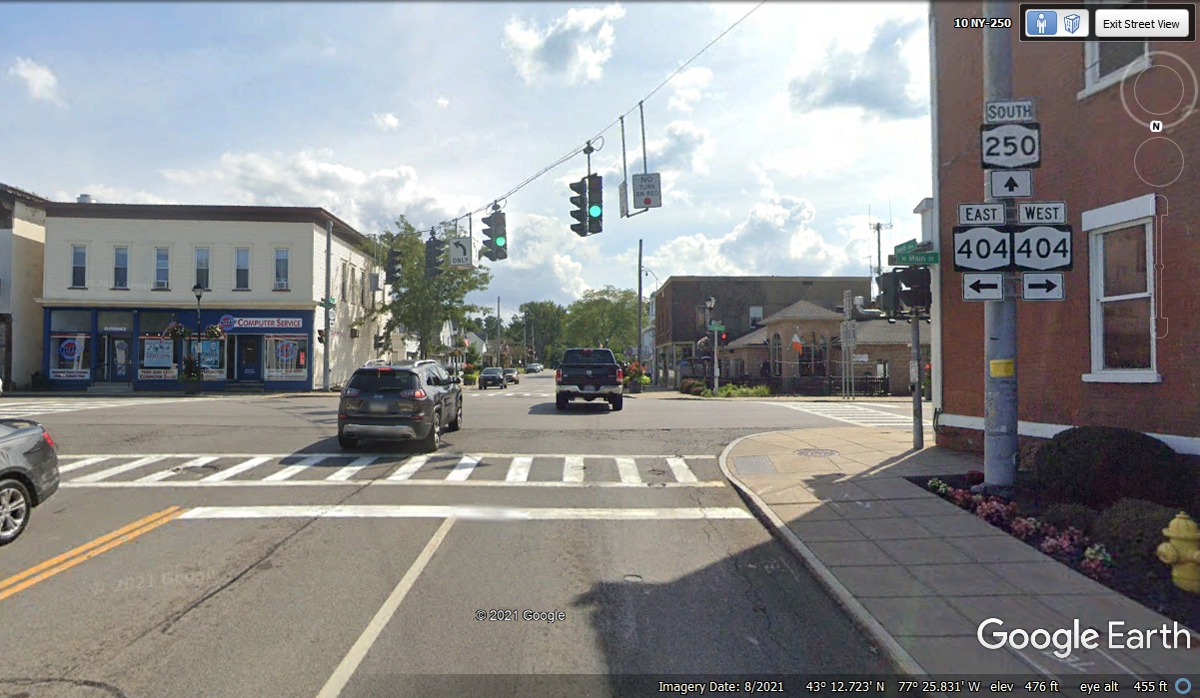 Another right turn off NY 404 on to Hard Road brought us here where I parked in the spot directly in front of the entrance. We stopped here at 12:54 PM. With all the take out service during our trip, this was the first stop at Burger King. The 2 for $6 deal provided a Whopper Hamburger for me and a big fish sandwich with no bun for Linda. She asked for extra tartar sauce and some lettuce to make a "fish salad" that turned out to be tasty. We all had a good lunch and Chase had his usual kibble and water. Leaving here was a short ride up to the frontage road for NY 104 and we headed East again at 1:33 PM.

There must be some sort of sign ordinance here in Webster, NY as the Burger King signs are on the sides of the building, not out in front by the street.

The limited access roadway for NY 104 only lasted 3 miles after getting on from the street where Burger King is located. The cross roads and traffic lights began until we reached a point 14 miles from Burger King. The two-lane version of NY 104 became our route after that.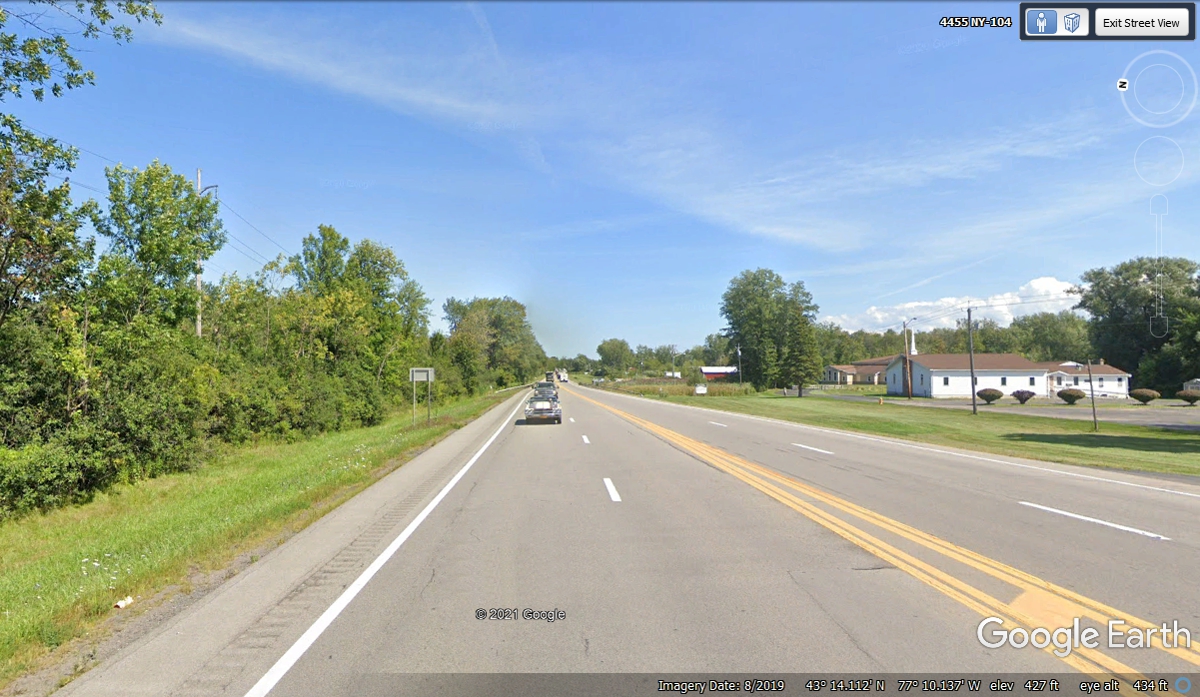 NY 104 is still a good secondary highway in upstate New York. When it reached the area of Hannibal, NY it was a bypass around the town. I saw this coming intersection with NY route 3 and remembered we will be using this route later today to get to a viewpoint on the shore of Lake Ontario. I had used Google Earth to pick out that spot that should provide fall colors and a view to the west across Lake Ontario.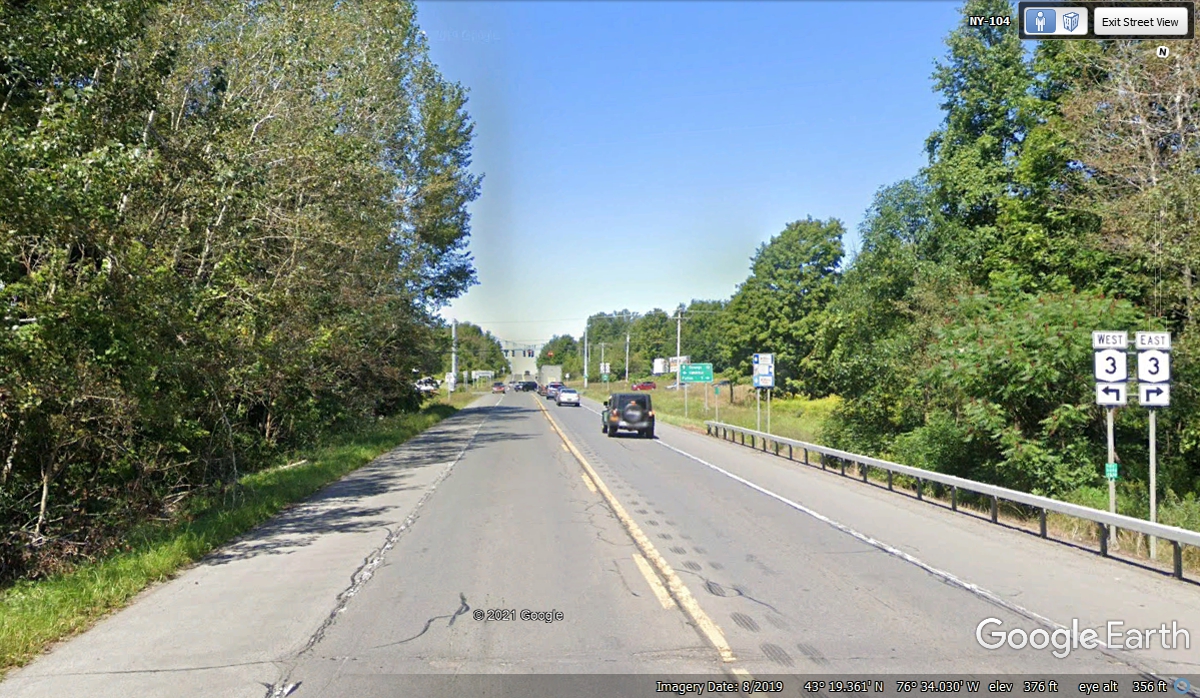 About 45 miles past the end of the four-lane section of NY 104, we reached Oswego, New York on Lake Ontario. If I had taken NY 3 East from the intersection seen in the image above, I would have missed Oswego completely. My curiosity about Oswego brought me here just to see what is important about this town. NY 104 north of Hannibal has a long straight section of the highway with some hills before it turns to run parallel with the shoreline of Lake Ontario about 5 miles out of town at the intersection of NY 104A. We came to this intersection in Oswego, NY at 2:50 PM.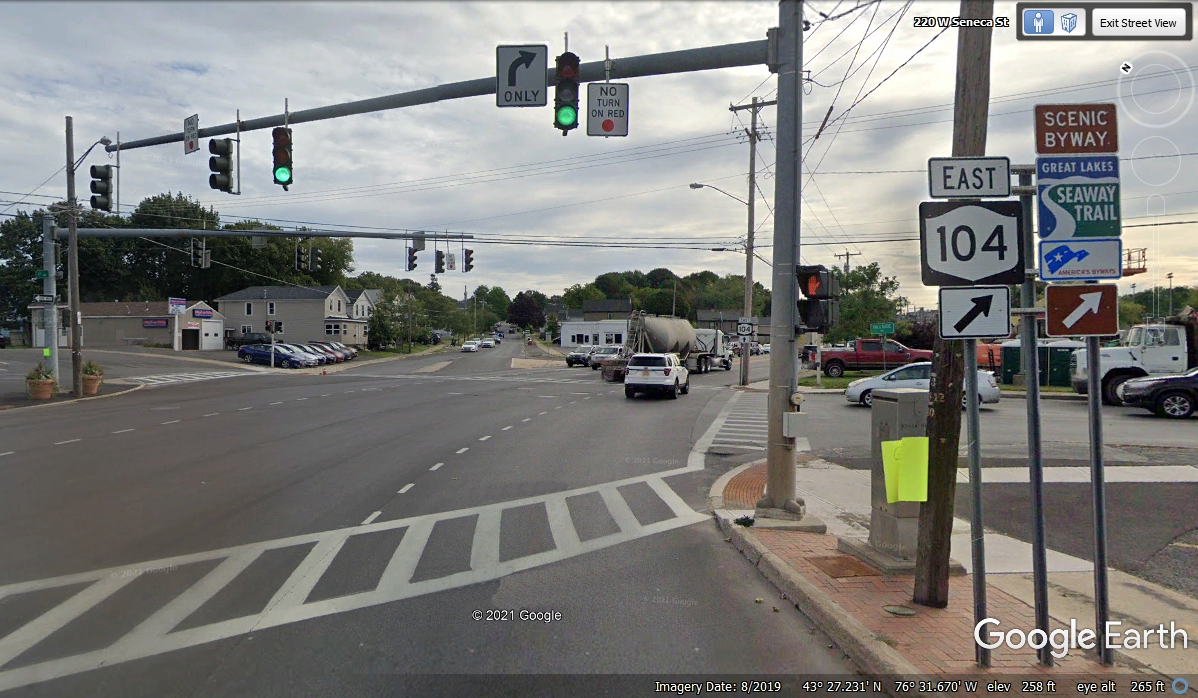 The view looking north at the Oswego River is at the center of town and is a barge canal that connects Lake Ontario to the famous Erie Canal south of here.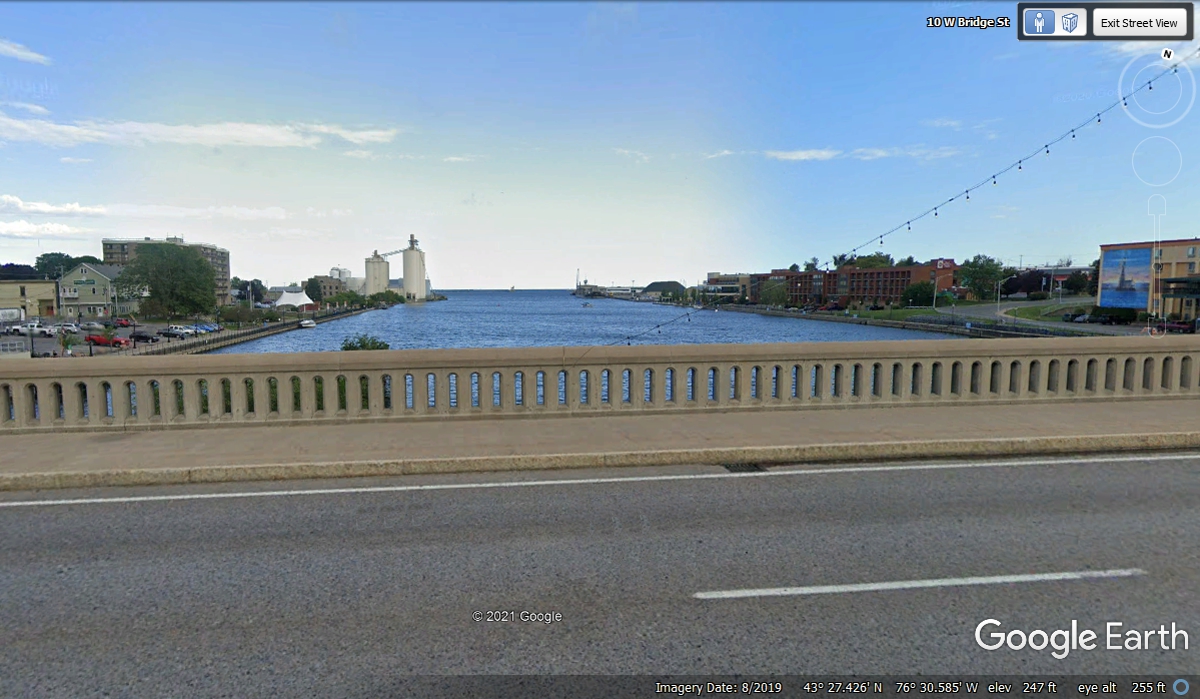 This is the view looking south at the first lock in the canal.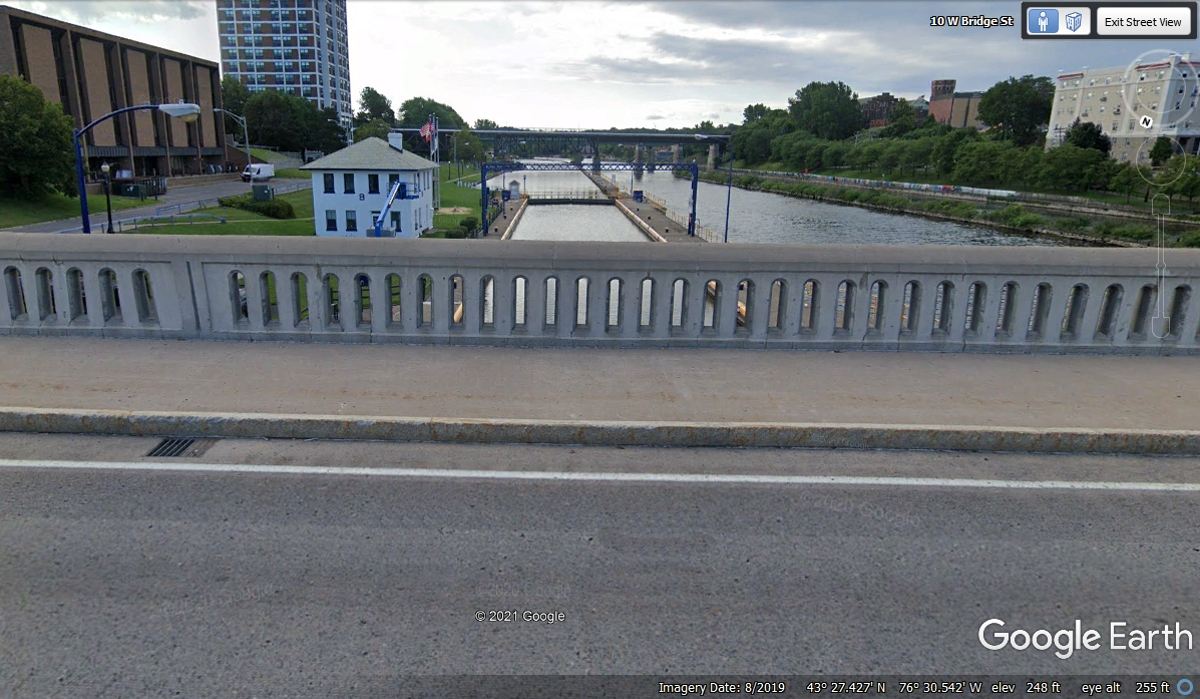 On the East side of town are all the usual chain stores, fast food outlets and Wal-Mart where the road comes to a hill at the bottom of this Google Earth Image.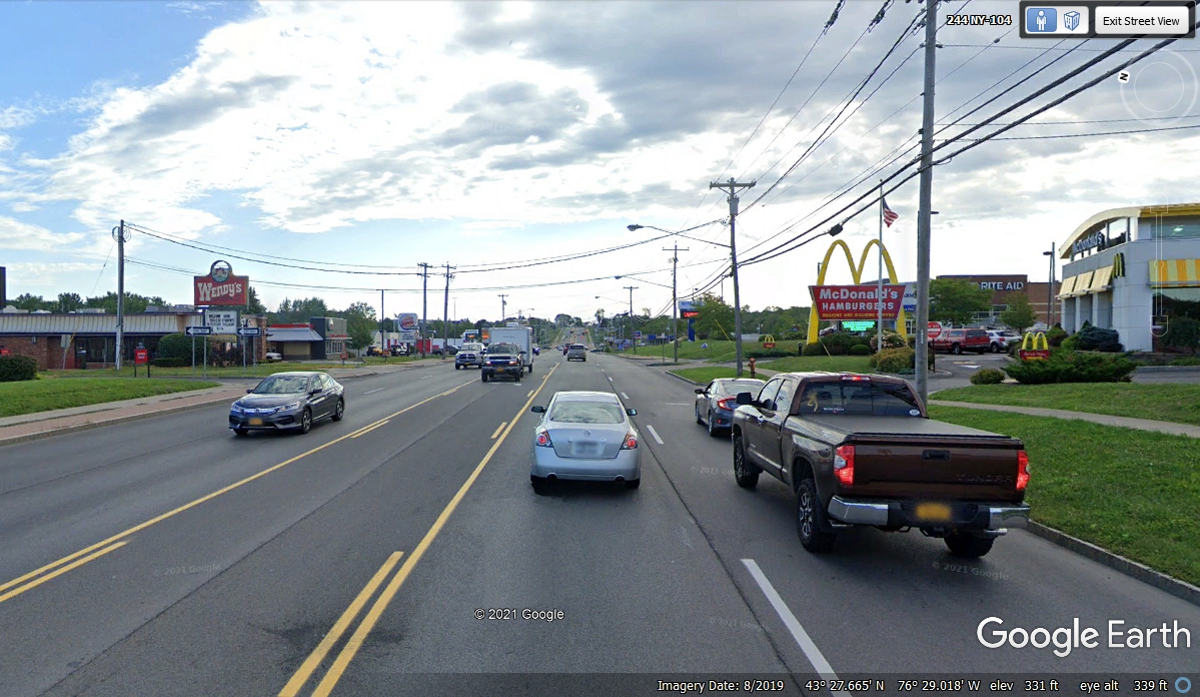 About 9 miles East from Oswego is where this alternate route NY 104B gives us a short cut to our next road, NY route 3 going north. We turned left here at 3:05 PM.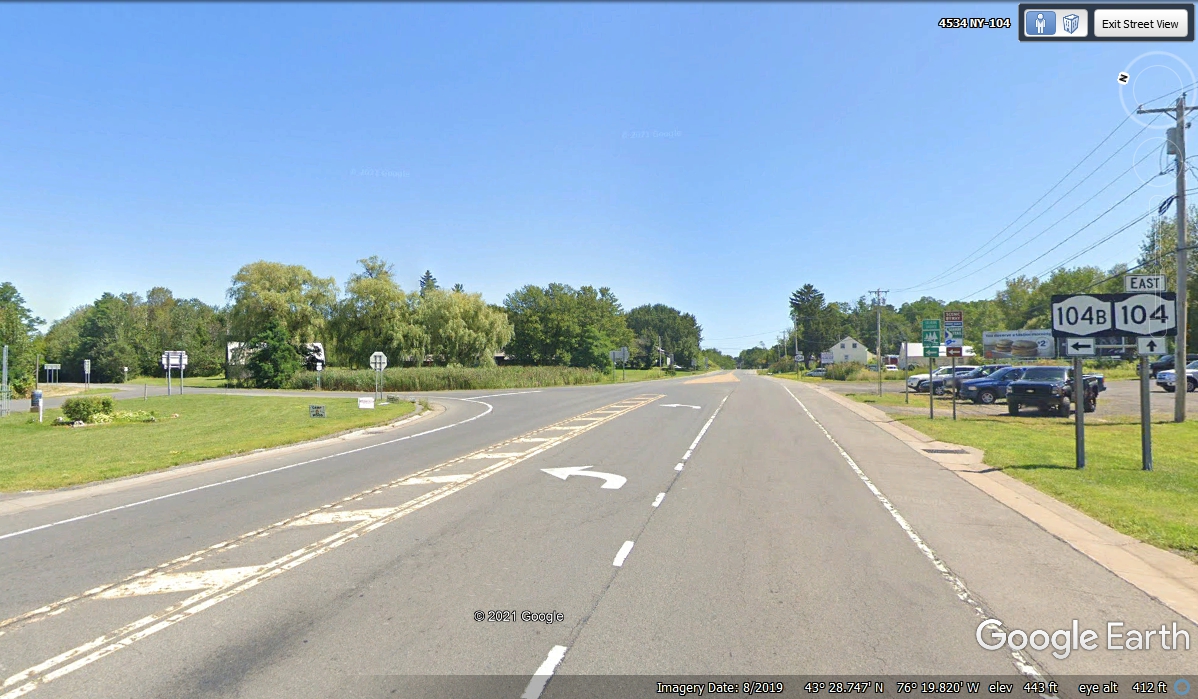 The shortcut route NY 104B is only 6 miles in length, but it does save about 5 miles from using NY 104 to get to NY 3 then turning north at Mexico, NY. The image below shows a green snowmobile sign indicating the extra lanes on both sides of this highway are exclusive to snowmobiles during winter snow conditions.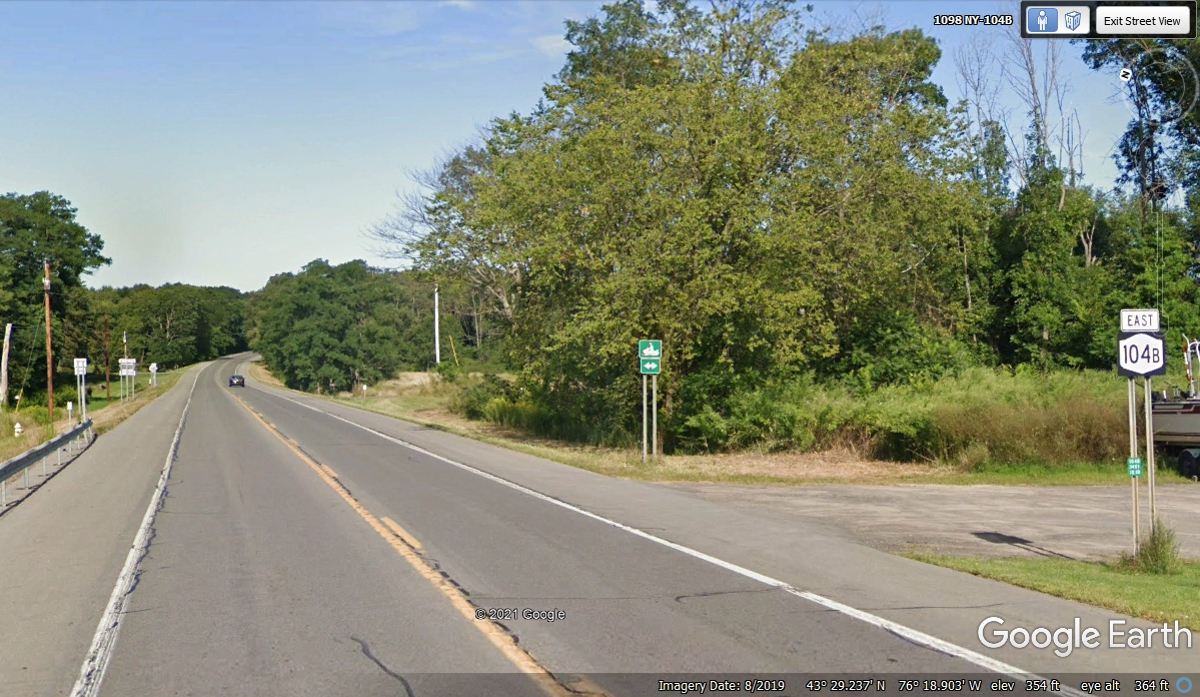 Welcome to Texas, a small village on NY 104B with a county road going NORTH to Mexico Point Park on the shore of Lake Ontario.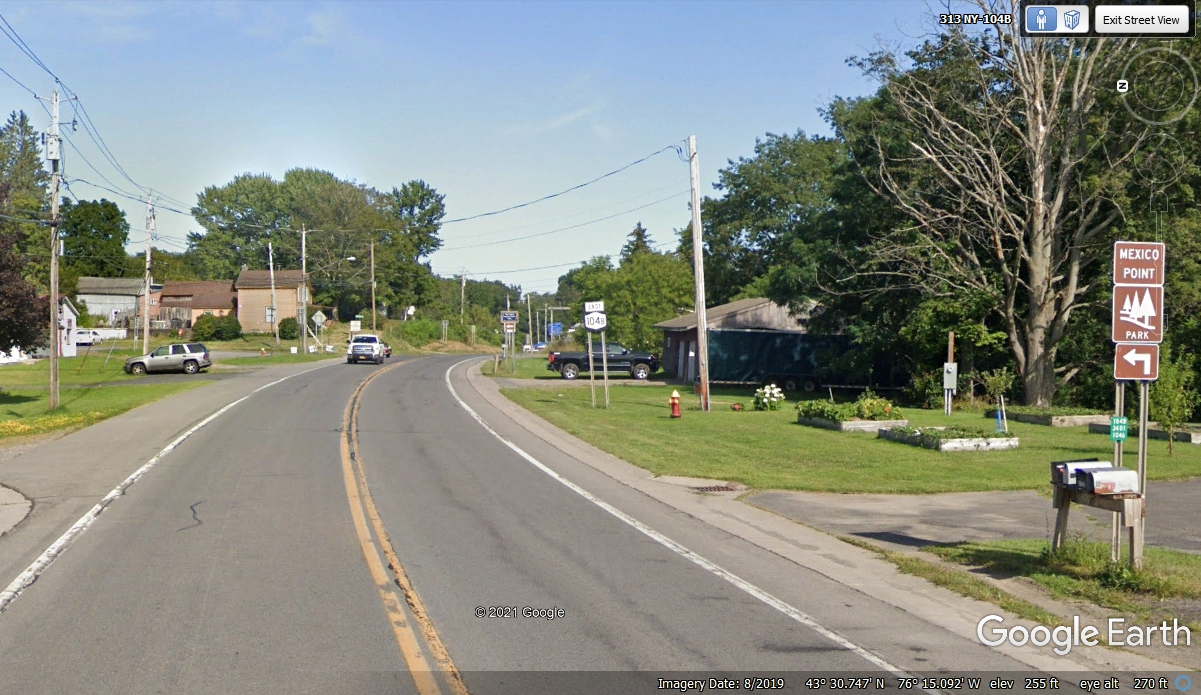 At the end of the NY 104B route, we turn north on NY 3 going up to Selkirk Shores State Park.