October/November 2021 Vacation Day 2 · · PAGE 4.
October 27, 2021: The Scenic Ride through "Horse Country" on Kentucky 353 was completed when that state highway ended at the Junction of US 62 less that four miles south of this traffic circle junction of US 62 and US 27. This is new since my last visit to this town a number of years ago. Google Earth older images did not show this traffic pattern in 2012, but had it in the data base in 2014.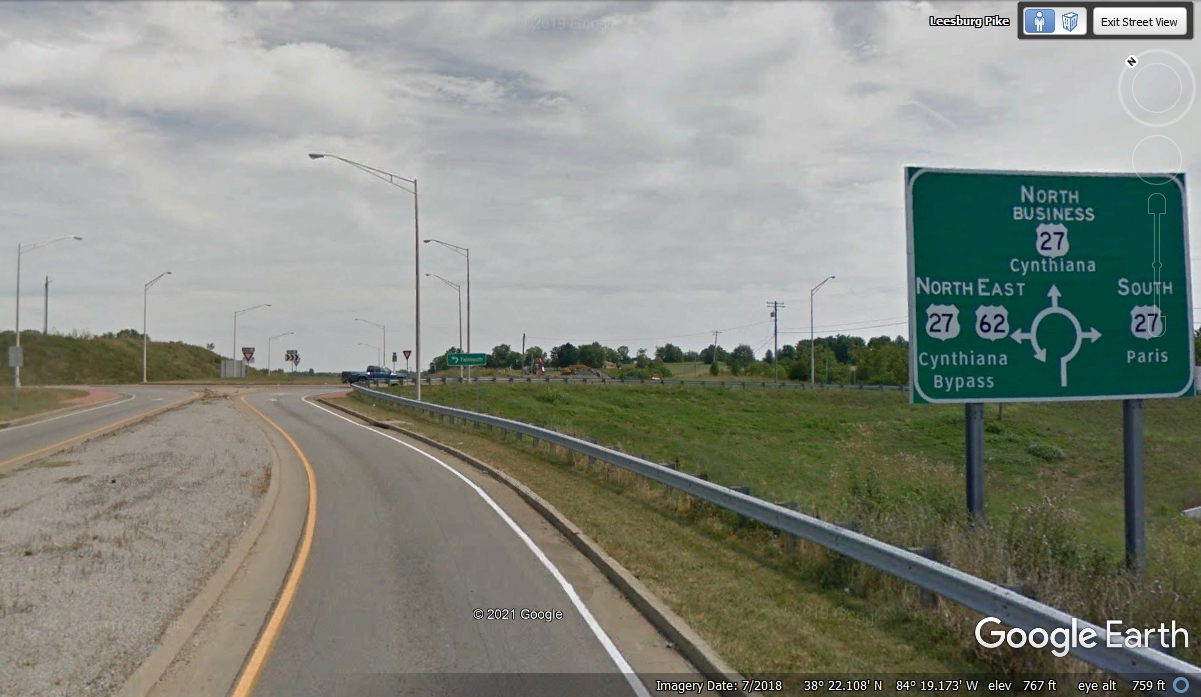 There are a number of stores south of downtown Cynthiana on OLD US 27. I came to the DOLLAR GENERAL location today to give my Comanche B scale model to the son of a pilot who once shared ownership of the real N9032P. Clint is his name and he flies RC Models and told me of riding in N9032P when he was about six years old. He found me via my web site and the photo of my RC model with N9032P on it. I was never planning to fly the model again and realized he lives in the town where I photographed the 1966 Piper Comanche 260B to give my Stafford Comanche kit the proper paint scheme. You can see all those photos via this web page on THIS web site: http://www.n2prise.org/N9032P.
We drove through the center of town when we departed heading up to Ohio. Biancke's Restaurant is very well known by the locals. I have been there a number of times over the years for their southern style menu. They are on the web HERE.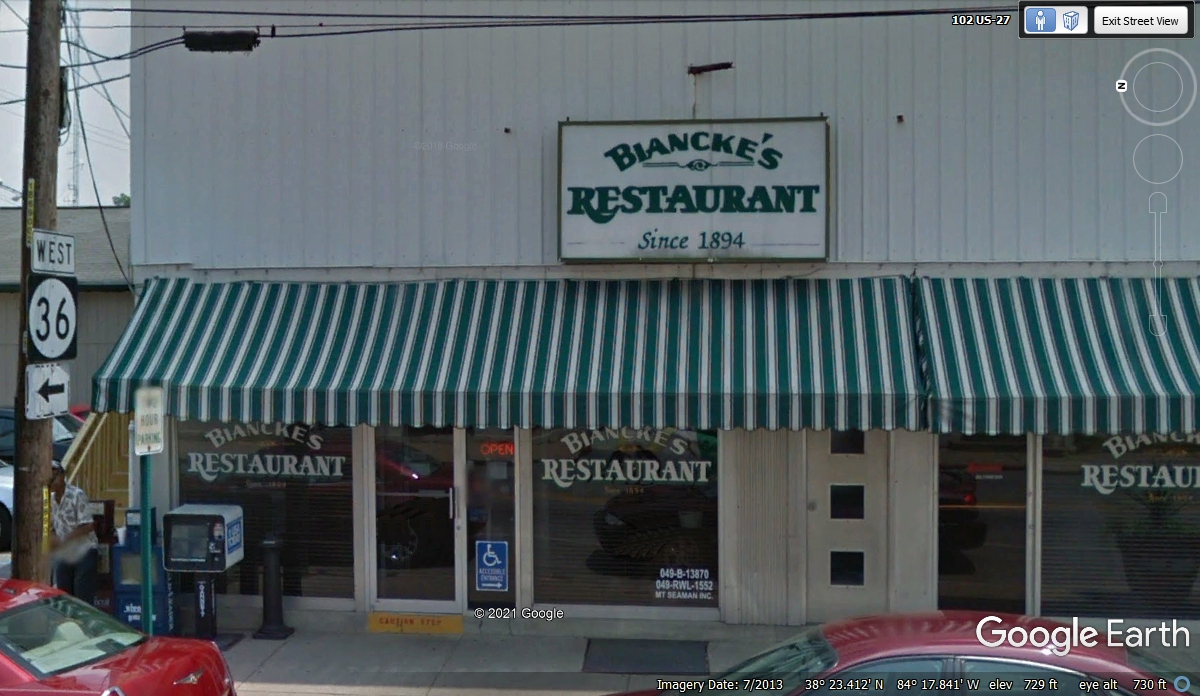 This old log house is on the list of historical places. When I first came here, it was an AM/FM Radio studio and the Cable TV System office. Reid Anderson created all those businesses in communications. It is located on the west side of the court house.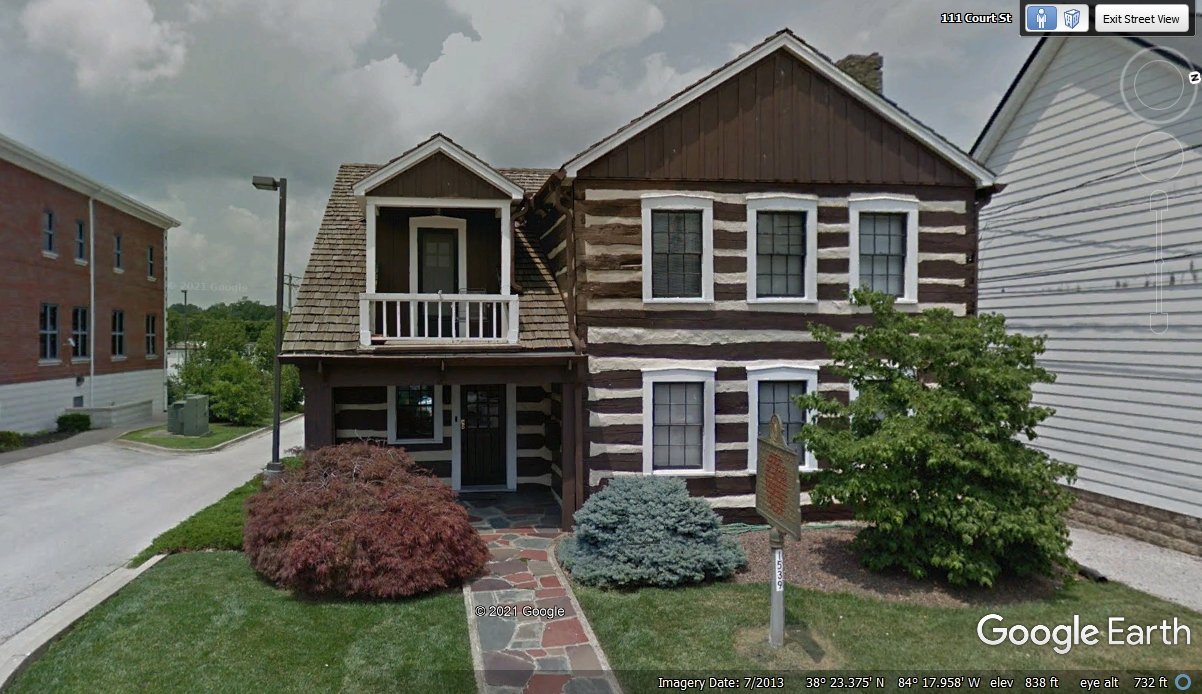 This historical marker from 1975 is about the log house and gives some of the history of this small town in Kentucky.

Here is the view of the Harrison County court house as seen entering the main part of Cynthiana on the original US 27 route from the south side. This 2018 Google Earth image provides a good look at the city downtown district..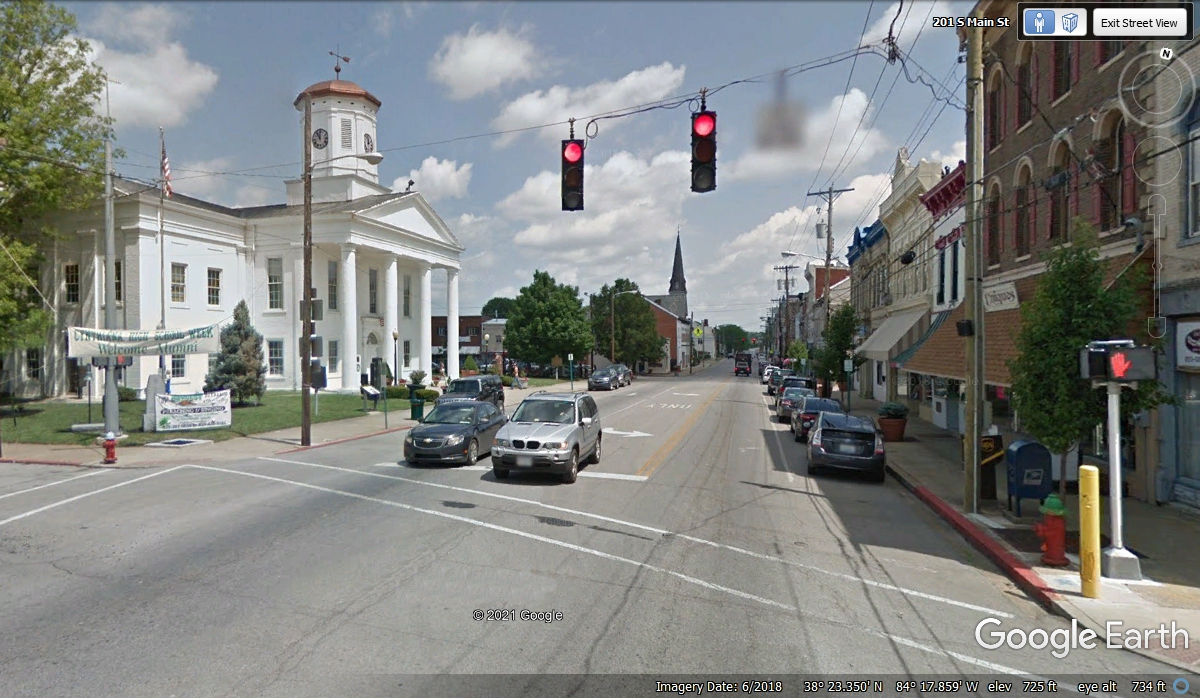 Less than nine miles north of Cynthiana is this hill top intersection of US 27 and Kentucky state route 1032. The elevation here is about 900 feet above sea level. Much of northern Kentucky is rolling hills with creeks and rivers with small towns located where the water is found.

Looking EAST from this intersection shows the rolling hills in this area.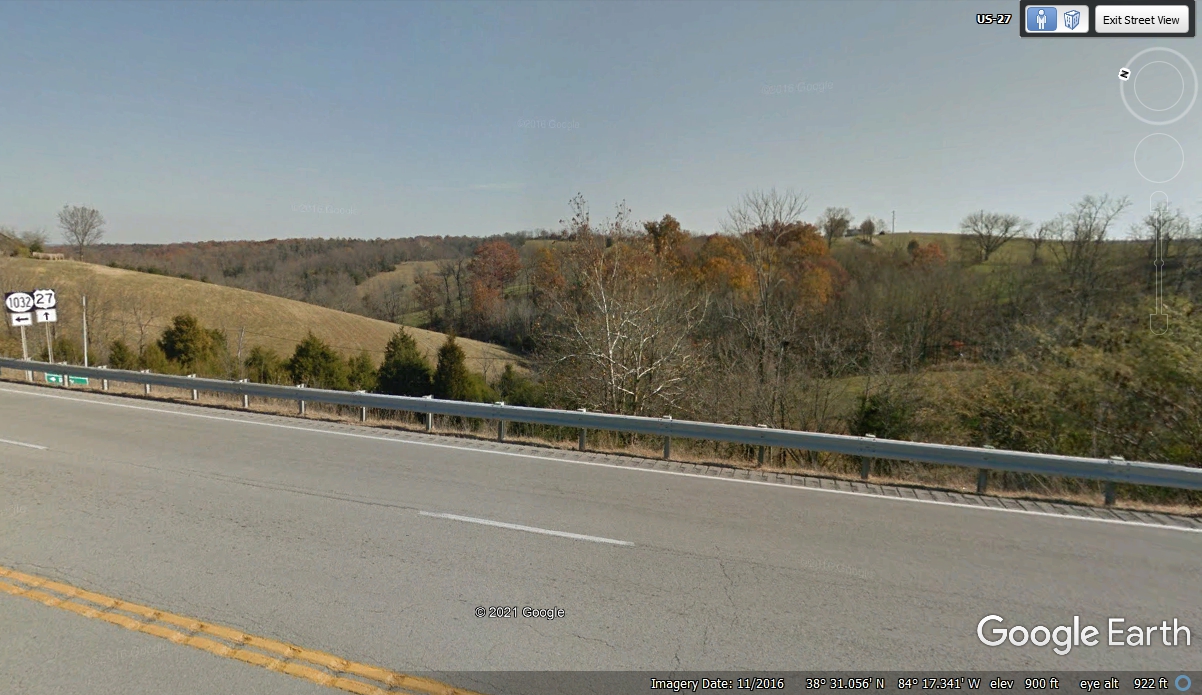 Less than 20 miles north of Cynthiana is the town of Falmouth, Kentucky which is the county seat of Pendleton County.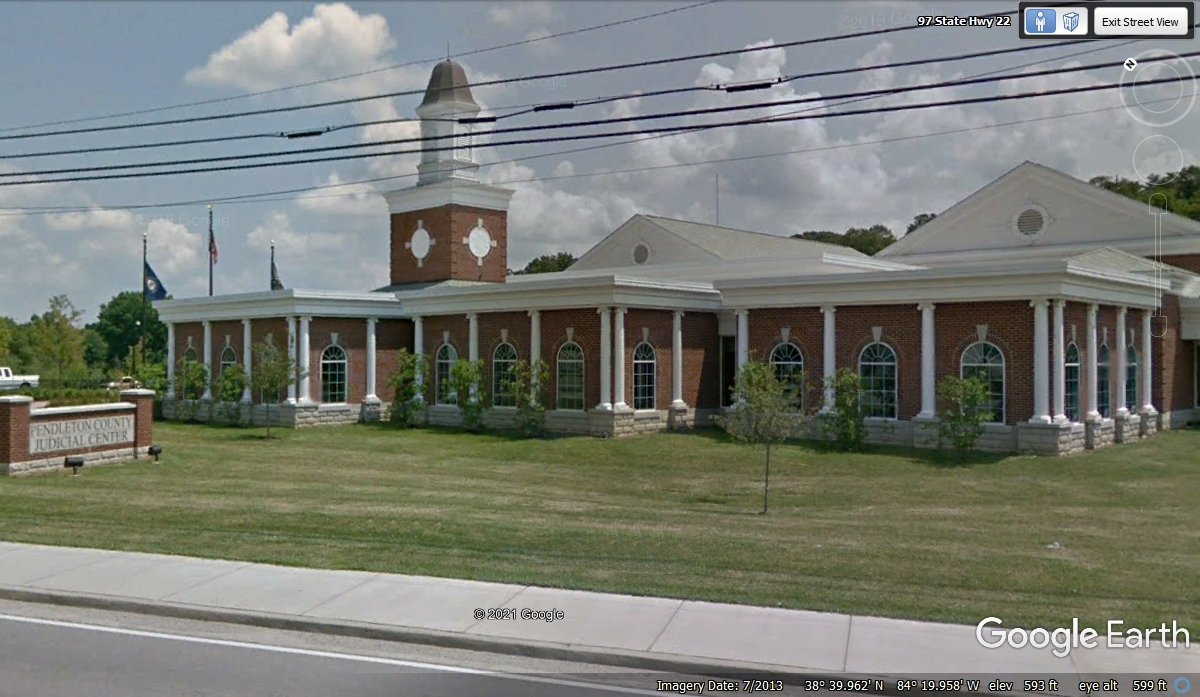 We left Cynthiana, KY at 3:47 PM going north on US 27 toward Cincinnati, Ohio, stopping for fuel at this Shell station about 14 miles south of Interstate 275 where we will take the bypass around the East side of Cincinnati, Ohio. This was a good place for all of us to get relief before the next part of our journey into Ohio. Chase loved the grass for his needs.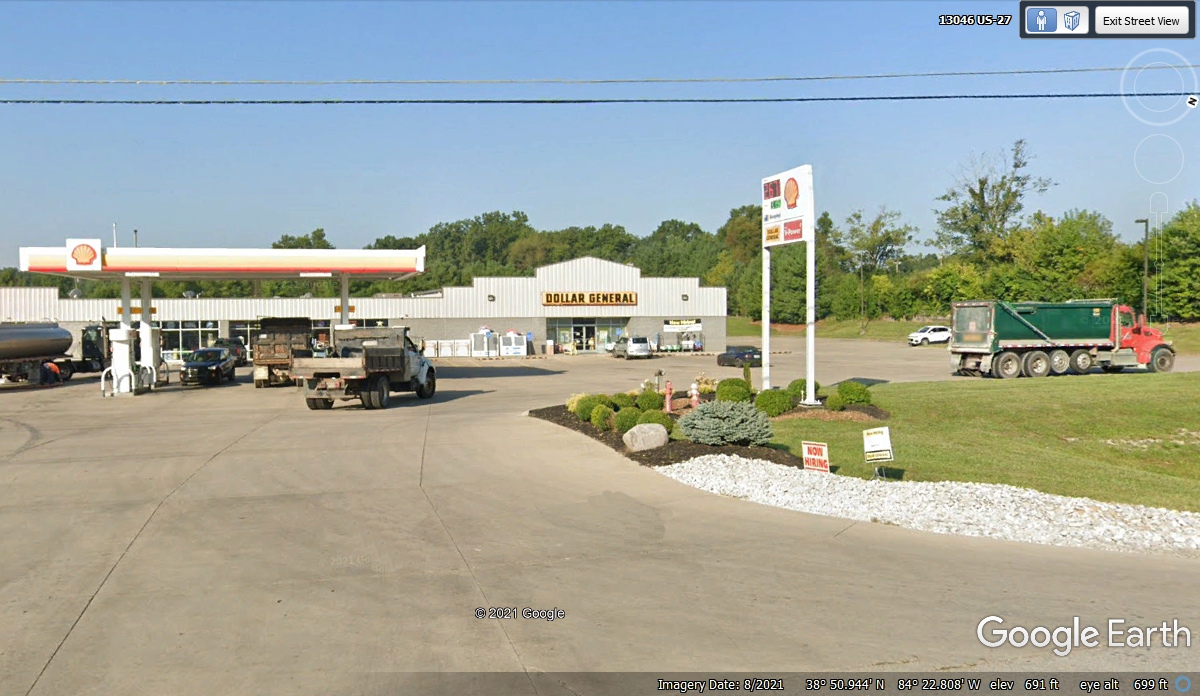 As mentioned above, this exit from US 27 to I-275 takes us around Cincinnati, Ohio on the East side of the city.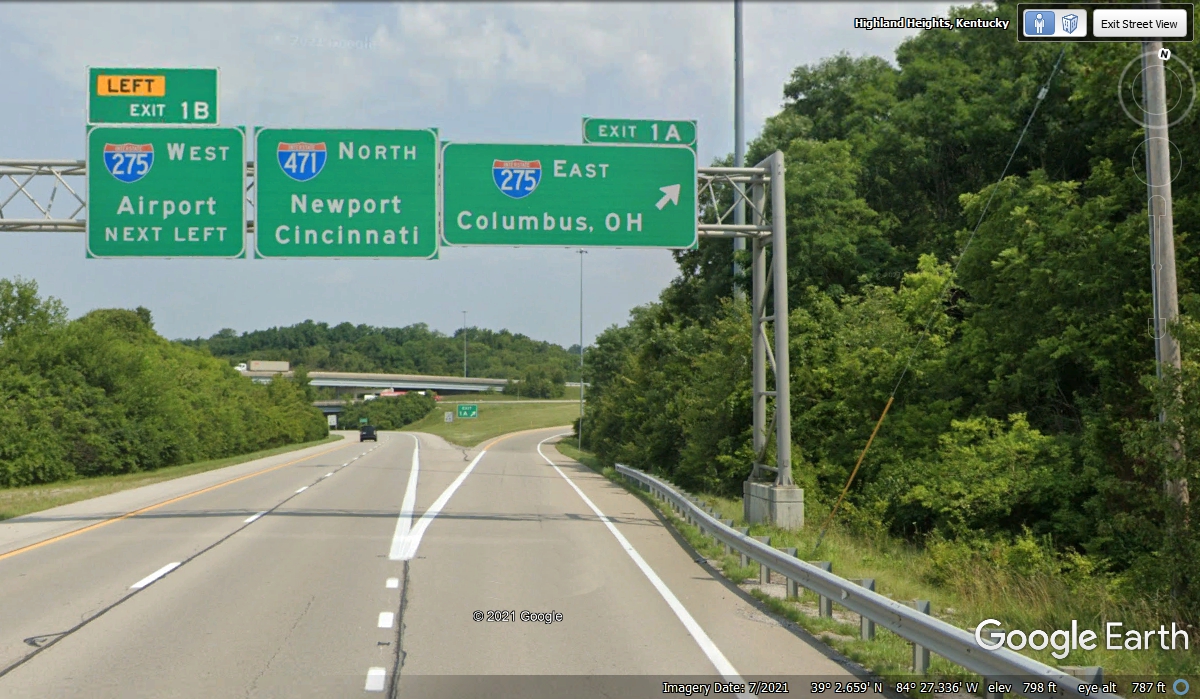 Welcome to Ohio on Day 2 of our Vacation
Time to add another state to our journey with this bridge across the Ohio River via I-275. US 52 on the other side of this bridge starts in Charleston, SC at 2 Meeting Street and ends at the Canadian border at the town of Portal, North Dakota with a length of 2,072 miles. At this point US 52 is following along the north shore of the Ohio River.